Quote:
(Honest Mike UPDATE/EDIT)
This is part 2 of Wan's Adventure. Part 1 can be found here:
viewtopic.php?f=67&t=12143
oh It's been a while.
I'm trying to remember what happened.
yes. Binh and I moved his BIG HEAVY refrigerator.
That was on Monday.
and we went to Battlescooter to meet Jason.
He gave me a brand new Micherine tire!
new variator(?) and belt also!!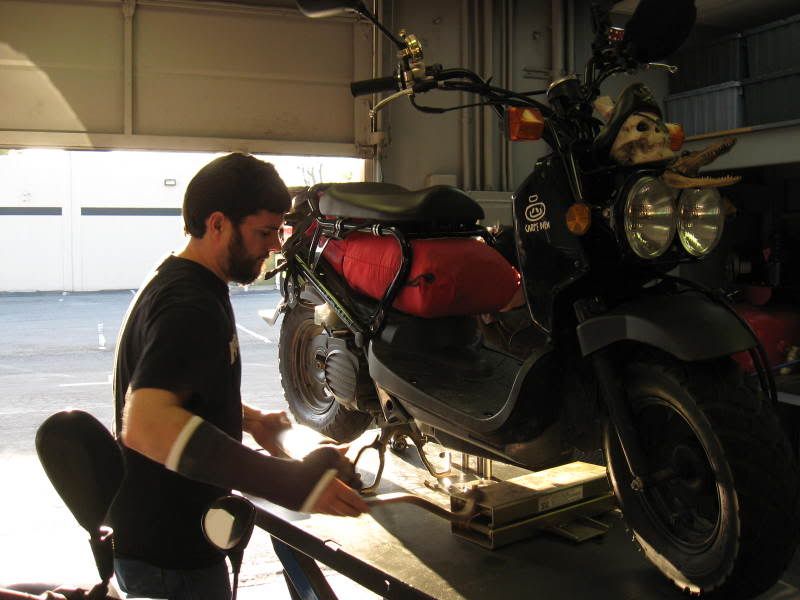 Jason and Binh helped me a lot! even though Jason broke his arm.
Thanks Jason. You are my savior!
Yeah~ Battlescooter!
That's super thank you in Korean.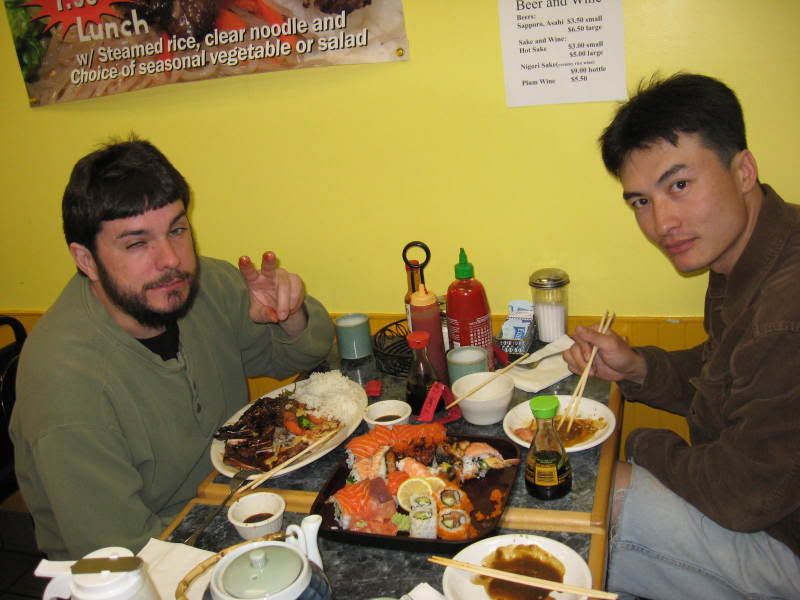 then we went to my aunt's restaurant in SF.
had a good dinner and said good bye! Thanks Jason and Binh!!
- Tuesday -
I headed to North.
Golden Gate Bridge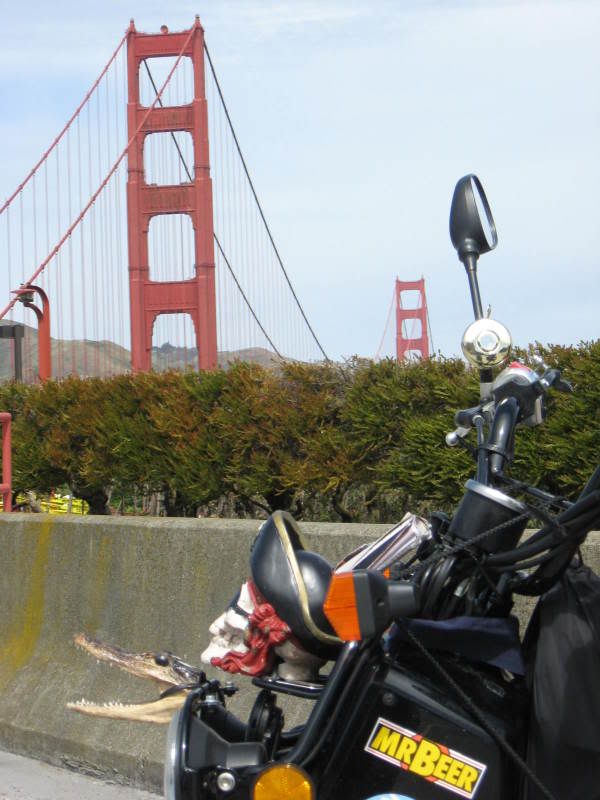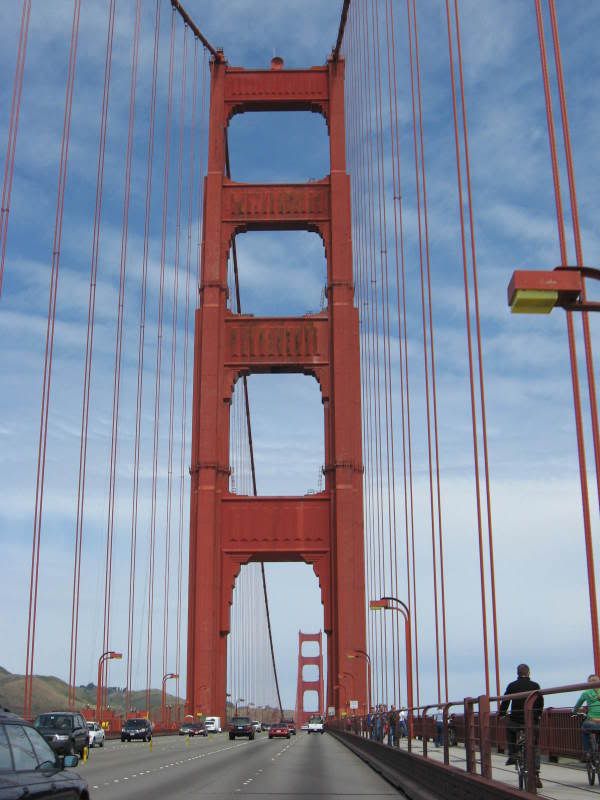 I took a North Coast Highway 1.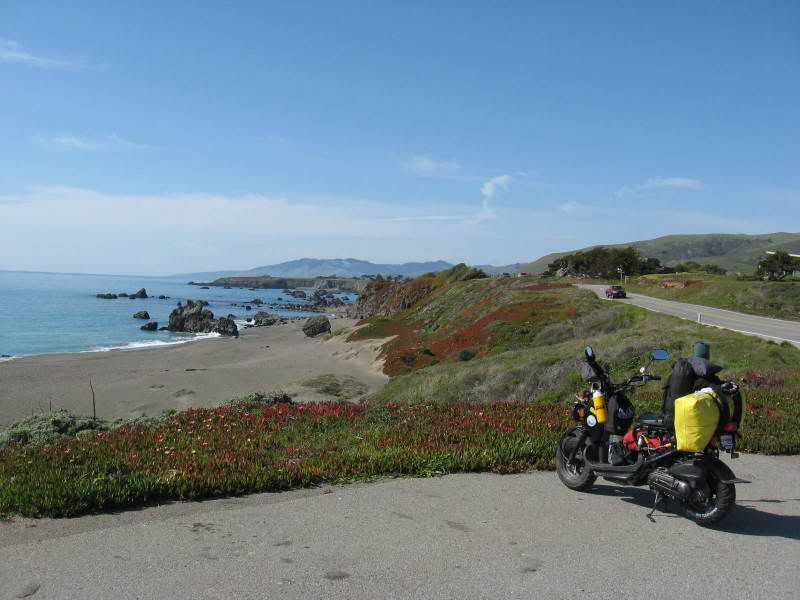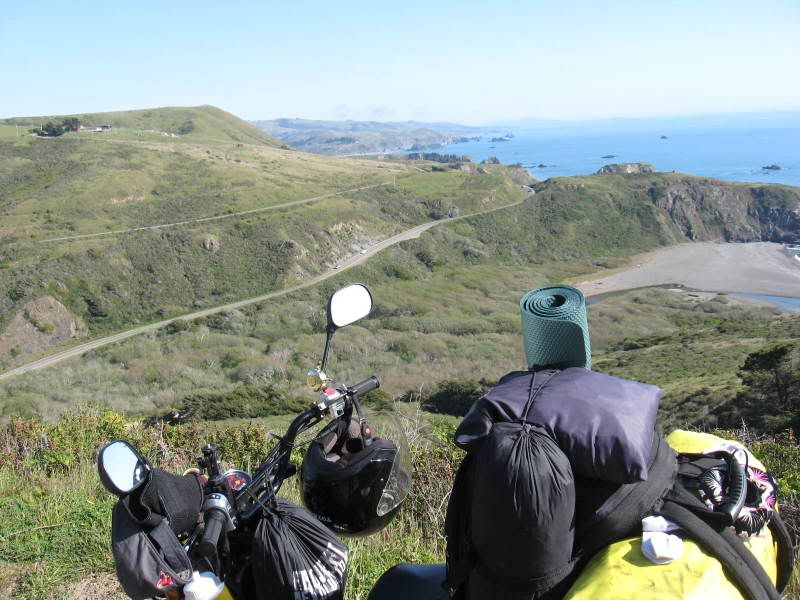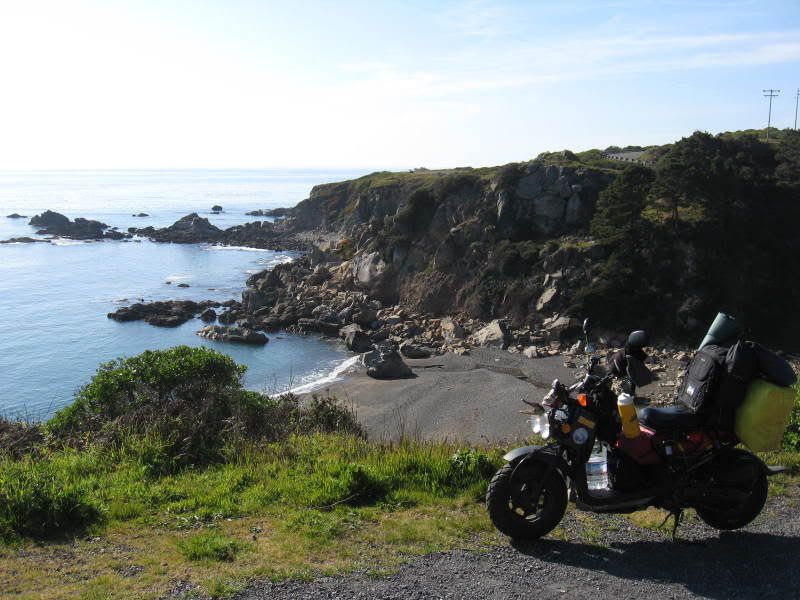 It was kinda same as Pacific Coast Hwy.
but more tree, camp grounds and less car, people.
NCH is better. especially North Coast freeway 101 was nice.
few car, nice and wide shoulder.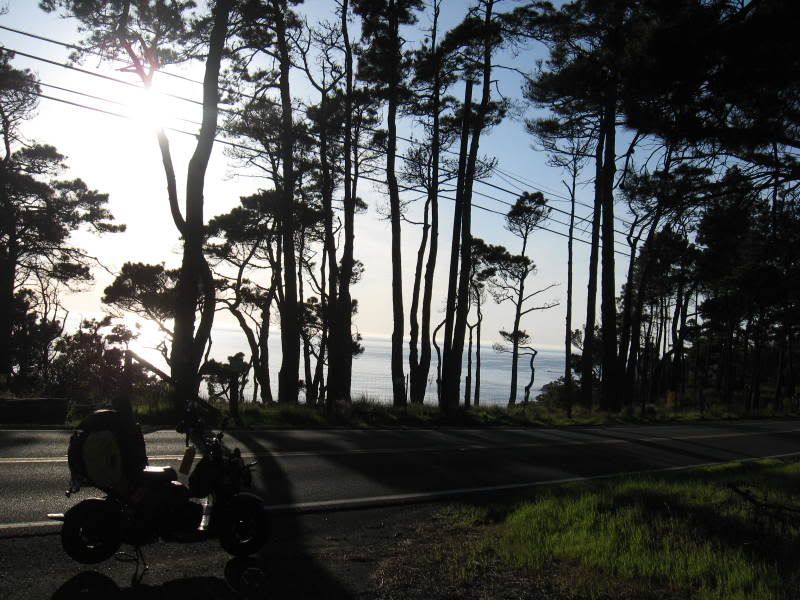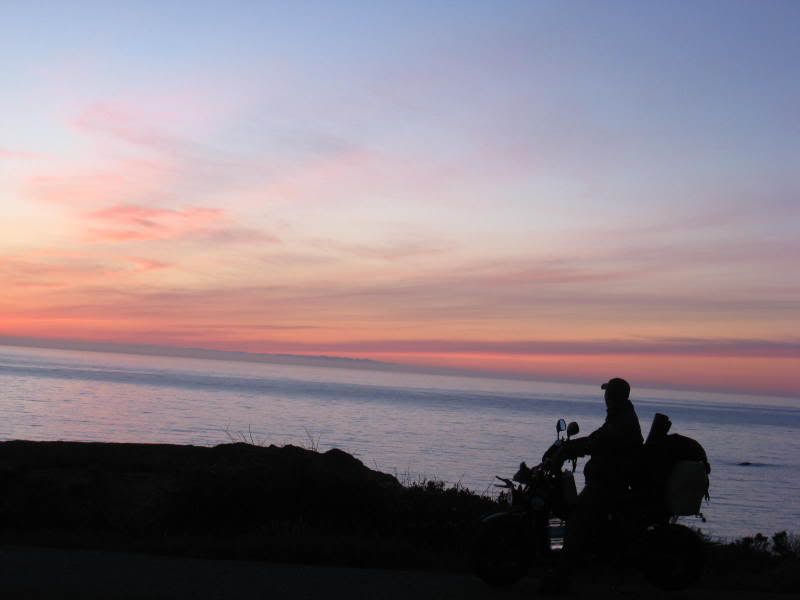 Yeah~ my new favorite pic!!
I stayed at campground and found a lot of fire woods someone left. Bingo!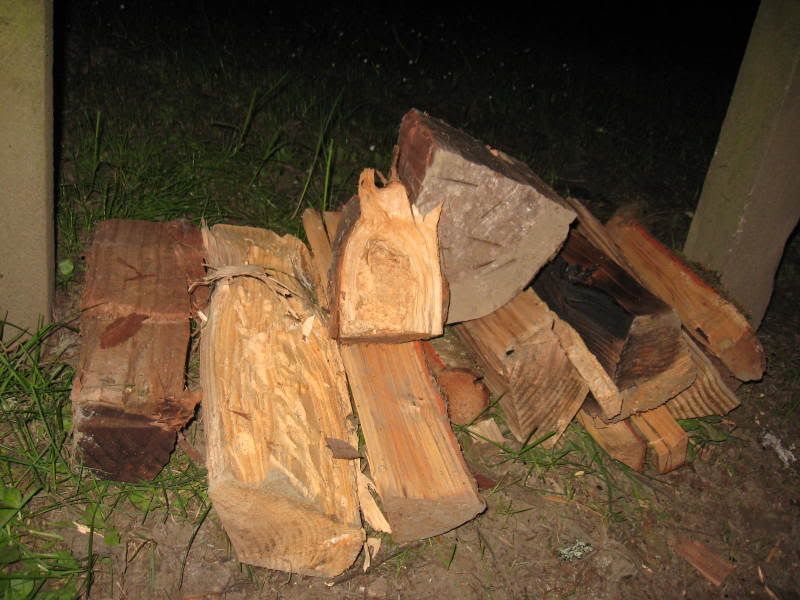 - Wednesday -
I heard some noise while I was sleeping last night.
In the morning, I found that my bike cover bag was tore.
some animal stole my Ramen. Maybe Racoon?
That was my last Ramen!
anyway I need to change mt menu.
I'm getting sick of Spam and Ramen.
I stop by beautiful beach to take a pic.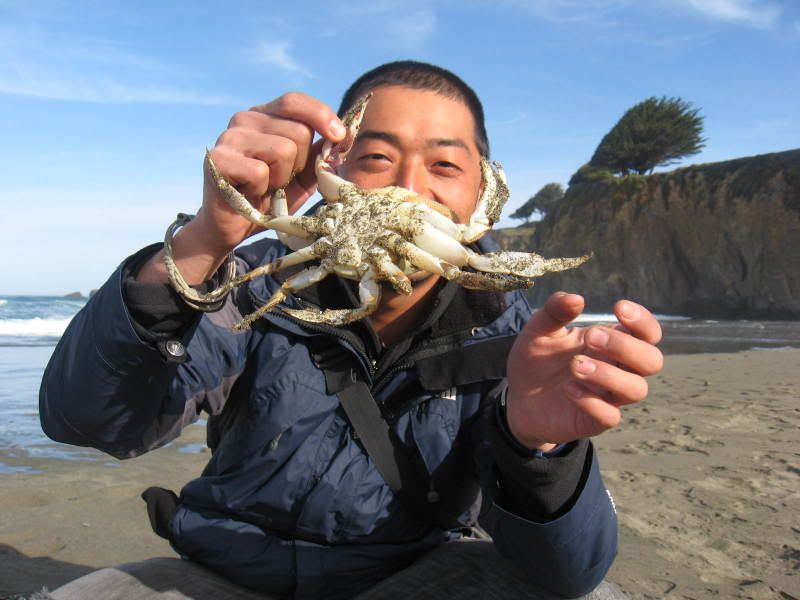 Bingo! Lucky!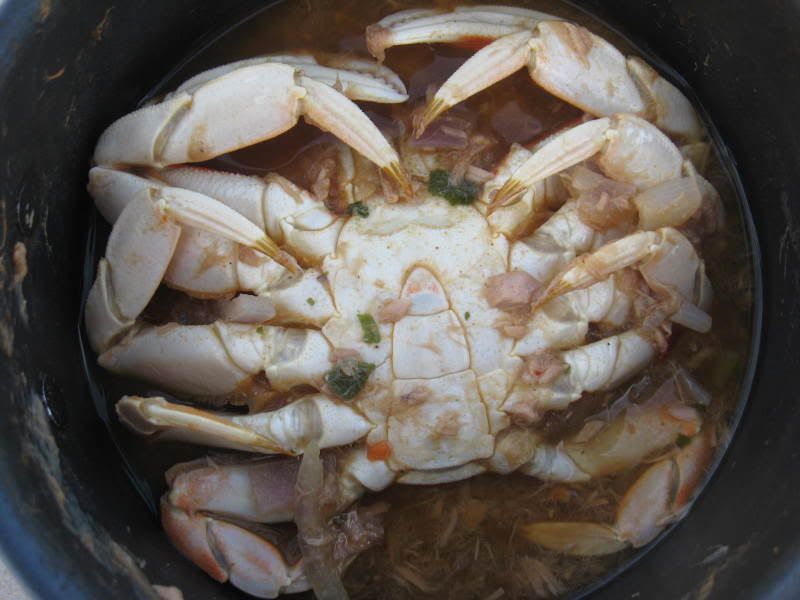 I made crab soup! I was super delicious!!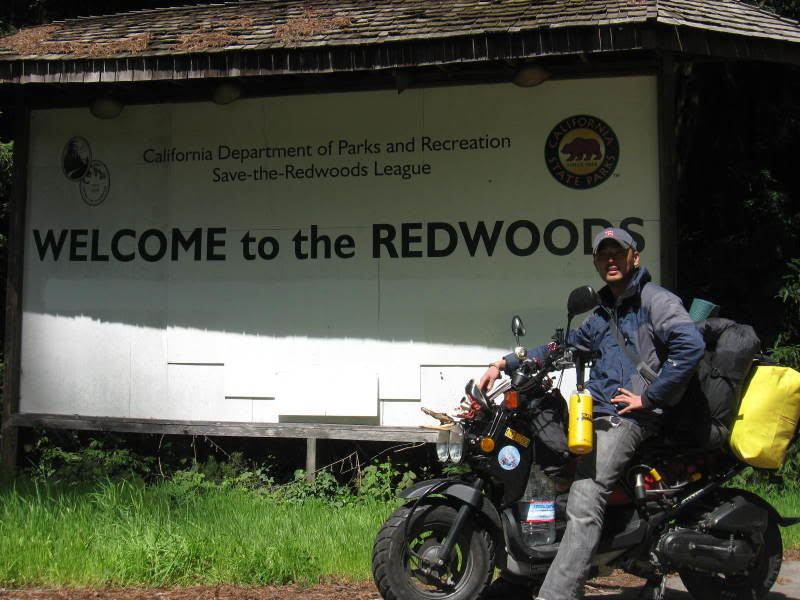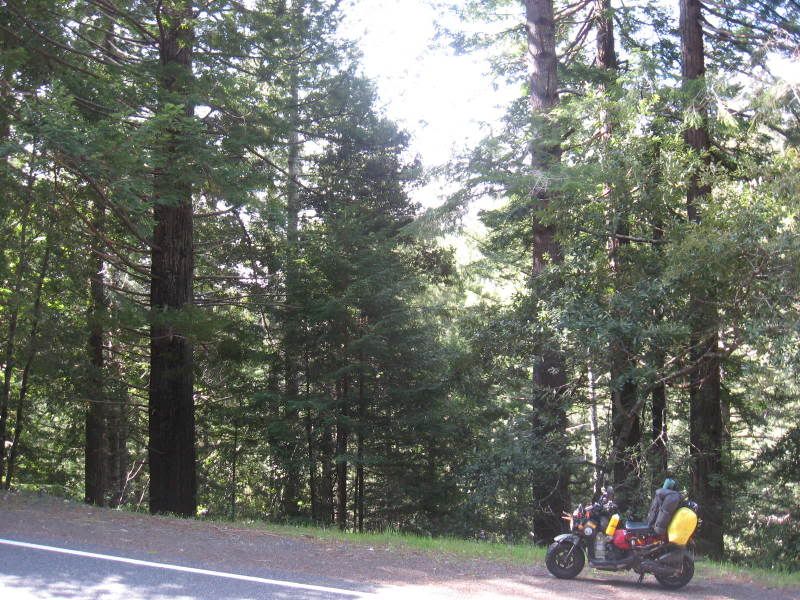 toll redwoods came out.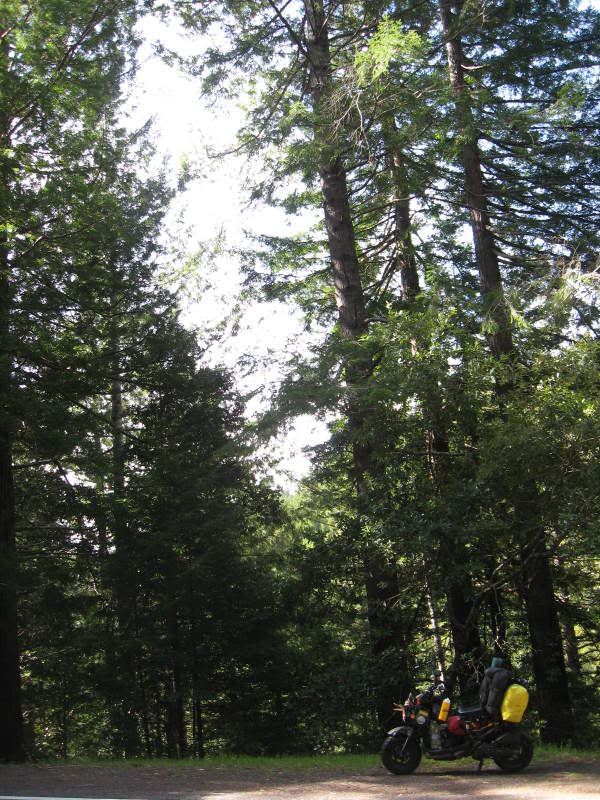 That water color was so beautiful. Is that color called 'AquaMarine'?
It was dark blue with green color. Huuuuu
I was riding on freeway 101. I met some big motorcycle guy.
he told me about small back scenic road.
so I went out of the freeway and took the scenic road.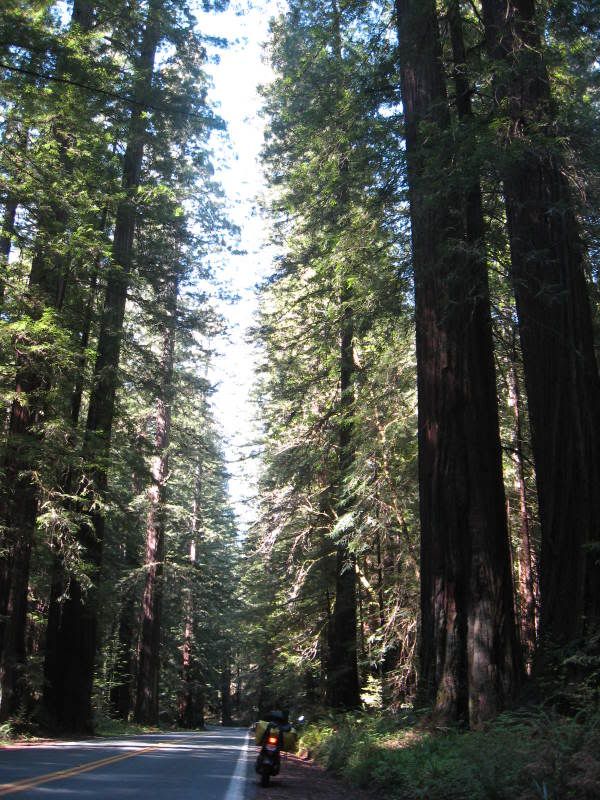 It was nice. but...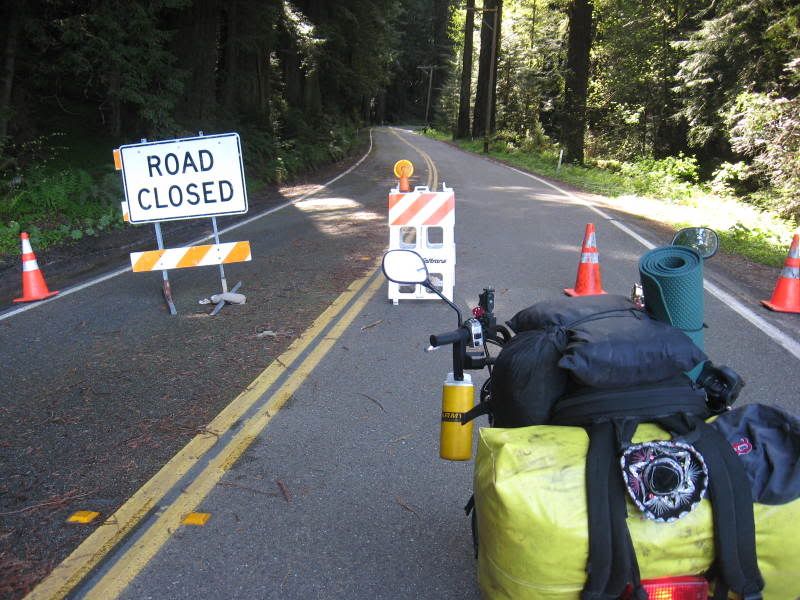 shit! I had to ride all the way back to take the freeway again.
Happy camping with beer!
- Tursday -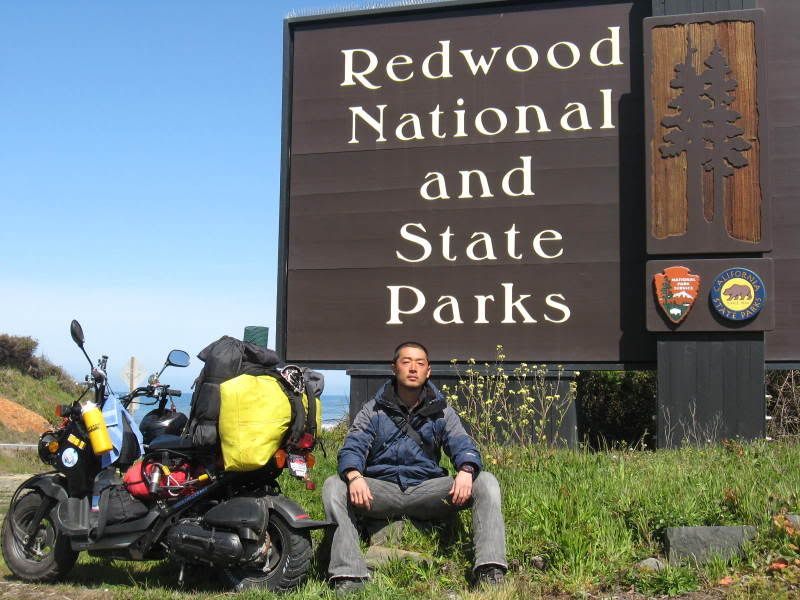 I arrived at Redwoods NP. I took a hiking trail for a hour.
It was nice to walk between the tollest tree in the world.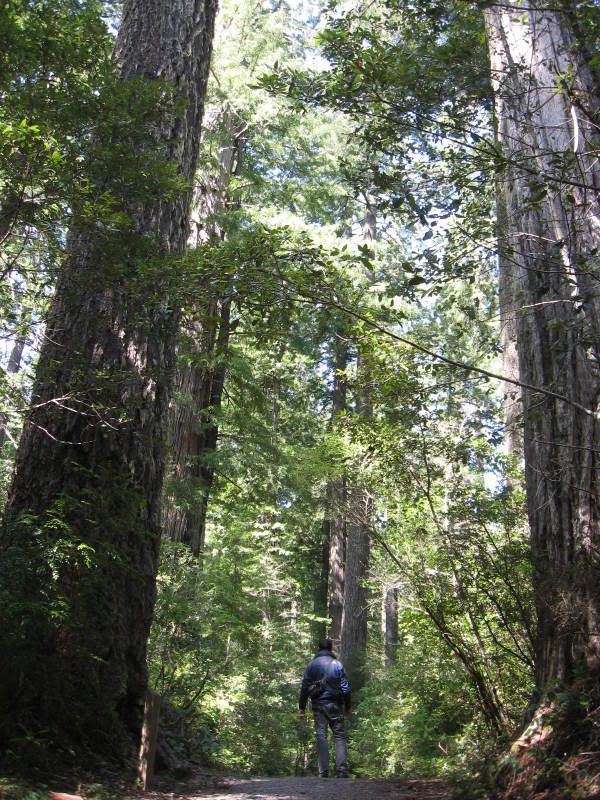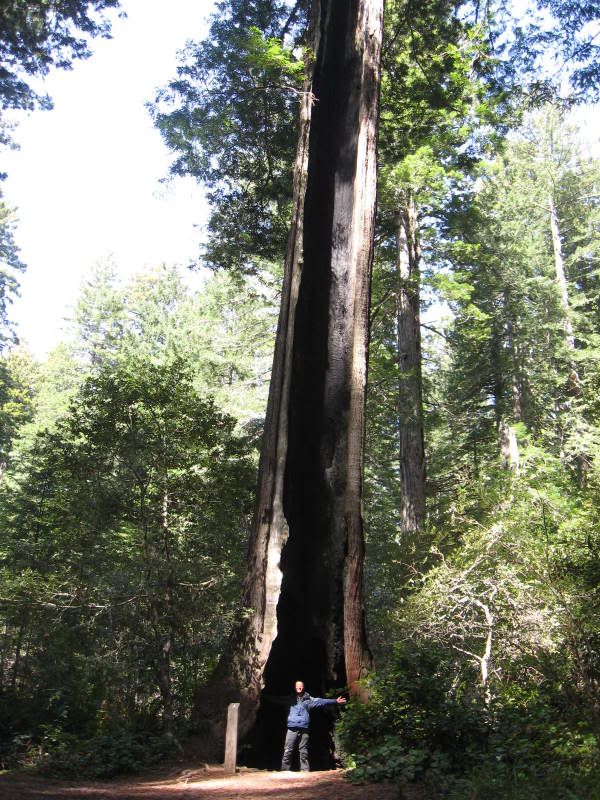 I took another trail to see Elks.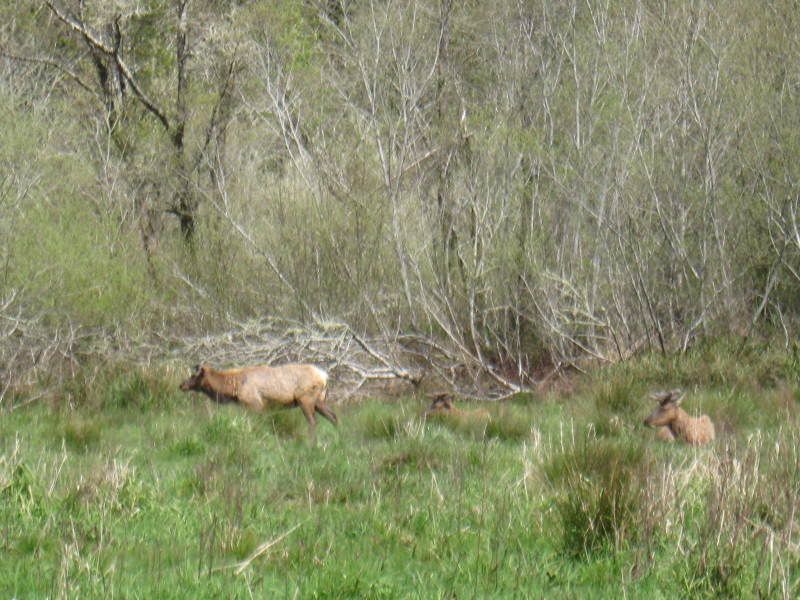 It looked just muscle deer.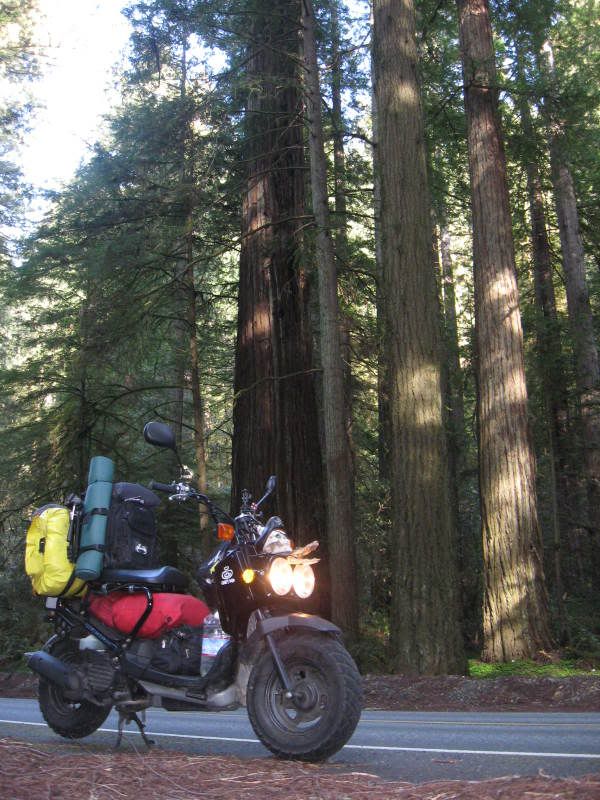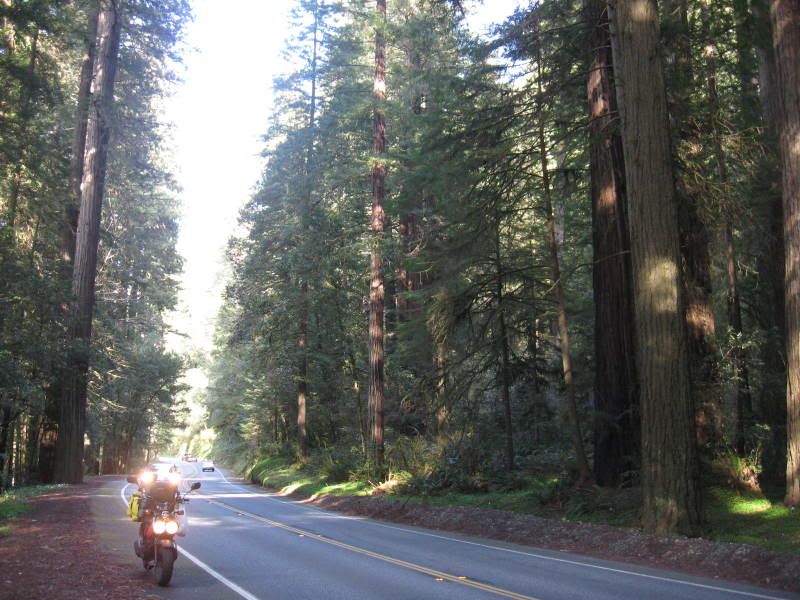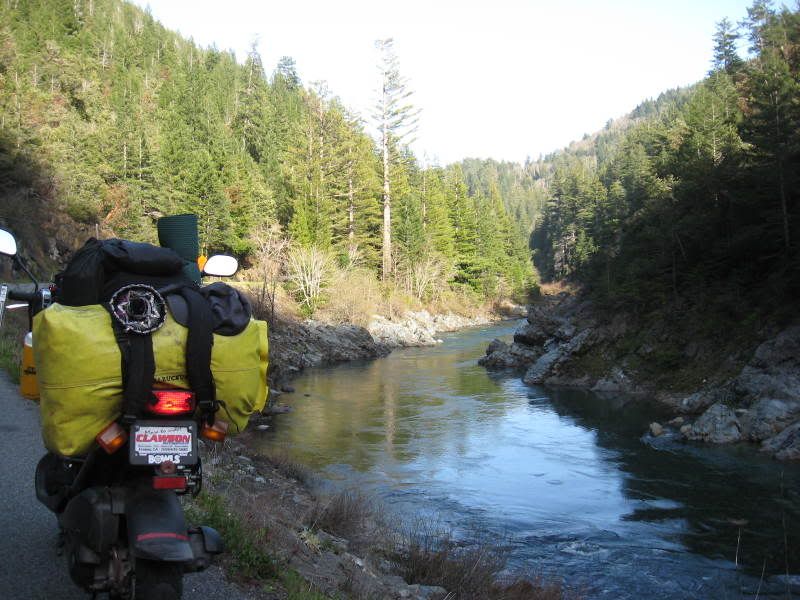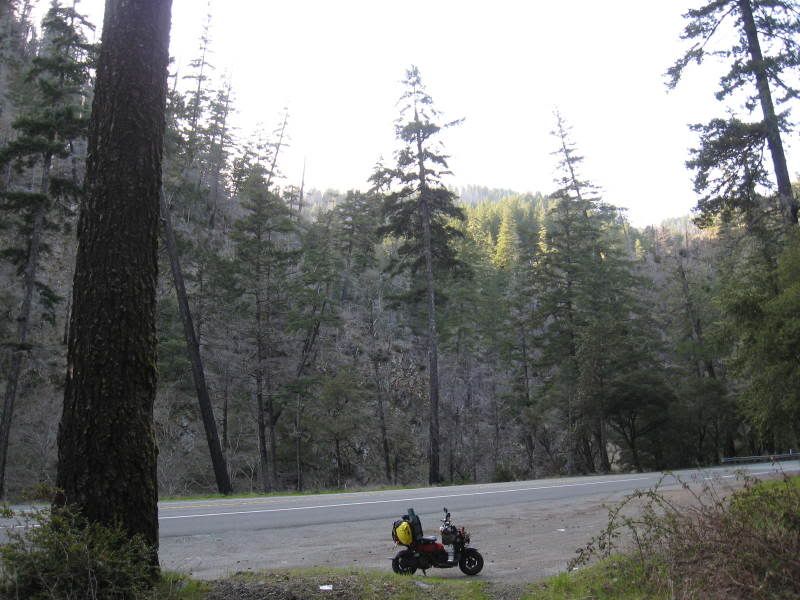 End of Califonia. It was beautiful.
hmmm I've stayed in Cali for a long time. Goodbye Cali!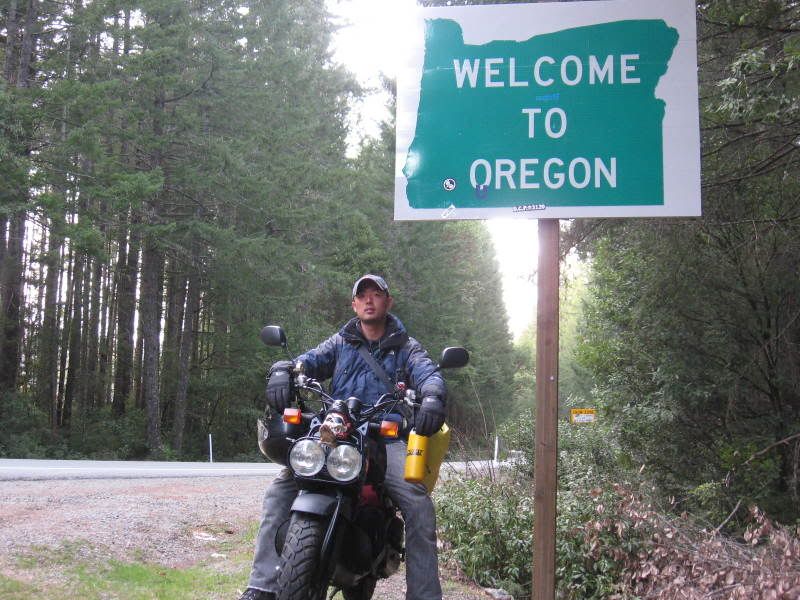 I was planning to get Portland on Saturday.
Binh said from San Jose to Portland is just 500miles.
but I realized that is over 800miles. Oh BinH!!
I needed to ride over 200miles each day.
But I heard some horrible sound again.
shit! shit! shit! shit! shit! shit!
It's brand new tire! I've just changed 2days ago!
It was big hole. I had to use 2patches.
It was getting dark and I was in mountain.
I just passed some small town named 'Cave Junction'
I had to push til the town for a hour.
Yeah. I was super tired and hungry.
I filled the air and stayed at a campground.
No more spam. I bought bunch of Tuna. Tuna and wine.
sounds heath. more than spam and beer.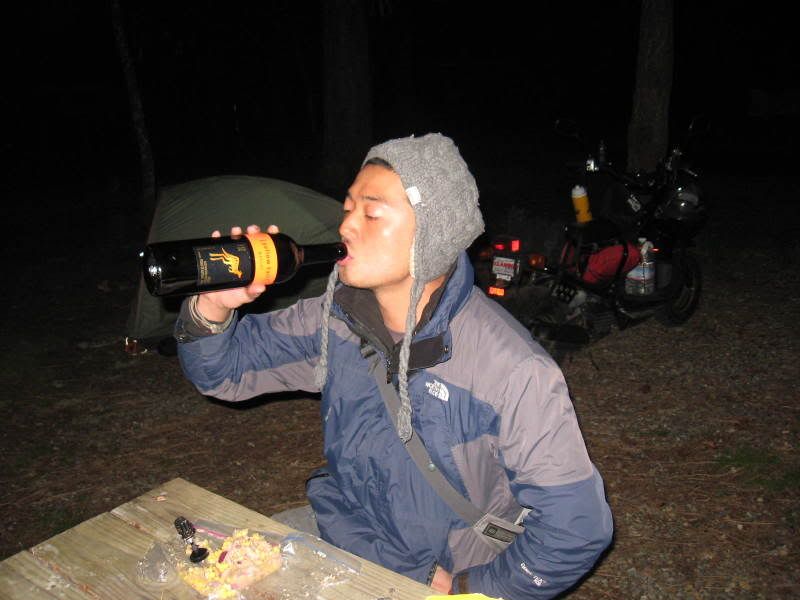 one shot!
- Friday -
It was rainy and foggy day.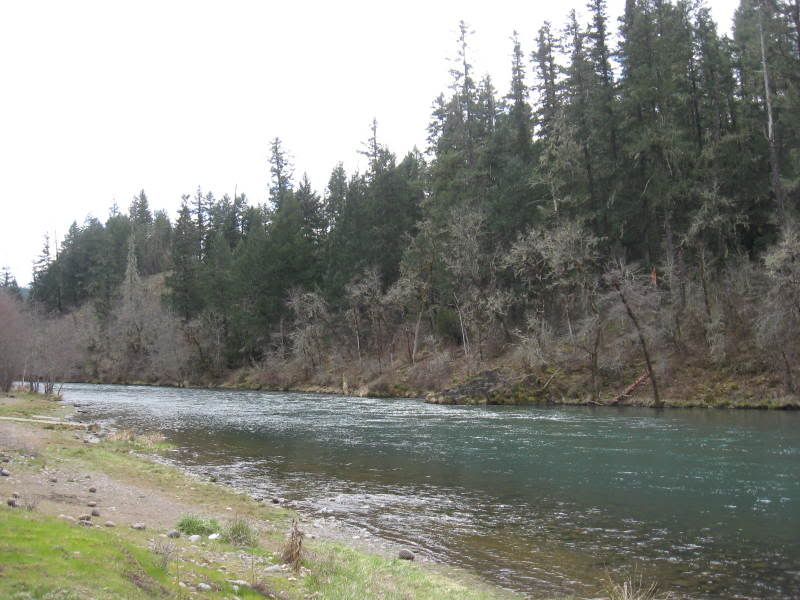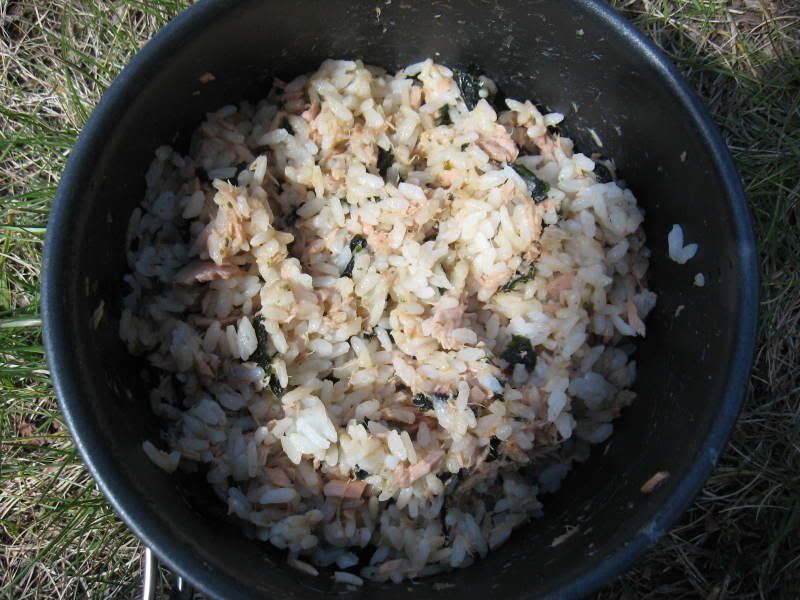 Tuna rice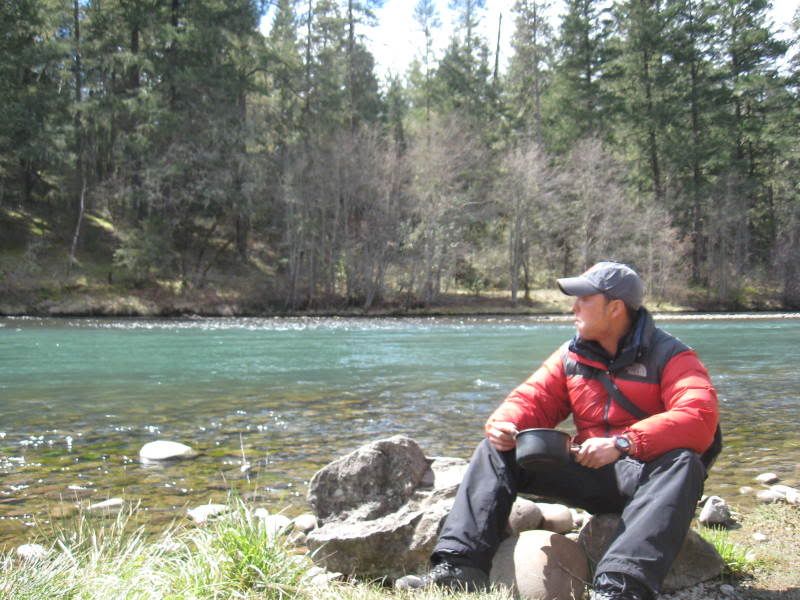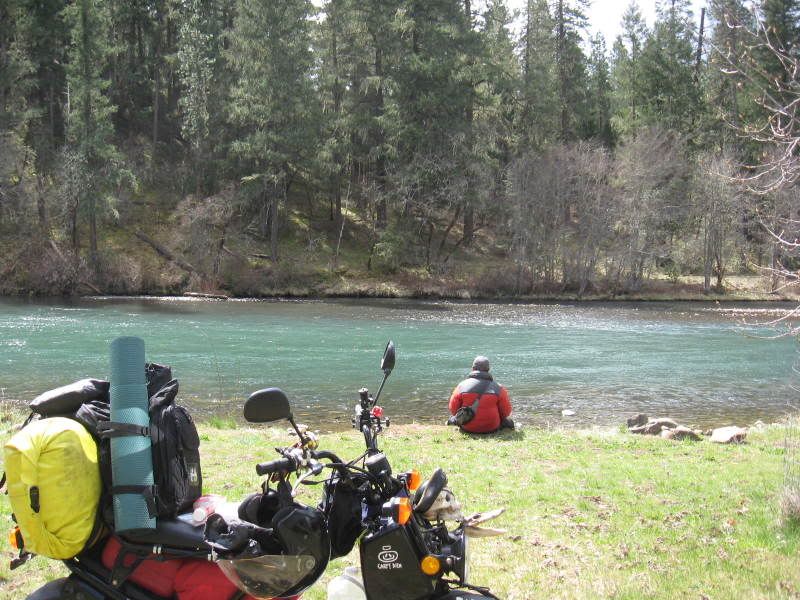 getting close to Crater Lake NP.
Yeah!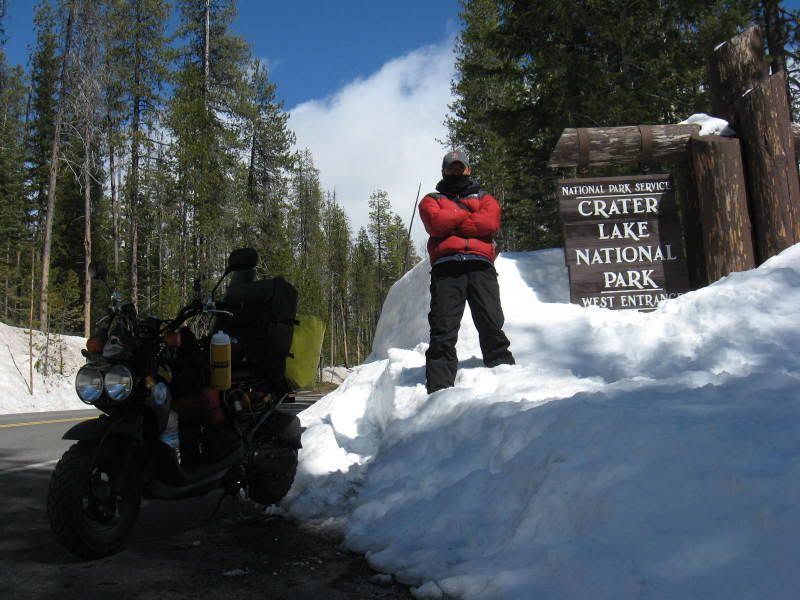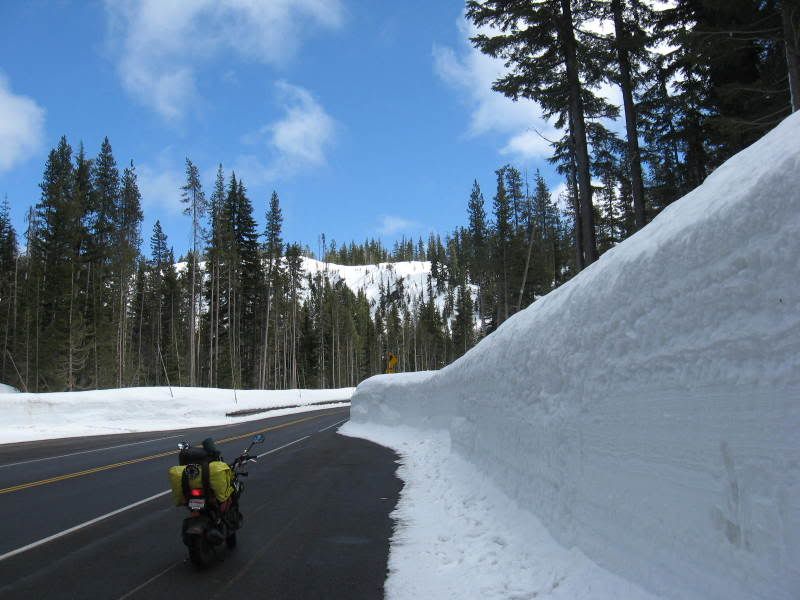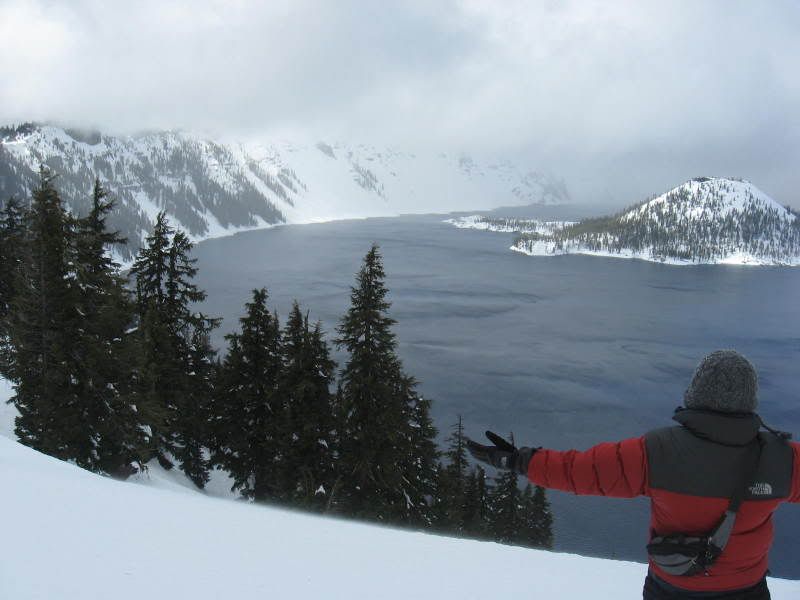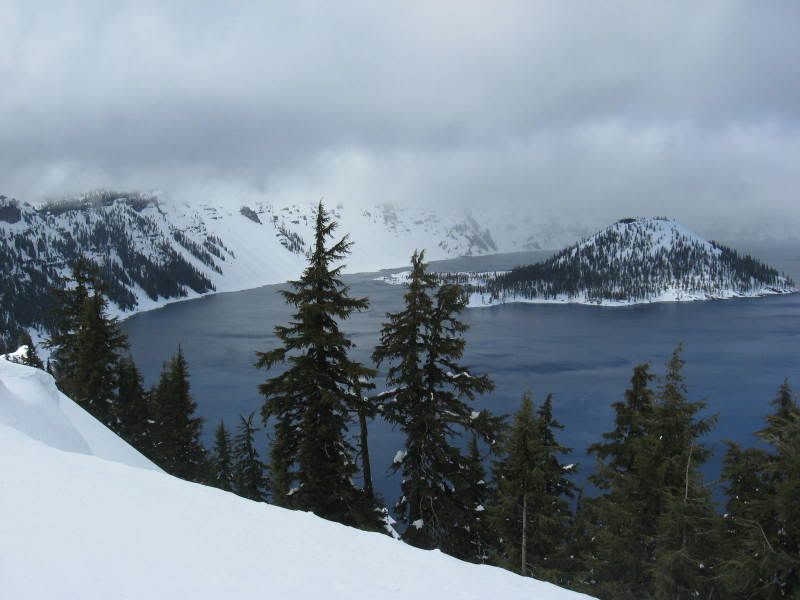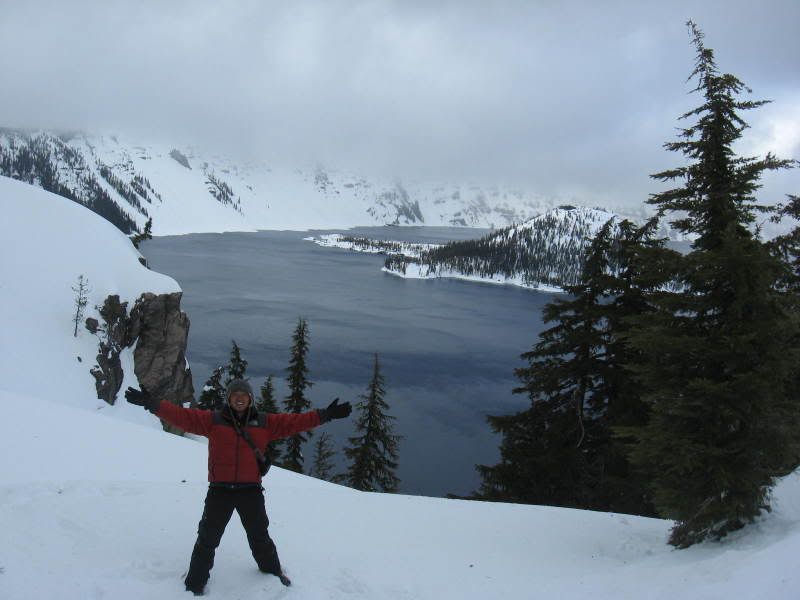 It was super foggy on the top. after 10minuets it was totally foggy.
I wanted to stay little longer but I couldn't see anything.
and started snowing. I went out of the park.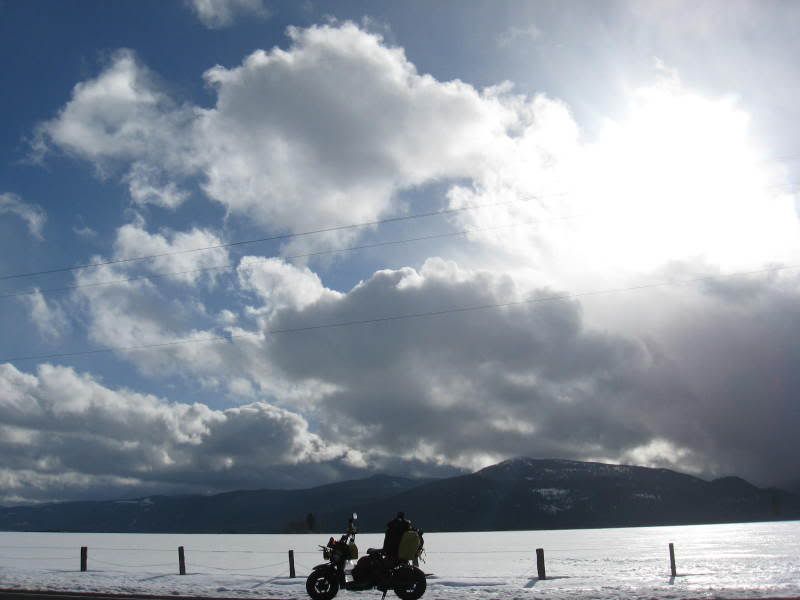 Sunny - Snow - Hail - Rain. weird weather.
6:30 pm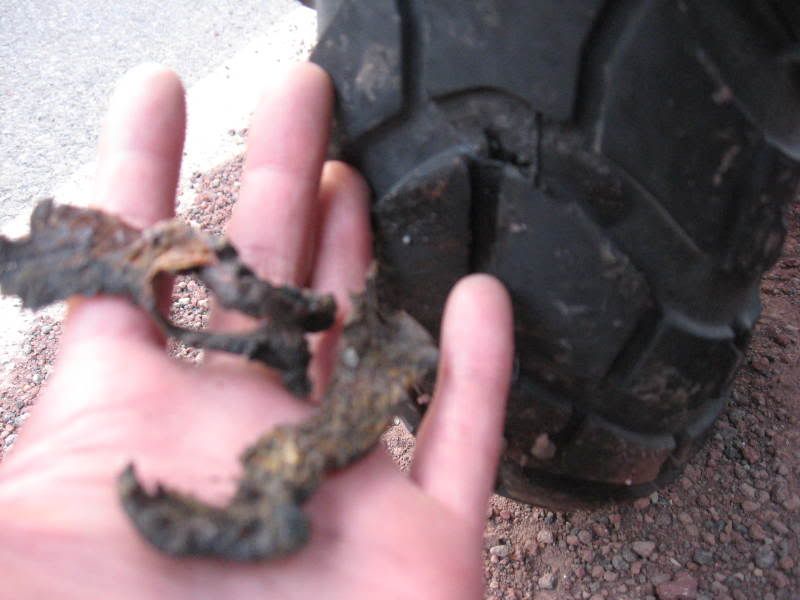 shit! shit! shit! shit! shit! shit!
The patches were came out.
Flat tire again. I should've bought a air pump.
I was in mountain again.
I just passed 10miles from some small town and next town is over 40miles.
I waited for someone's help for 30minuets.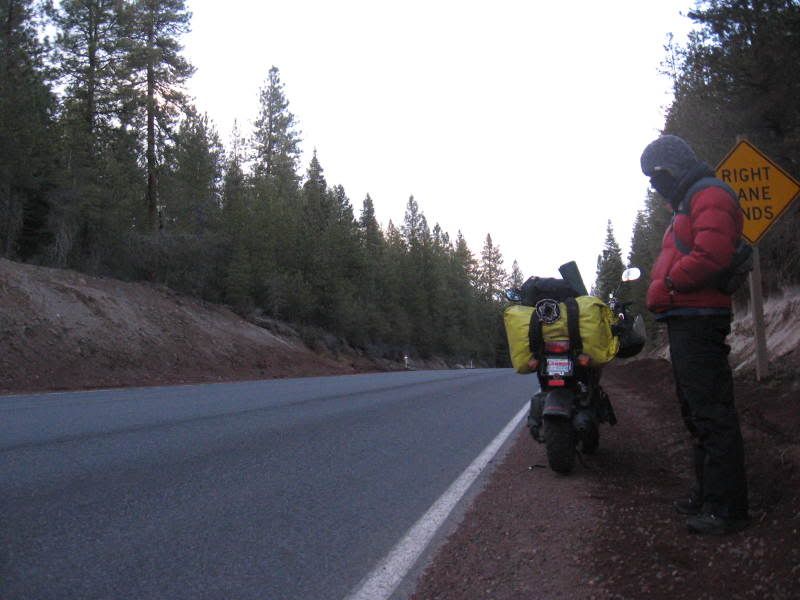 It was getting dark. I pushed it to the small town.
shit. 10mile is so far!
I was taking a break after I pushed it for 30minuets.
I saw a pick up truck opposite side.
I waved my hand and wished 'stop stop stop stop'
The brake light was on! and the truck stopped on shoulder!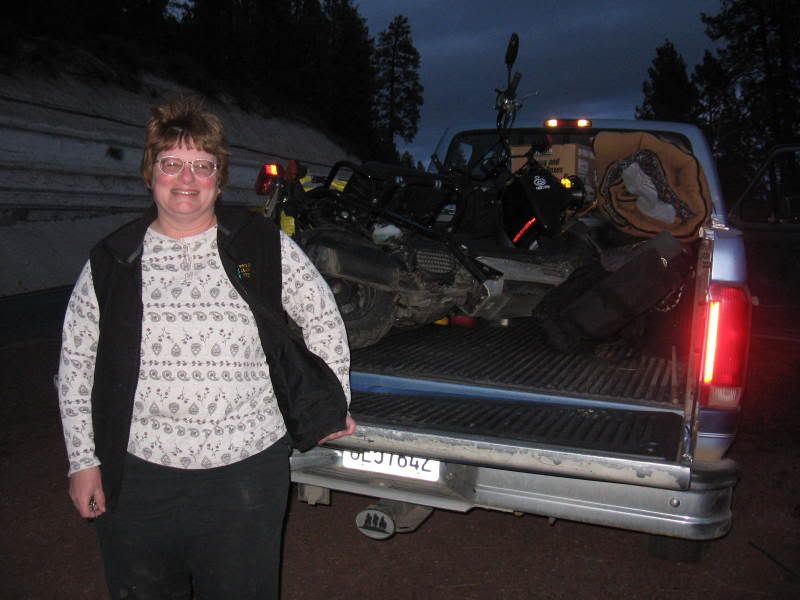 This angel is Valelie.
She was on the way to Springfield which is the same direction I was heading to.
How Lucky!!!
She took me all the way to Springfield and her brother Rob helped to fill the air.
Thank you very very much Valelie. You saved my day!
Now I'm in Eugene which is 120miles south from Portland.
I can get there few hours later.
I'm ready for Famous Portland Beer!