EDIT: and sadly, this guy is being sold
my wife and I are moving and it would be easier on us and our wallets if we sold it. I HATE to sell it but its not as high on the priority list as other things. Here she is:
http://www.ebay.com/itm/330683923092
if she doesn't sell it won't make me sad at ALL, but it WOULD make things a little easier, financially and move wise.
/EDIT
Well I finally have enough parts to officially start a build thread. I've started this with build with a donor GY6 bike and have started to acquire all the parts, from members on the board(mostly used and abused parts), I need to make a ruckus around it. So far, here are the parts I've acquired: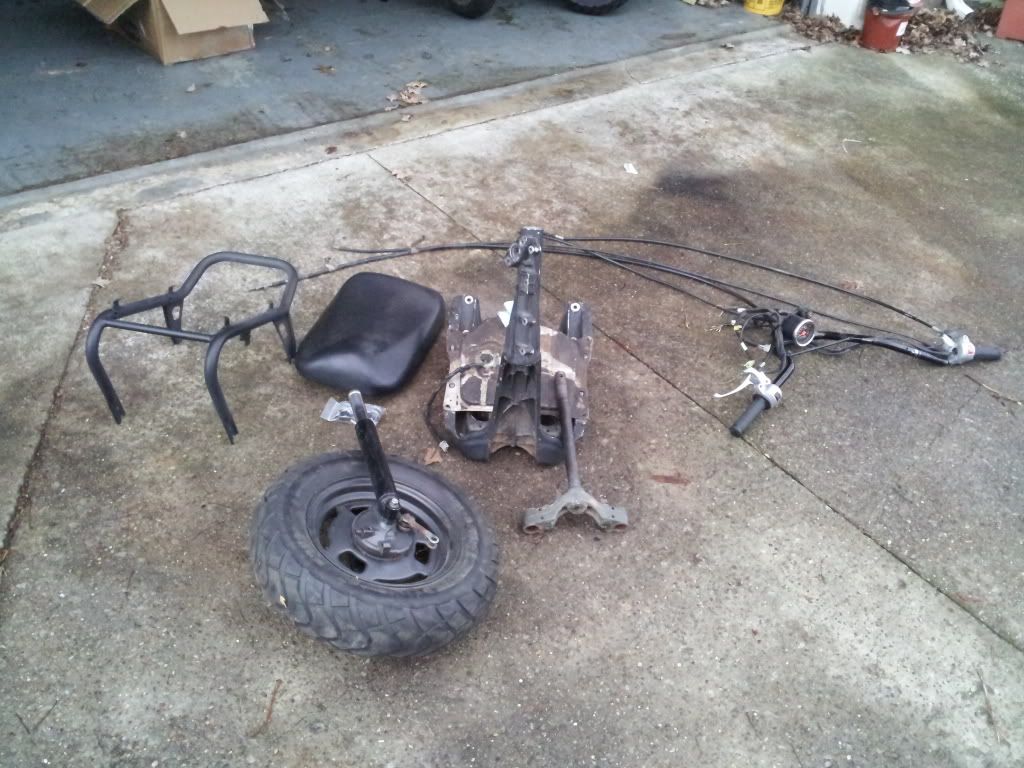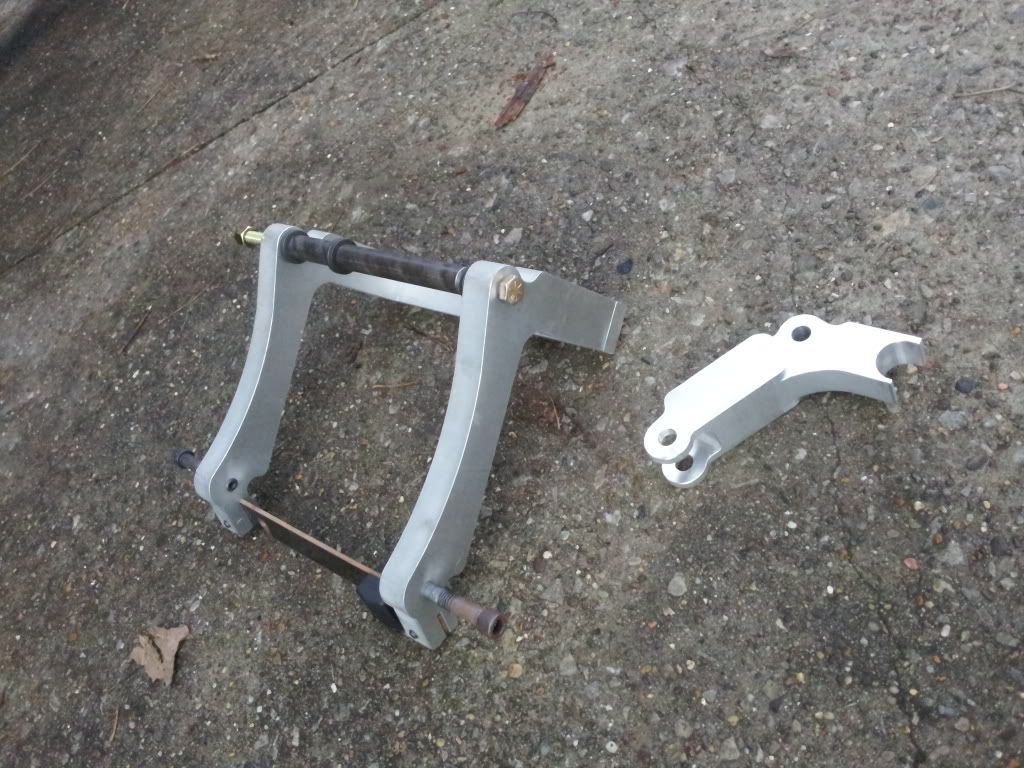 And here is a shot of the "new-to-me" parts next to the recovery ruck with a peek of the donor bike in the background: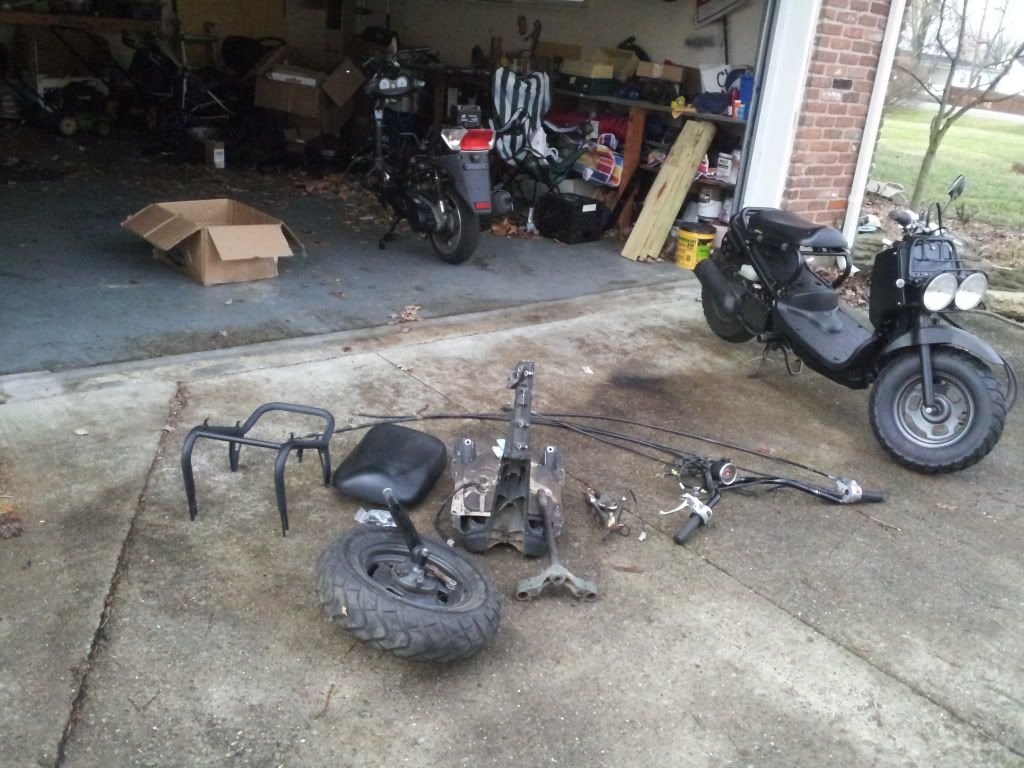 And here is the donor. It was a 2011 TaoTao that some kid had layed down. The bike still starts up in the current state. If it had a front wheel i could rock it the way it is lol: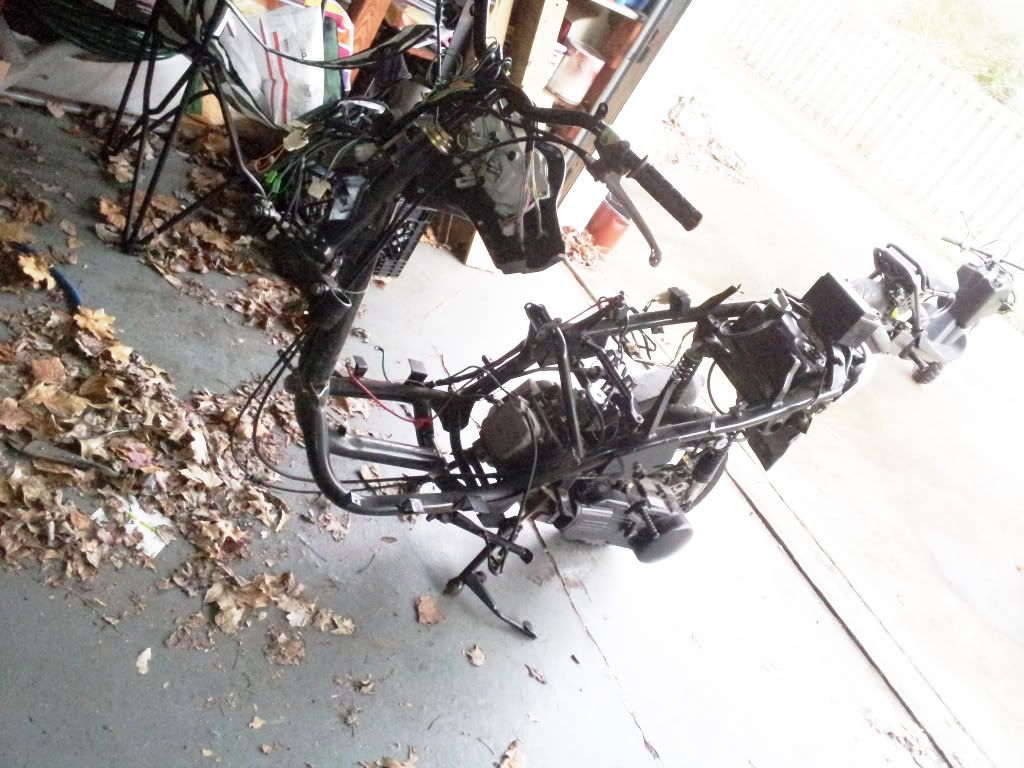 More parts are in the mail so I'll update as things come in.
And this explains why I've had so many WTB ads in the past month or so.
The following list will get updated as parts roll in.
Thanks to:
ubuntu
for the front frame, triple tree, gas tank and seat
chinaman
for the seat mounting hardware - another front wheel, brake hub, axle and axle spacer, front fender
acushman
for the front wheel with brake, shocks, speedo, handlebar, and controls with all of those wire
candaddy
for the motor mount
saisanith74
for the battery cage and front and rear battery box
ARunto
for the triple tree hardware
eloke
for the motor mount bump stop
darrylsawyer1989
rear frame
minkus
gas tank cover, luggage pan, and air scoop
local guy (can't remember his name, Josh?)
new front tire and new front shocks
and ebay for the kick stand and fuel pump
If i forgot anyone let me know, ive recieved alot of parts from all of you for this build! And really appreciate it!
cliff notes:
Here is where it stands so far. not all parts installed but here it is alive and well.
And here she is all finished.... minus a coat of paint on the seat frame and rear frame. Just changed the gear and engine oil and she is beastly! only other part thats going on is a rear fender which should be here in the next day or 2. (more pics on page 5)
Some Videos!
Video with new exhaust:
And a walk around video: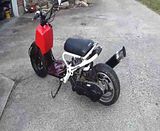 Some how my my wife talked her mom into riding on the back. This thing hauls even with 2 people on board!
A quick burnout just for fun!