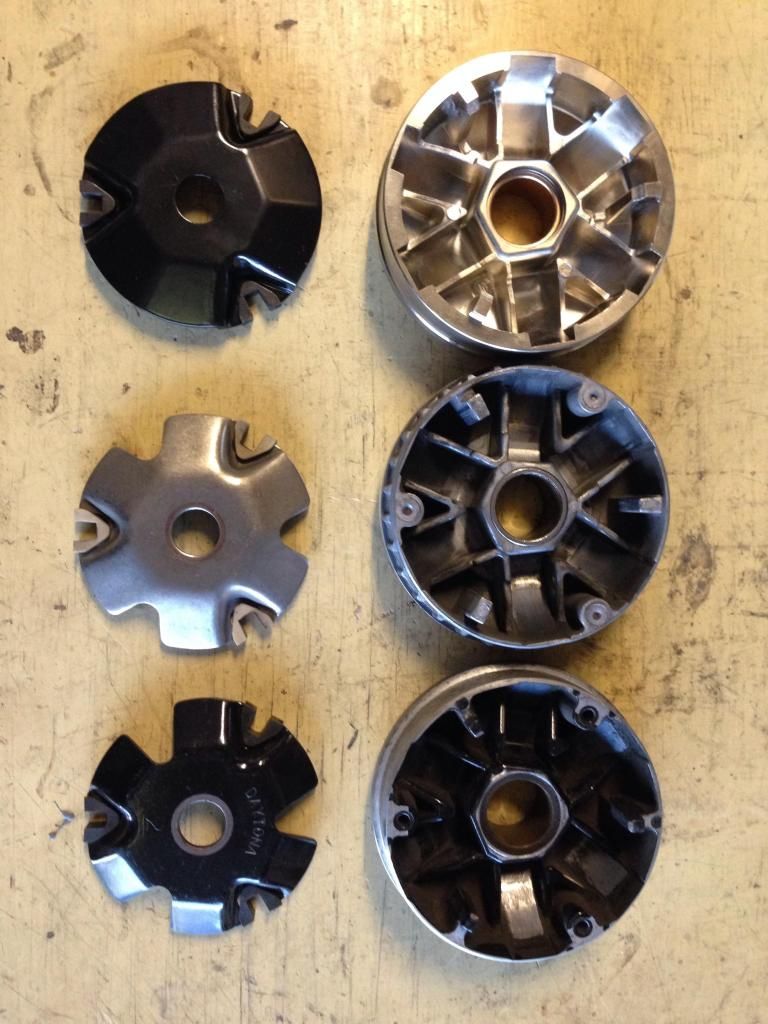 For reference here are the three I am making comparisons to. From top down: RUK, KN Kikaku, Daytona Drag. All three are more widely used for accel, hill climbing, strong low to mid, mild top end. All my numbers come from flat test strips that I've used for both the KN and Daytona variators.
Initial Impression:
Nice and smooth! Really solid looking and feeling piece. RUK comes with backplate, backplate guides, and boss. First thing I noticed was it's weight. It's noticeably heavier then both the KN and Daytona. Next, the RUK drive boss is approx 1-2mm longer then the stock boss.
Current CVT set up:
KN Kikaku Variator, 5.5gm Daytona rollers, Gates Premium Belt (~1700mi), stock clutch with blue engagement springs and Polini blue contra spring.
With RUK Variator ONLY, using STOCK boss and 5.5gm Daytona rollers. No RUK boss.
FLAT-straight paved streets.
First run results:
0-40mph FASTAAAAAH!!! By a lot too. I usually hit 40mph about 1-1.5 seconds further down on my test strip with my KN.
35-45mph Slower then the KN but faster then the Daytona. I have no numbers to compare, I just can tell.
45mph+ Strong!!! Gained approx 1-1.5mph cruising speed (Daytona 47mph, KN 48-48.5mph, RUK 49.5-50mph) Top speed was roughly the same as with KN (51mph).
Slight HILL climb-not very steep
FASTER! 43 mph (on second pass). 41mph (first pass). Will do a few more runs to get a average but on the same hill the KN usually does 39-41mph.
Overall INITIAL review: Very similar to KN in performance. Lacks a bit of "umff" from 35-45mph compared to KN. Gained 1-1.5mph on cruising speed (48-48.5 mph) which is a great realistic number. My engine revs lower too which is nice. At 51mph I believe I was around 9800 rpm (sorry, it was dark, couldn't see my tach) which is a lot calmer then my KN (51mph @10,200 rpm).
NEXT test:
RUK with RUK boss.