Awards
TOP 10 @ Joes mini bike reunion
BEST customized @ Joes Mini Bike Reunion Ruckus Class w/
Kiwi2racing.com
BEST RUCKUS @ MOTION autoshow
CANIBEAT x HELLAFLUSH BEST RUCKUS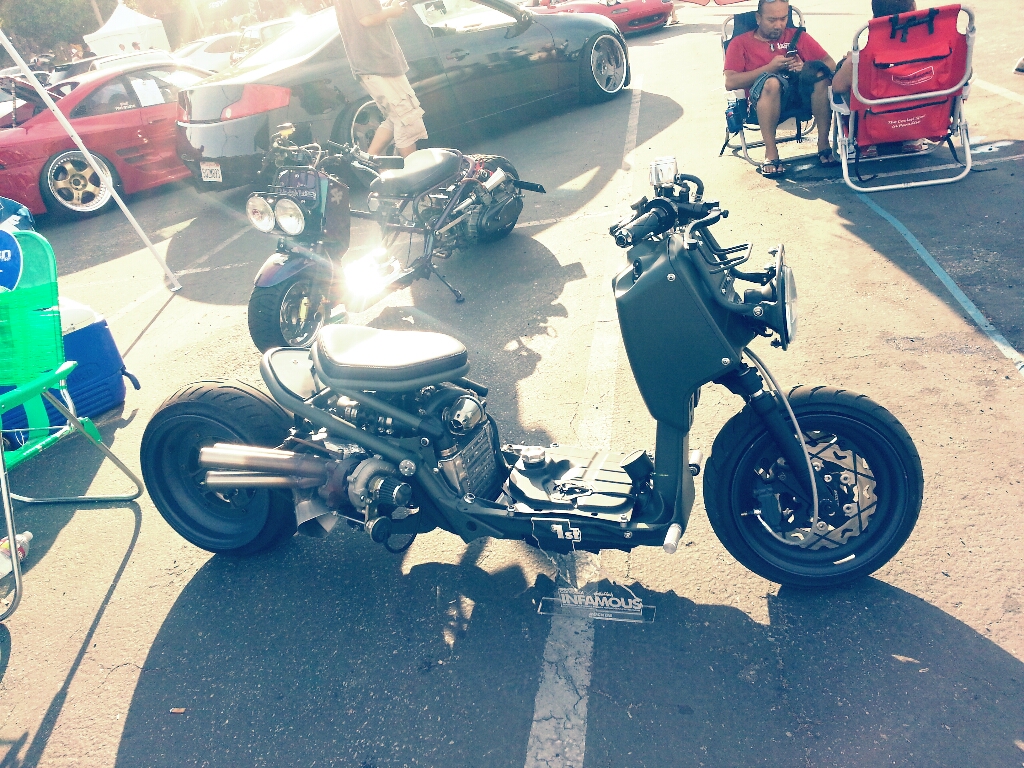 Project Z28x-Turbo takes home 1st place at the BLOX OH2012
____________________________________________________________________________________
Full write up and additional photos for Z28x-T V1.5 here :
http://standardfunctions.com/?p=3107
highlight sheet
Engine:
28x-T EFI Zuma swap
custom manifold for Dual Fuel injectors to keep this thing running right
Custom turbo kit
Hand made intercooler
Custom intercooler pipes
Custom Oil cooler
HKS SS BOV
Custom Turbo exhaust and manifold
special Transmission kit with a few hand made GO FAST parts
+more
Suspension and brakes:
NEW Dual 220mm ATR front disc brake kit with custom hub
4 pot calipers Front and rear
NEW Custom front wheel
NEW rear floating mono AIR shock
20 year old SSR MK-II rear wheel
260mm custom rear disc brake kit and hub
NEW F and R disc brake Master Cylinders with floating reservoir
Frame:
Paint was a custom mix of Matte Green + some other shit courtesy of our friend over at PPG
NEW StandardFunctions clubman bar and clamp
HKS boost gauge 15 lbs to be exact… High compression with 22lbs was a bit too much for street riding.
Custom rear diamond tail
Matching floating seat frame and pan
Custom upper and lower rear luggage pan
Custom machined raw washers
Custom machined Copper dress up pieces
NEW MNNTHBX peg brackets
NEW MNNTHBX lazy eye discontinued product resurrected for this project. Thanks GREG!
NEW rear license plate bracket and copper taillights
Custom air intake undercowl
Custom Stainless steel fan scoop
Enjoy
_______________________________________________________________________________________________
June 2012 : Quick update before the Video and photo feature releases. Now equipped with a bigger turbo and new tri-silencer for WEKFEST Long Beach 2012
____________________________________________________________________________________________________
May 2012 : Project z28x-Turbo takes home First place at the MOTION AUTO SHOW Sunday, May 20th 2012
Shouts to Luis for the rolling action from Super Sunday
__________________________________________________________________________________________________
Preview of whats to come courtesy of AWFILMS
___________________________________________________________________________________________________
SF Z28x-T teaser
4/26/12 : T-minus 3 days... brakes
T-minus 5 days #ss2012
See you guys soon