Whats up everyone, Im Andy. Im building this Ruck to commemorate the funnest years of my life.. The 4 years I spent at Washington State University in Pullman, WA - GO COUGS!! I rode my Ruck everywhere in Pullman, no matter if it was sunny and 100+ out or snowing and -20. My ruck never let me down! I'm now graduated from WSU and living back in my home city - Olympia, WA, athough I try to make it back to Pullman as often as possible to ride with my crew! My original Ruck is an 07, I bought it brand new and has about 2500 miles on it now (quite a few for the size of Pullman). Since I consider her the OG Ruck of the group (yeah I like to brag a little lol) I couldn't imagine tearing her apart for any length of time for a build.. so I went ahead and picked up an 09 with just over 1000 miles.
Most of my crew over in Pullman, Im on the far right..
Stole a couple shots from my buddy Luu (Ruck8).. my Ruck has the X'd out eyes..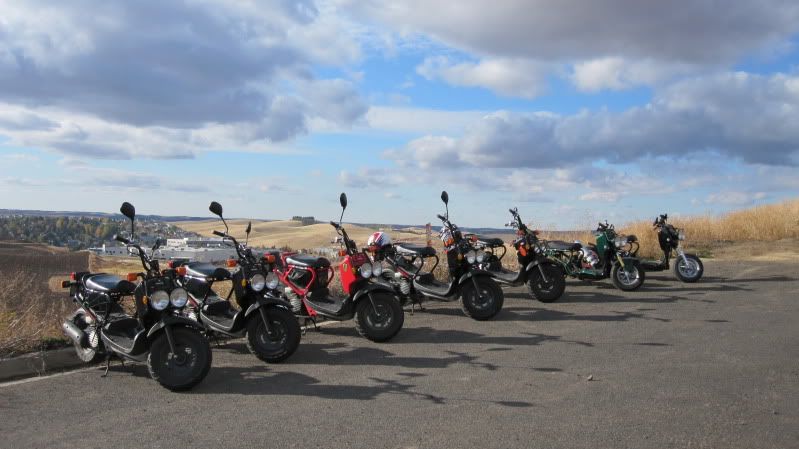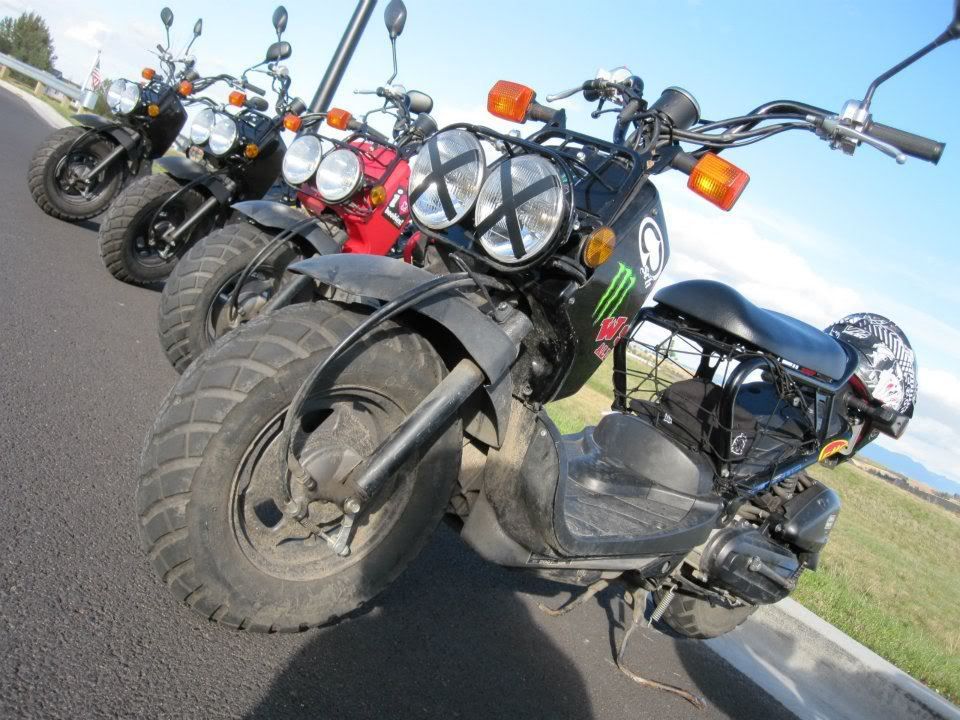 Specs on OG-ET:
HMF Exhaust - So loud!
Black Box CDI
Slick Speed Variator with 6gram rollers
Drop in Air Filter
I think thats all..?
Anyways, on to the new build.. Like I said, WAZZU.. Crimson and Gray, or in this case Gray and Crimson. Ill be painting / powdercoating most everything a gunmetal gray, Ill then use red or "crimson" accents. Other than that I'm kind of just planning as I go..
I picked her up in Portland, Oregon which is about an hour and half from where I live..
Couple pics of her after the trip home..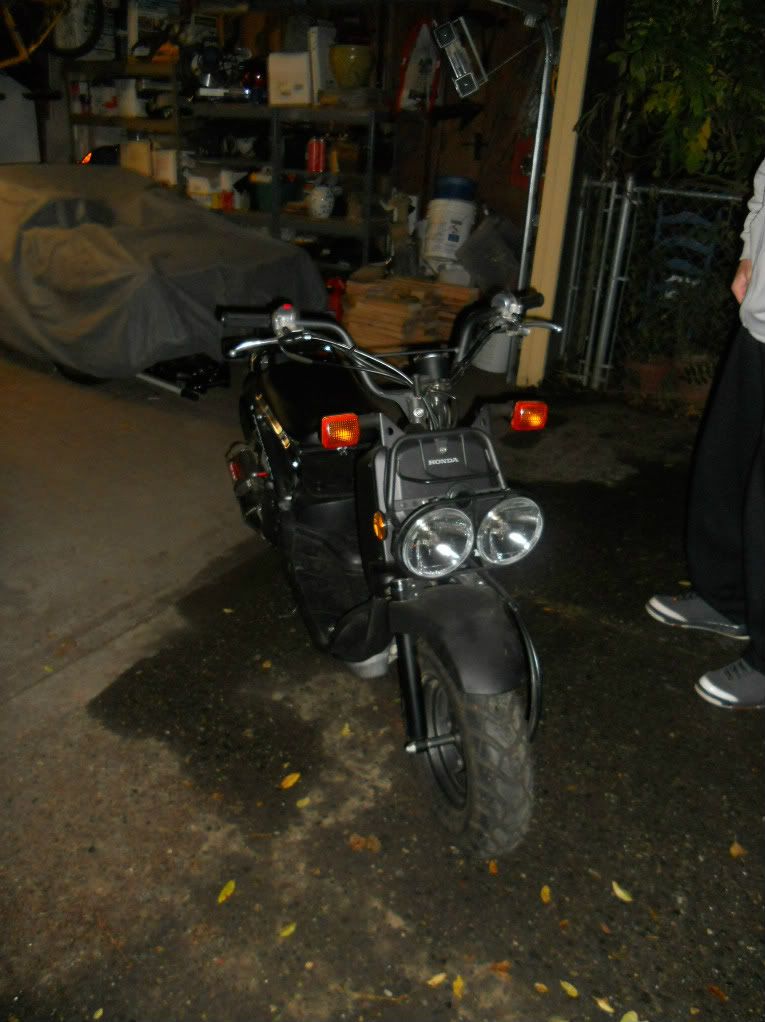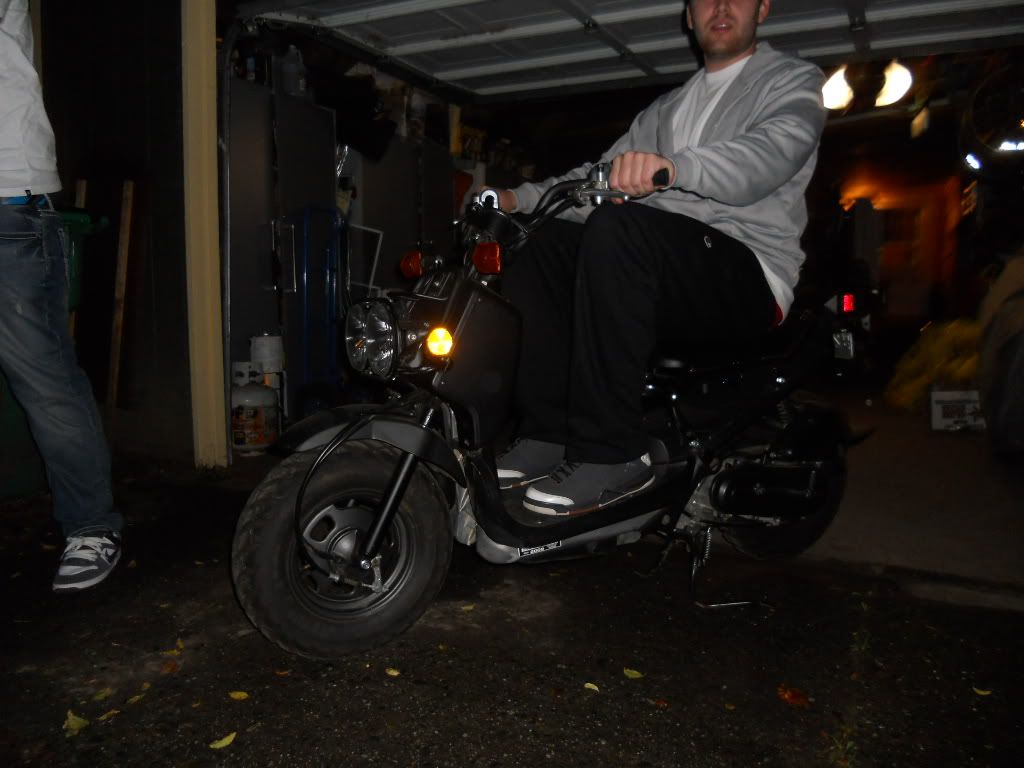 I finally brought her into the house a couple nights ago and began tearing her apart. Only took about an hour to get the 'ol GET outta there and about another hour fighting my way through the wiring harness, controls, and anything else in my way. Ill have photos of the progress up Tomorrow! (wayy to lazy to go out to the car and get my camera right now lol)
Plans as of Now:
Gy6 - Purchased
Composimo 7" fatty mount- Purchased
ATR Harness - Purchased -Thanks RUCKSTER!!
Password Pegs - Purchased
NCY foot brace / pegs - Purchased
NCY Tank Cover - Purchased
Gojin bolt kid (red) - Purchased
Max Power adjustable cdi - Purchased
Password V2 cap cover - Purchased
6 Shooter-ish frame caps (red) - Purchased - Thanks retrosb!!
7" Golfcart wheel with Pirrelli Tire and Hub - Purchased - Thanks Luu (Ruck8)!!
Turtlehead and Dingeberry - Thanks mnnthbx!!
Shortend Seat Frame
Kijima turn signals
Stainless Rear brake cable
Controls
Atr low stance rear shock
RRGS Big Brake kit- red - Thanks Dorby!!
CNC Levers / grips - Thanks Dorby!!
Think thats it for now..
Still to buy:
Exhaust - btx overhead
Handlebars
Seat Cover
FTP Frame splitter
I think that should get me rolling.. for now
Anyways, hope you enjoy the build and I appriciate any constructive criticism, comments or concerns. Thanks for stopping by!
oh ya.. GO COUGS!