Hi all on TR! My name is Tyler Harrod and i live in Northern Kentucky. Ive been on here a little bit. Not knocking any other ruckus sites but this is the best i have tried. Everyone is very helpful and knows what they are talking about and knows their way around a ruck or two or anything like em. Anyways finally got around to geting some halfway decent pics of my ruck so gonna try and make my FIRST ruckus buid thread of my FIRST ruckus. I will have man more though! I have fallen in love with them and i have enough ideas so far to do about 5 more so i have lot of work ahead of me lol! I am ADDICTED to them now
. But lets just focus on the first one for now shall we?
Its a 2009 Honda Ruckus purchased brand new with .5 miles on the ODO form a Honda dealer around my house. It is my first thing on two wheels that i have owned but i have lots of past experince riding some dirt bikes and a lots of quads! When i bought my ruck my girlfreind also bought a Red 2010 Honda Elite brand new off the showroom floor to ride around with me! Its a bit faster but 110cc Fuel Injected will get you that lol. But i love my ruck. She didnt get a ruck because she didnt like the stripped down look lol. She liked the bright and curvey elite. But onto my build......wil get some pics with her bike soon and get em up......
2009 Honda Ruckus
Keeping GET motor on it and keeping it all stock on inside and keeping stock carb maxing this combo out! 55mph is my goal it may be lofty for this stock style setup but i will try everything to get it there.
First pics will be stock when i got her then the mod pics start!
bone stock the night i got her home. tucked in the corner of the packed single car garage where she sleeps every nite.
Fisrt cosmetic style mods. colored in kenda tire logo with yellow tire paint. I love the way the tire paint look on old skool JDM cars so why not! Also put on rising sun tire valve caps
More mods. reflector piece of tail light bracket cut off and jdm palte put in its place. led red bulb for brake light put in. rear fender cut and raised up bobber style. battlescooter drop in high flow filter now time to re-jet this maxed my stock fueling out lol! got a jet kit ready though! (also in background my chin bone i made myself more on that later tho)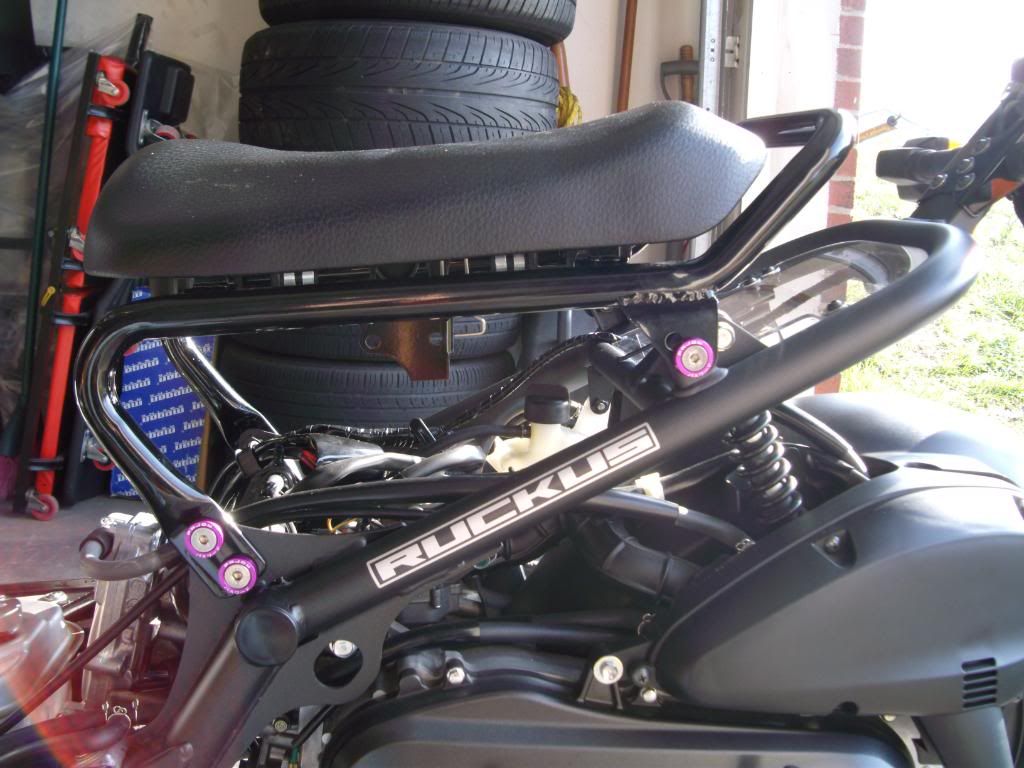 keeping stock seat but password jdm low seat frame put on along with password jdm bolt and washer kit and password jdm sticker. password jdm clear lexan rear under seat cover put on. all bolts switch out to black cap screws. all stock floor plastics removed. password jdm yellow headlights put in (I love these!!), password jdm foot pegs put on as well. sorry pictures of most these mods are no on here but i will put some up on a update to this thread after i get my nxt round of mods!
Work started on chin bone was pretty involved but my first time oing anything like this and im happy with it!
box stickered up, cut, and trimmed
bar on. polished and stickered up lol. had to use the plunger for a clog on th exhaust.....lol just kidding dont know why its there...
took time to clean up hoses and wireing. installed high speed spec ngk iridum plug and NGK cable with wire seperator d a ground cable. also put a sticker on front motor cover. Got to get every last ounce of horsepower from the stickers. what each one is like 5hp right......?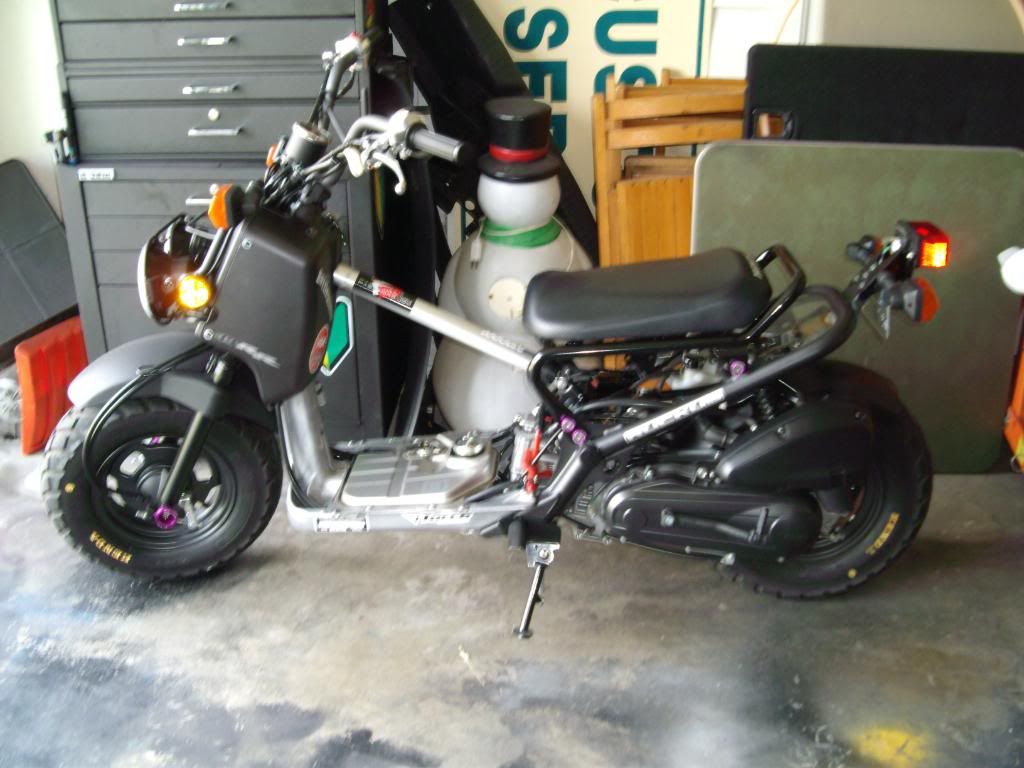 center stand removed and password jdm kickstand on and password jdm zoomer rising sun rad cover put on as well as chrome ncy dipstick and chrome ncy resevoir cover and mugen radiator cap from pssword jdm. pics of these soon as well as a new cover idea
i had for my stock speedometer in stock location.....
homemade chin bone on and only bout 20 bucks to make!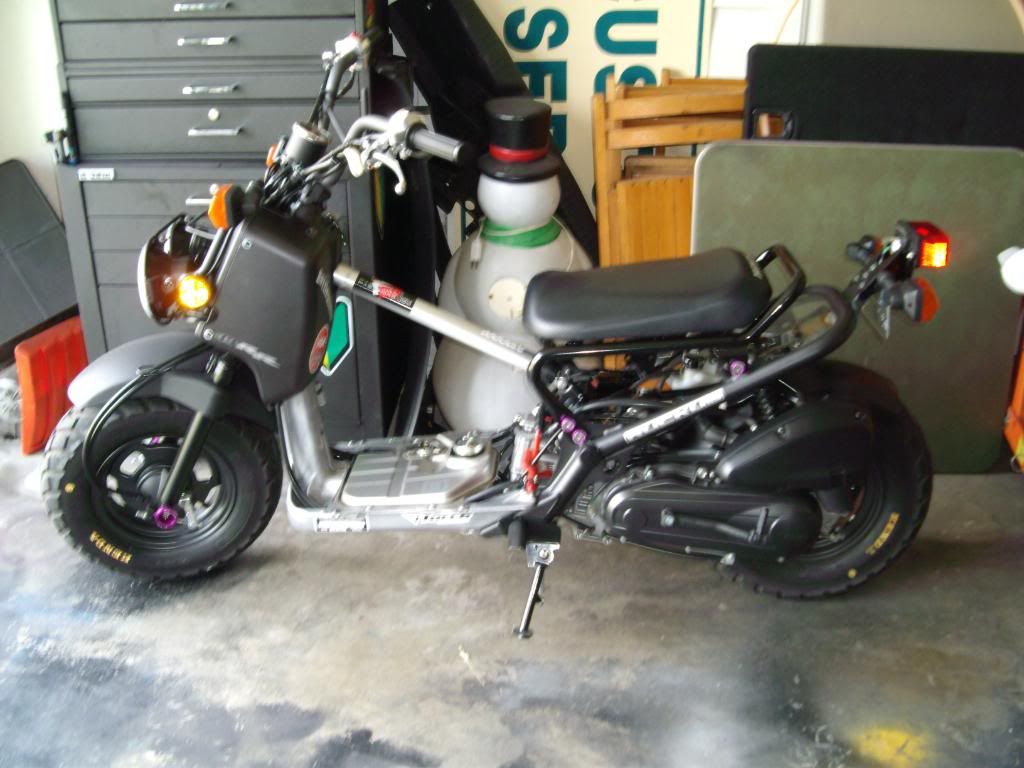 frosty did not want to ride i think i angered him.....
oh well
password jdm axle spools on and stock mirrors removed much cleaner! and a homemade stainless steel catch can i made with clear line running it. more on this later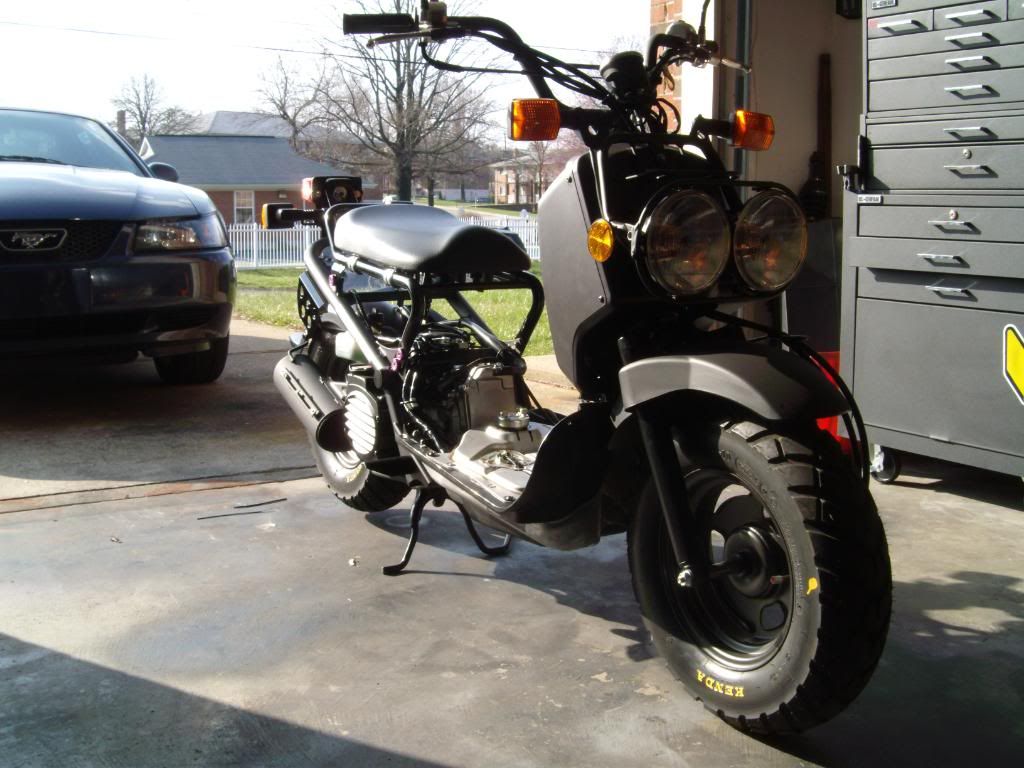 outta place but i just found this pic. mostly stock with just some cheap freebie cosmetic mods rocking center stand. i like the center stand just not with what i had in mind or this build.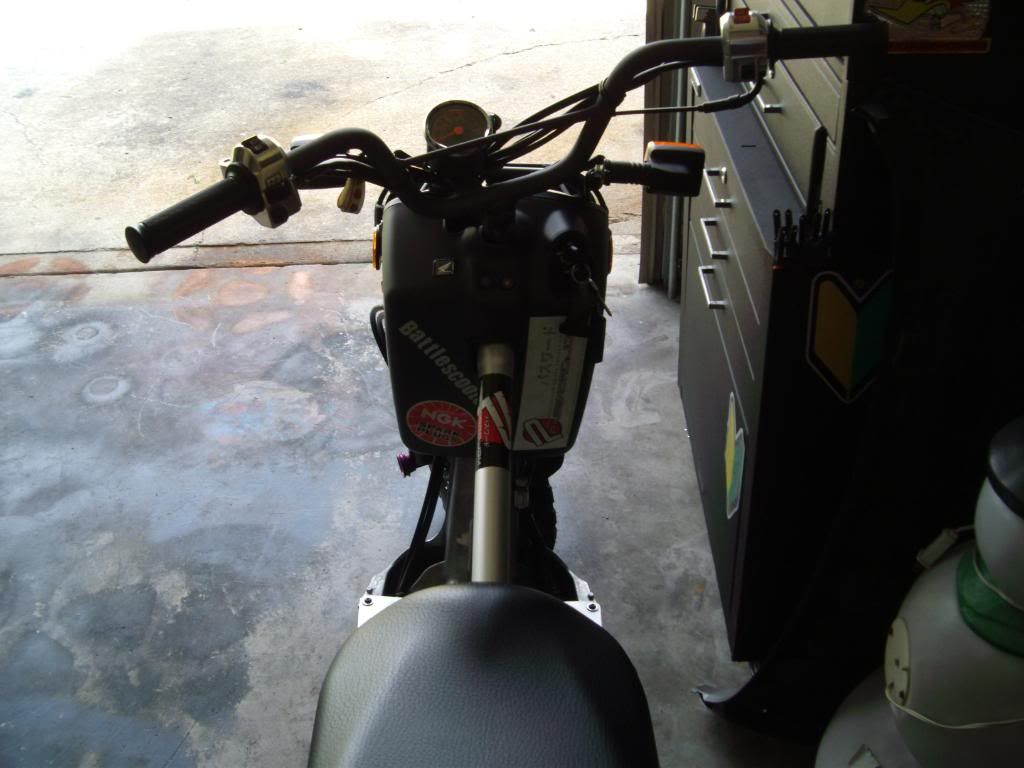 overhead. with a little jap flag hanging from handlebar lol.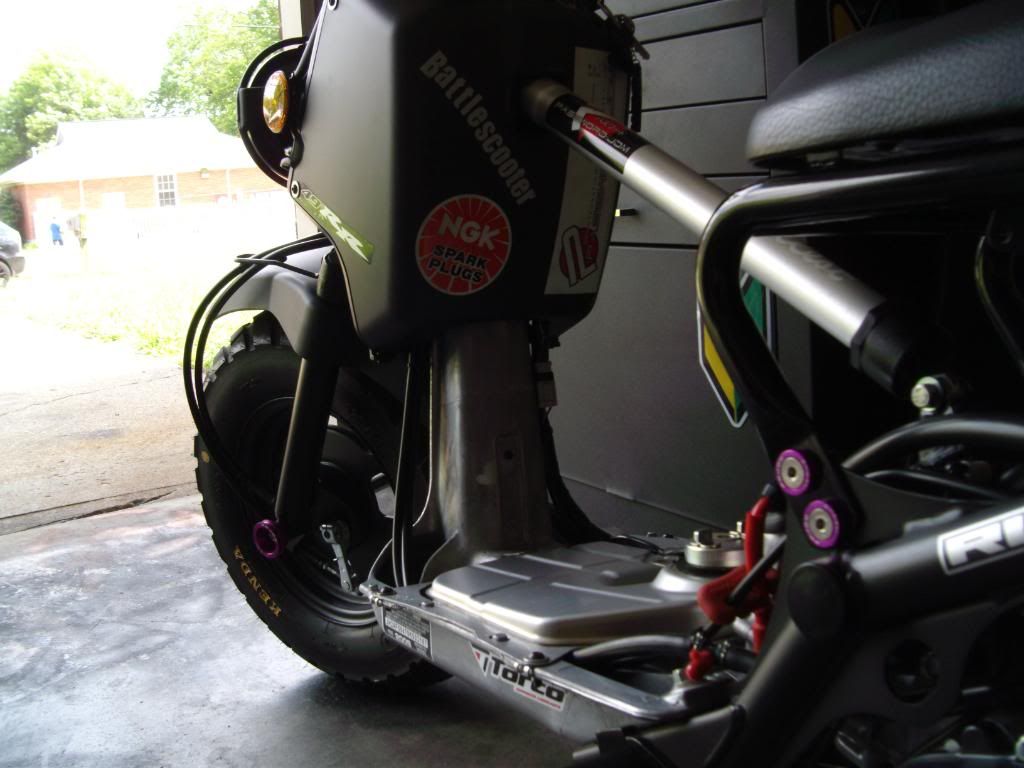 lowdown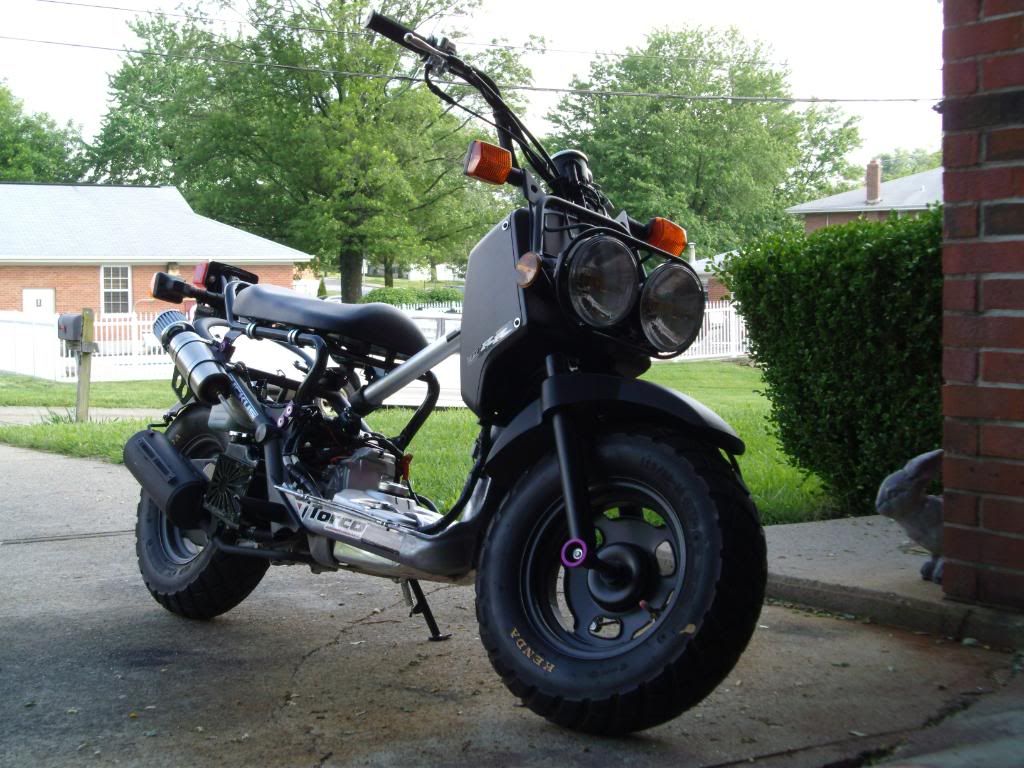 closeup
Thats all for tonight! ill post pics of my homemade catch can tommarow as well as the little cosmetic things that cannot be seen in these pics as well as what plans i have for her in the very near future!!!!!!
Thanks for looking and keep on Rucking and Rolling LOL!