How she currently sits 01/26/2017:
Current Mod List:
TRS Aluminum Foot Pegs
TRS Louvered Aluminum Radiator Cover
NCY Black Seat Frame
Composimo Billeted Aluminum Frame Caps
Prima Magnetic Oil Bolt Set
Battery Tender
MNNTHBX Aluminum Carb Cap
MNNTHBX Aluminum PAIR Valve Block-Off
DrowSports Black Painted Carbon Fiber Tank Cover
DrowSports Under Seat Glove Box Thumb Screw
Trail Tech TTO Tachometer
Mojo Customs GET Fatty Stretch Mount Kit
Douglas 12x8 Rear Dish Rim
GP GET Fatty Exhaust
MNNTHBX Intake Bracket with Hose
Shinko 130/70-R12 Whitewall Tire
MNNTHBX Rear Peg Extensions
MNNTHBX Kickstand
K&N Filter Set
Mojo Customs License Plate Mount
NCY Chrome Spring Rear Shock
Composimo Keyless Aluminum Gas Cap
Kijima DUT Clear Lense Turn Signal Lights
Mojo Customs R6 Mounting Bracket
R6 Clear Tail light
Mojo Customs Lowered Handlebar Mount
Mojo Customs Handlebars
MachinedMachines Polished Key Guard
ELFR-1 Led Relay
Motorsports MTX-L Digital Air/Fuel Ratio Gauge
O2 Exhaust Bunge
DrowSports FLP Frame Splitter
Keihin 38/82 Jets
Polini Variator
Polini Kevlar Belt
Dr. Pulley 5g Sliders
DrowSports Variator Wrench
rPro Aluminum Step Tone Chamber Billet Grips
TRS 2" Bar End Mirrors
TRS Cut Out CVT Cover
NCY Slotted Clutch Bell
Composimo Headlight Lowering Bracket
Ruckhouse Front Hub Adaptor 4/90
Shinko 120/70-R12 Whitewall Tire
Steady Garage Endurance Front Axle Cups
Mojo Customs 12x4 Front Dish Rim
Goodridge Chrome Banjo Bolts
NCY Titanium 12mm Front Axle
NCY Titanium Gray Front Shocks
NCY 220mm Disc Brake Rotor
NCY 32" Disc Brake Cable
NCY 2 Piston Black Brake Caliper
MachinedMachines 60 Degree Conversion Washers
Chrome 60 Degree M12 x 1.5 Lugnuts
TRS Chrome 90 Degree Banjo Fitting
TRS Brown Suede and Leather Seat Cover with White Stitching
M12 1.75 x 110mm Kickstand Bolt
Hi,
I'm BornAgainShogun most call me Shogun or Alex doesn't matter to me. I have been lurking on TR for about 4 years now, all started when I saw a Ruckus at a local car show I went to every Friday night. Money wasn't available at the time finally 4 years later after a house, engagement, and wedding things finally settled down enough to get a Ruckus. So on October 24, 2015 my wife and I went to a scooter store in Leesburg, Virginia and I bought a brand new 2015 Black Honda Ruckus with a half a mile on the odometer for 3k and some change. I live in a community called Lake of the Woods in Locust Grove, Virginia if anyone lives close by and wants to ride let me know. I haven't scene any other scooters in the community which is mostly elderly people and families with kids. Needless to say I am causing quite a Ruckus in the neighborhood. I decided to name my Ruckus Marilyn Monroe. I plan to heavily mod Marilyn but the engine will remain a GET. Before I start modding I wanted to get some serious ride time in the rest of this year. I will start the modifying this winter when I can't ride her and I get more funds. The theme for Marilyn is a 55 Chevy Bel Air I am not giving away the color scheme but its going to match my wife's future pickup truck.
This is Marilyn on the ride home in the back of my 2004 Honda CRV she didn't quite fit.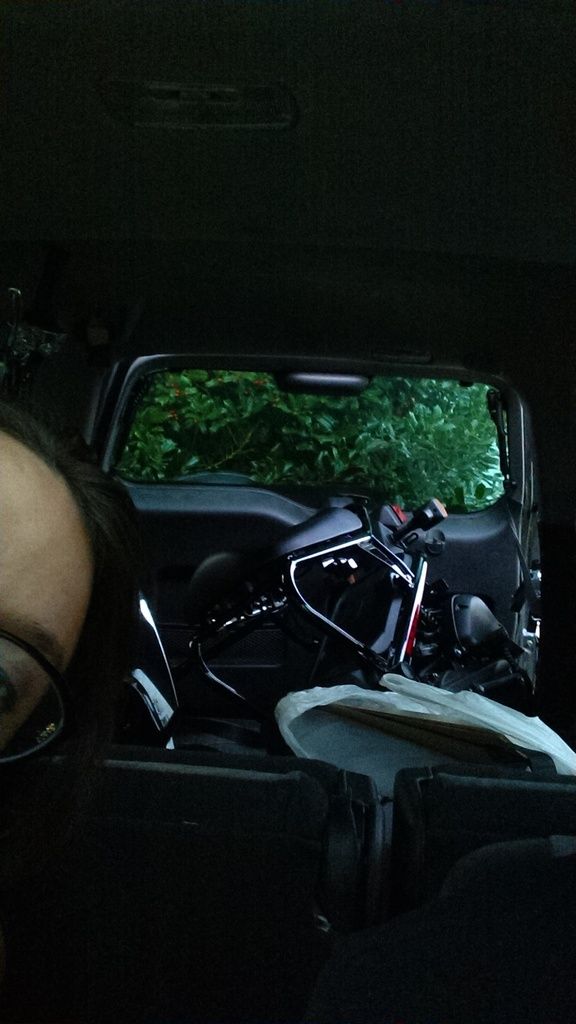 Here is how she looked the first night in the garage completely stock.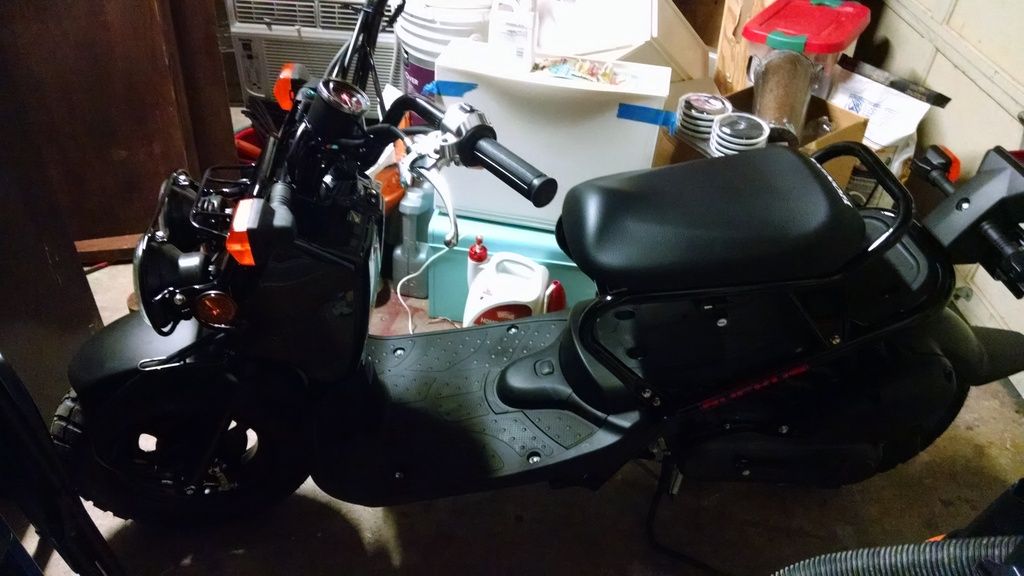 Here is how she sits right now.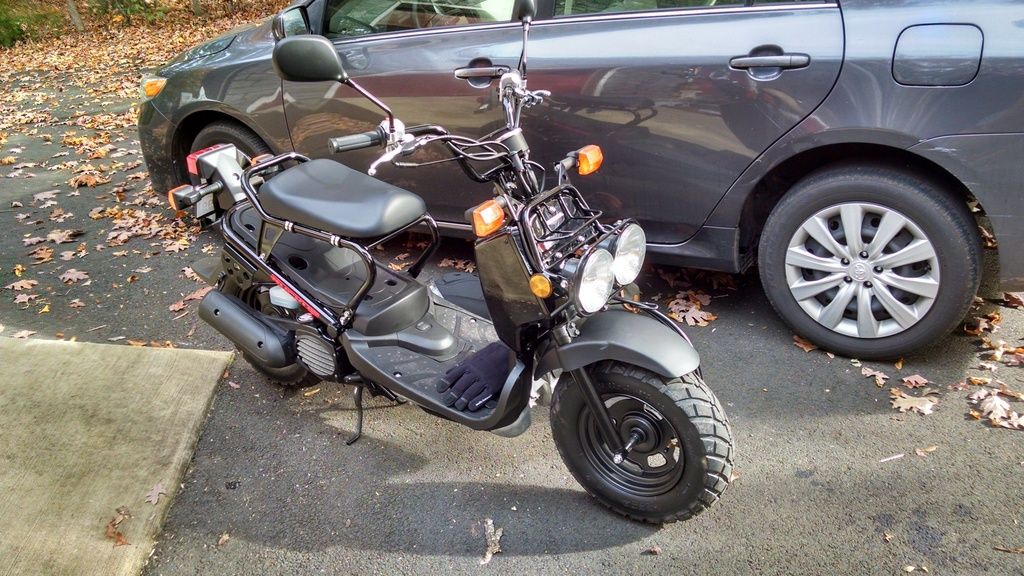 Here is Marilyn next to my daily driver, they currently match pretty well but not for long.
Marilyn didn't stay stock for long, the horn being on the outside drove me nuts so I relocated it inside the battery box.
Current mileage on Marilyn after 2 days of riding.