I guess I need one of these again...
First up is my ladies Ruck. It was given to her in 2005, brand new as a gift from her parents. Back then she was not real keen on modding, so it only got the things that in our opinions were necessary. Daytona shock, lowered seat frame and handlebar clamp. The bars were some no-name BMX dealies and the grips were old skool vespa items from eBay.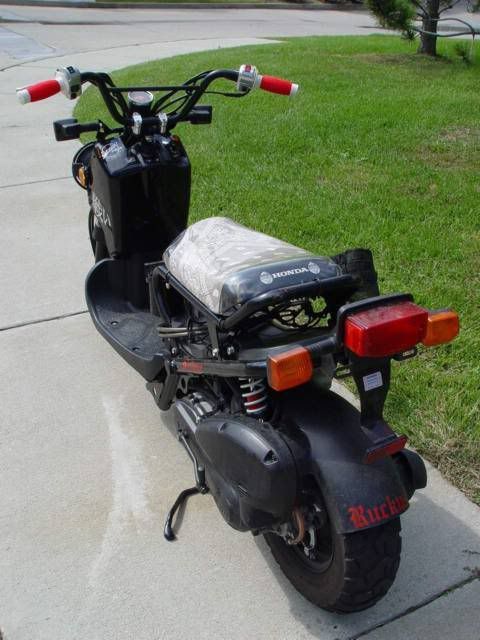 Photo from 2006
It looked like that for about 5 years with the exception of a few battery box and other minor alterations. She rode the shit out of the thing, even blowing up her original motor, which was completely my fault for not changing her oil. Also got her a better condition used harness just for shits. Luckily the Gy6 invasion had started so low mileage stock GET parts were easily available.
In 2011 she had grown tired of the semi-stock look and opted for what she feels is a acceptably modded bike, with some stock attributes. She was always a fan of my first Ruckus so it carried some parts over from that build. Low and long was the desired look so a KillerScooter stretch was the first major part to get it going along with a ton of other parts so it would look and ride complete enough for her.
We got lucky with a set of hurricane z-bars on the cheap from a local who is selling his scoot, a used set of Zoomer headlights (bracket and all) from the TR classifieds and all kinds of dope JDM trinkets. Thanks to a taillight issue, we most recently had the stock taillight location shaved. Due to the very sleek KillerScooter seat frame we decided to mount her temporary taillight under the almost brand new 2012 stock floorboard using a MNNTHBX Dingleberry with custom bracket.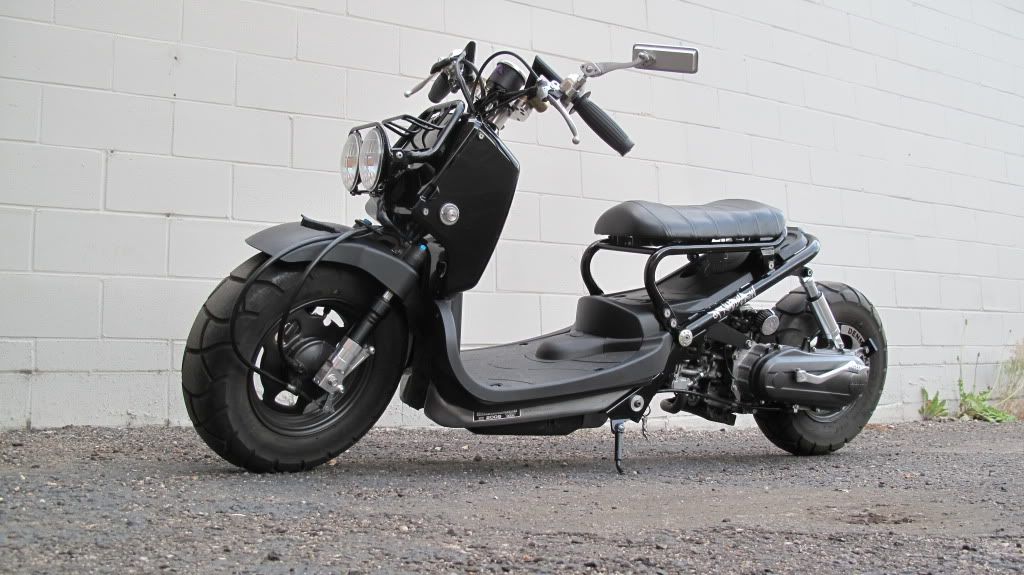 That's how she sits as of last week, with plenty more to do we hope to have another update for this one by the end of riding season.
Well, one year late, but I finally was able to do a pretty good re-do on my wifes bike. Wanted to do a much more clean (less cluttered) build than my yellow bike. Also wanted to use mostly USDM parts with a few select JDM peices thrown in. The brown color was all my wife's choice, even though I fought her about it. We are both very psyched on how it came out. But they are never done, so who knows what is in store going forward.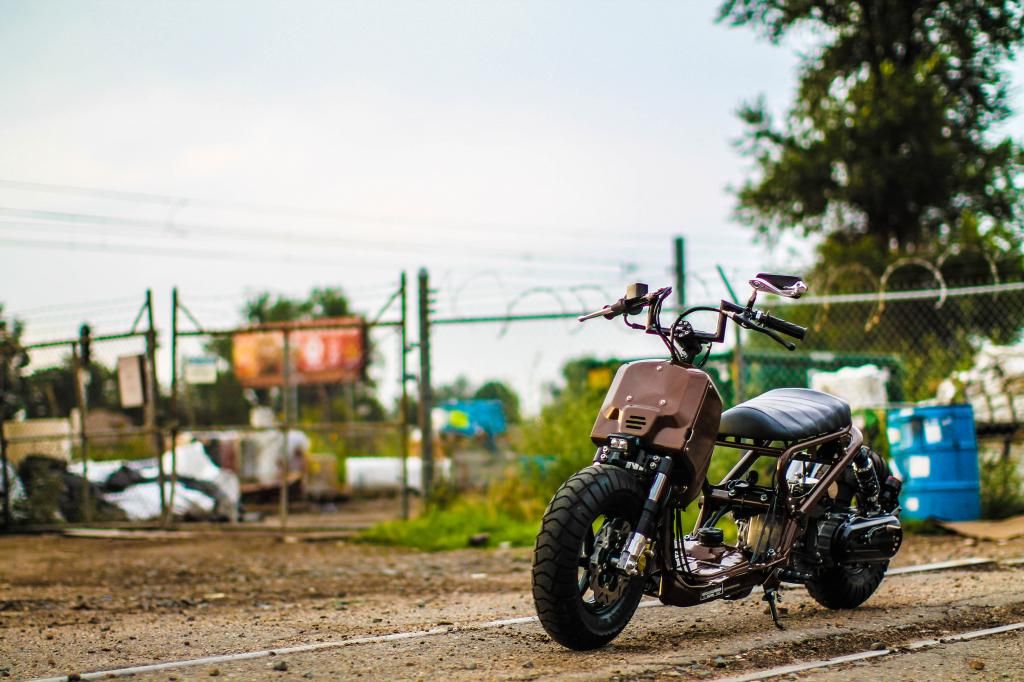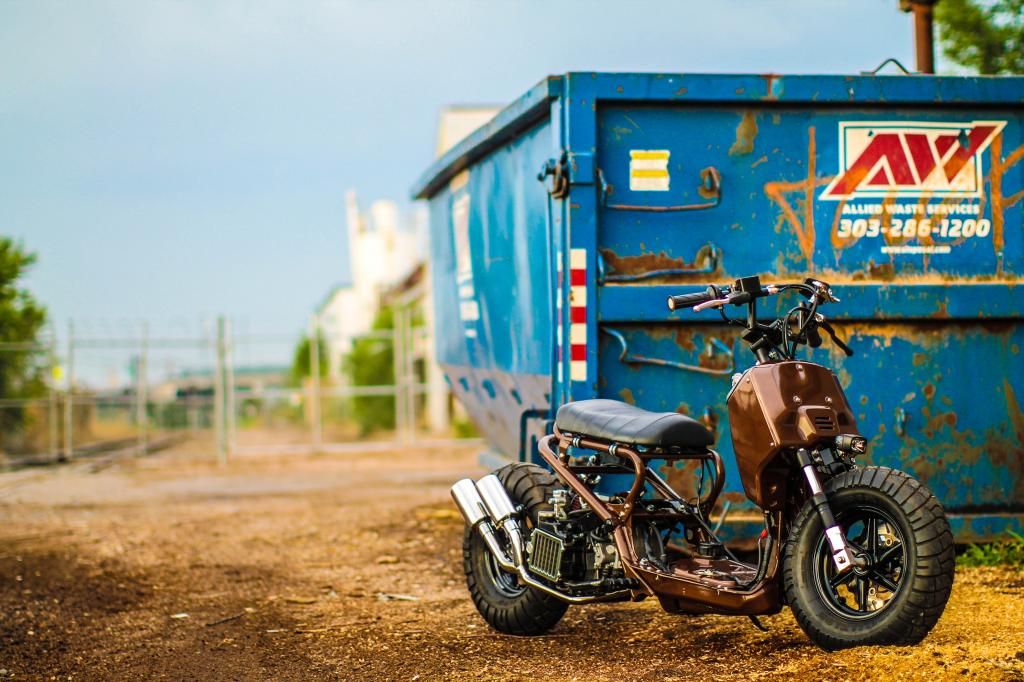 Thanks for her build from both her and myself must go to:
DenFuckingMob
CorSport
KillerScooter
KUG
HiGrade
RoboMod
FLP
I bought a Yellow 2004 Ruckus with 9500 miles on it in 2012. This thing was filthy, obviously a clean scooter was not a high priority for someone. There is about a half inch worth of grime, oil and dirt on the underside of the motor. The headlight bracket was bent up pretty good and the floorboard was good and cracked. I'm pretty sure it was dropped or wrecked at some point.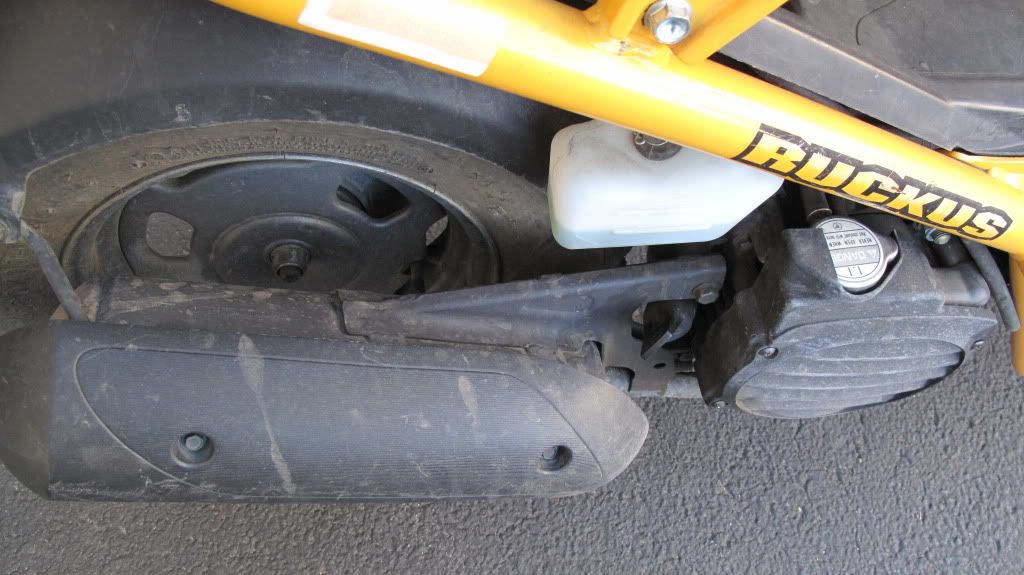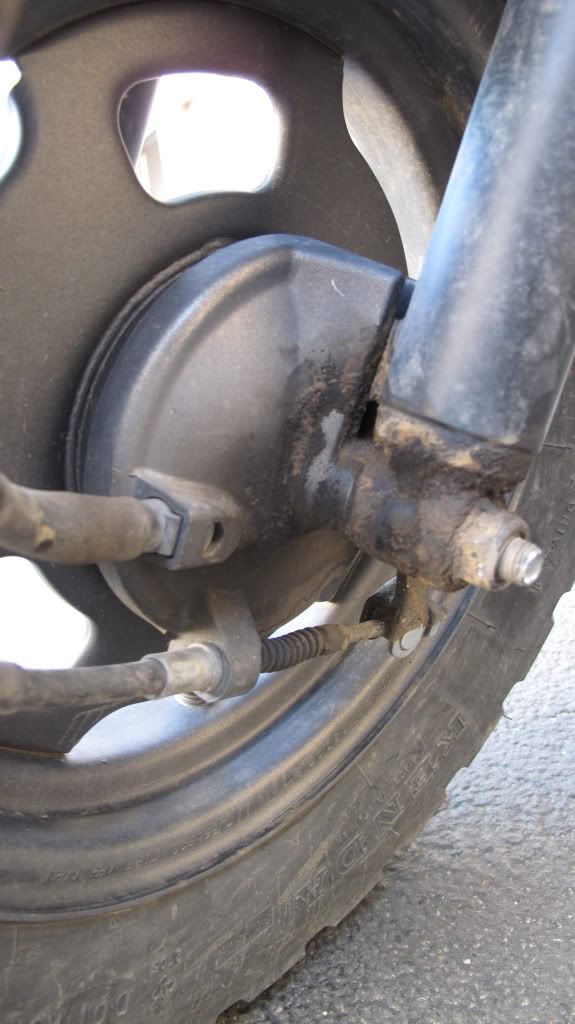 I put a zoomer headlight bracket and Kijima kickstand on immediately as you can see.
Mobbed around like that for a few weeks while I waited for parts to come in and further decide on a direction to go with it. I knew I wanted to keep it stock length and JDM where possible to keep it old skool, but also to be a daily rocking the airbox and some kind of fenders. I ended up with this over the last weekend, in a effort to get it back to respectability.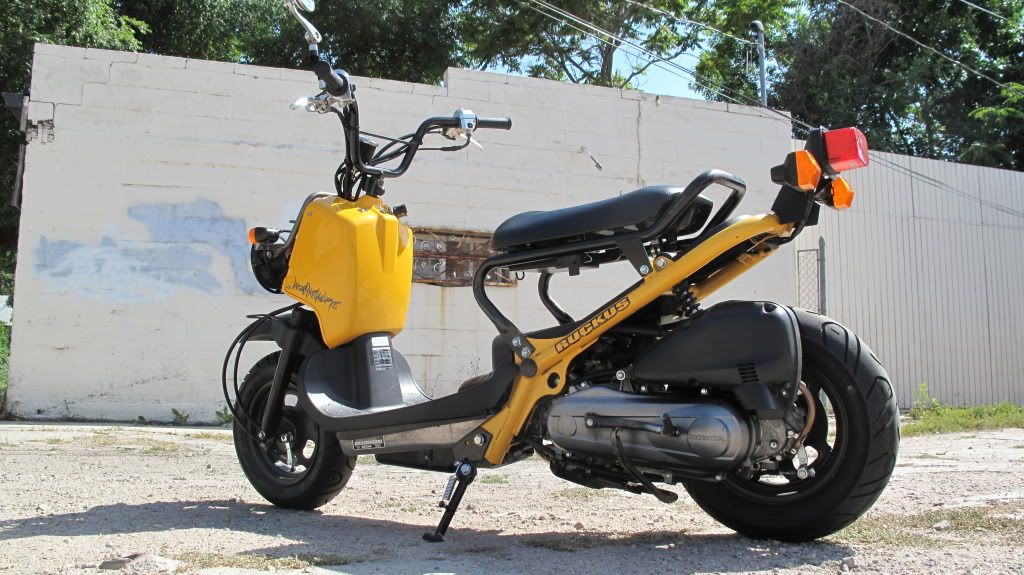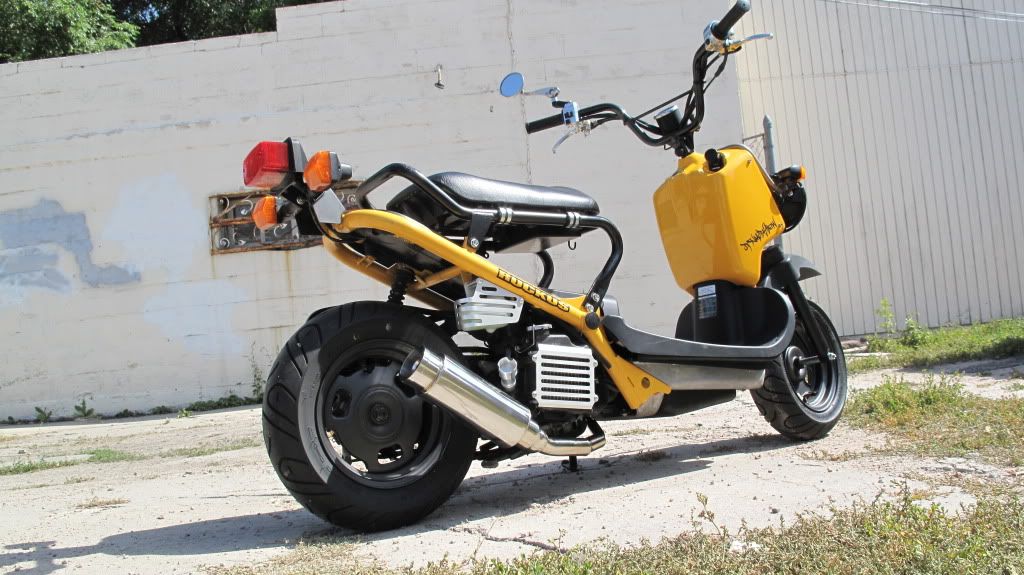 The tires have already have been changed for boppers (I wanted really low but will live with really tall). New bars, fenders and a few other small items are next. Should have another update on this one before the end of July.
UPDATE AS PROMISED
END OF RIDING SEASON 2012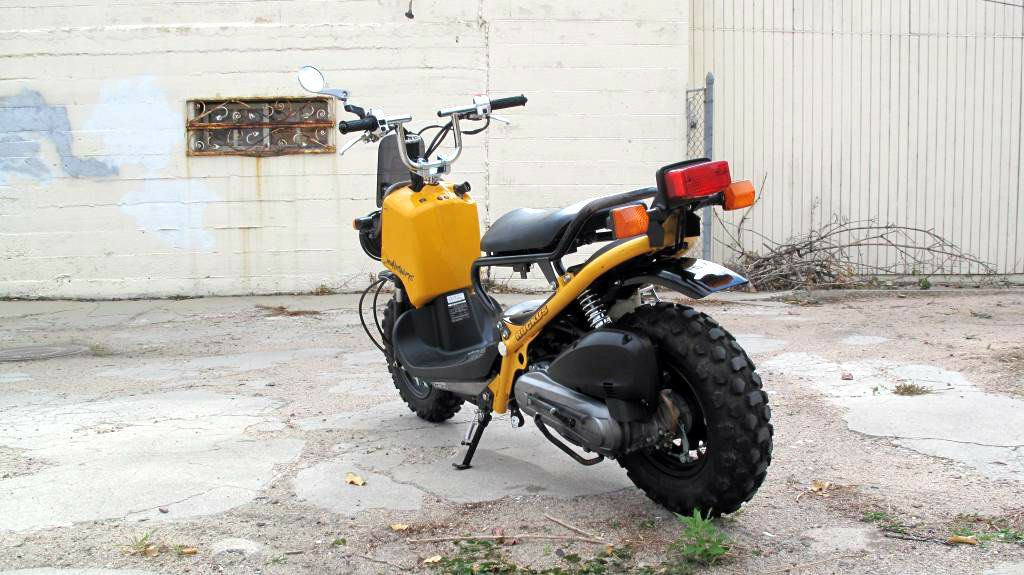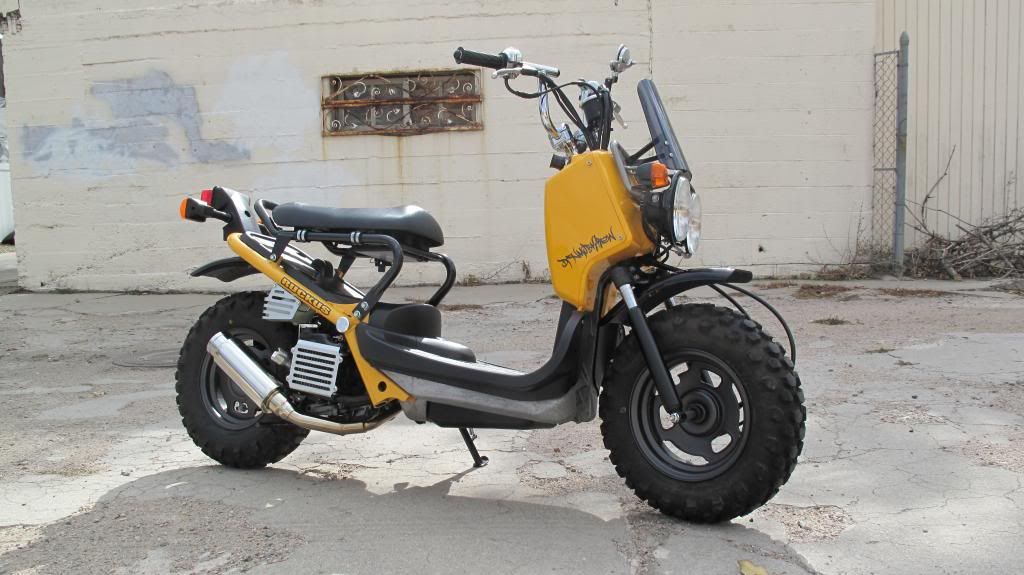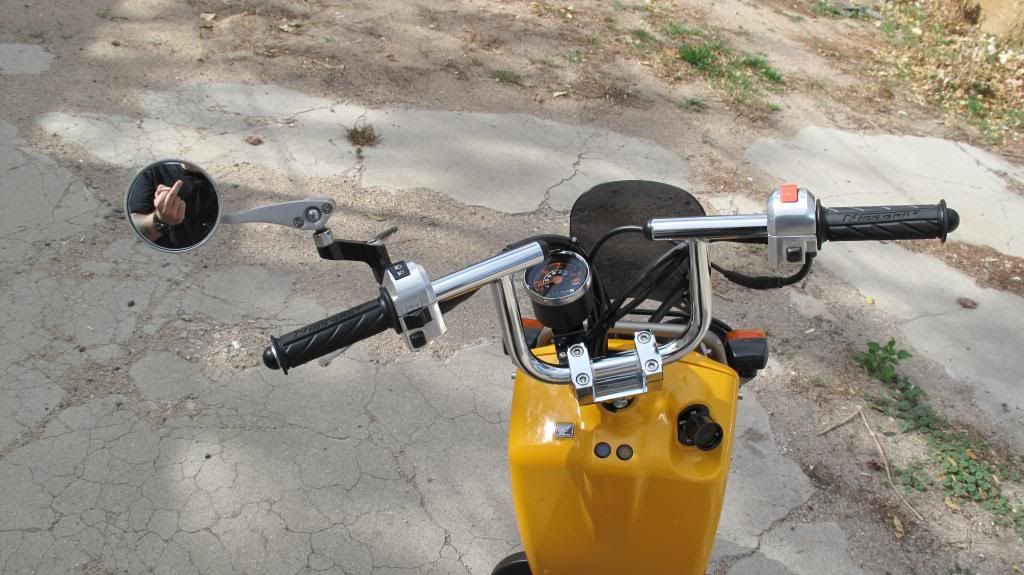 FEBURARY 2013
Finally got to ride in some snow.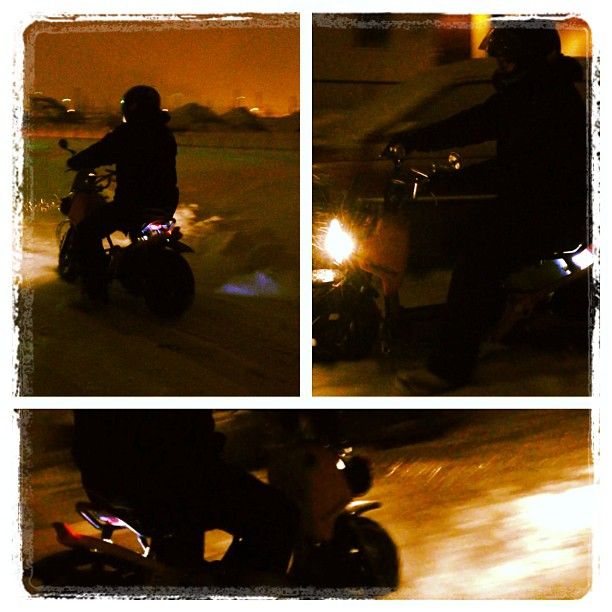 RIDING SEASON 2013
SNOW RIDING SEASON 2014
I should've taken snow pics...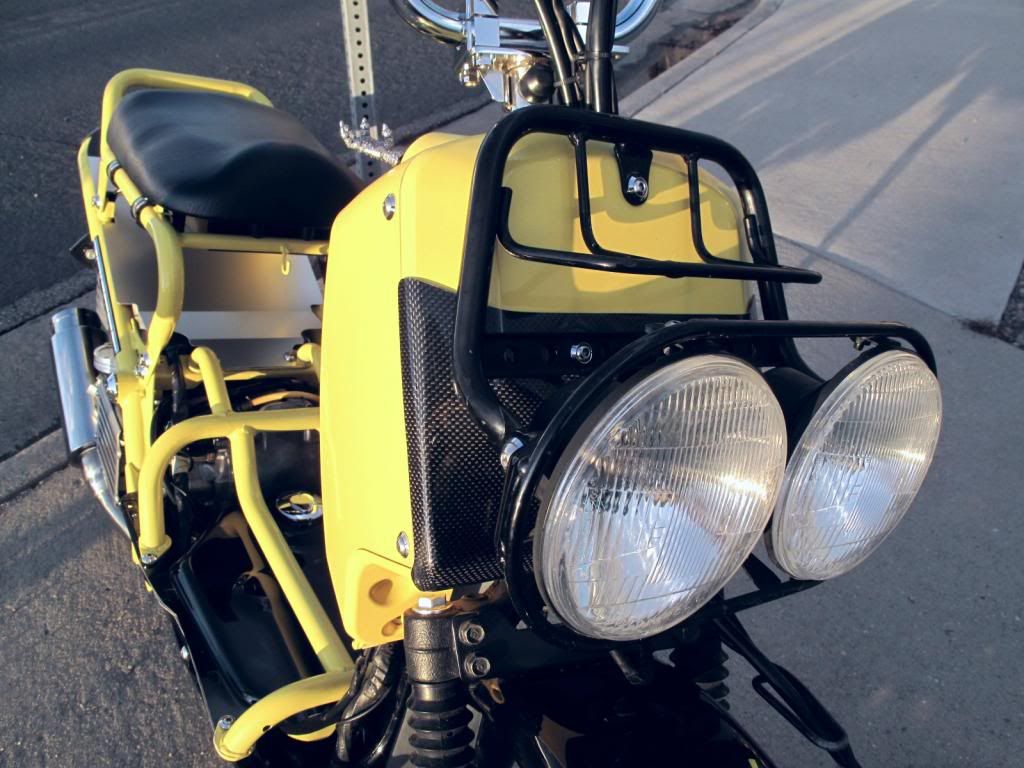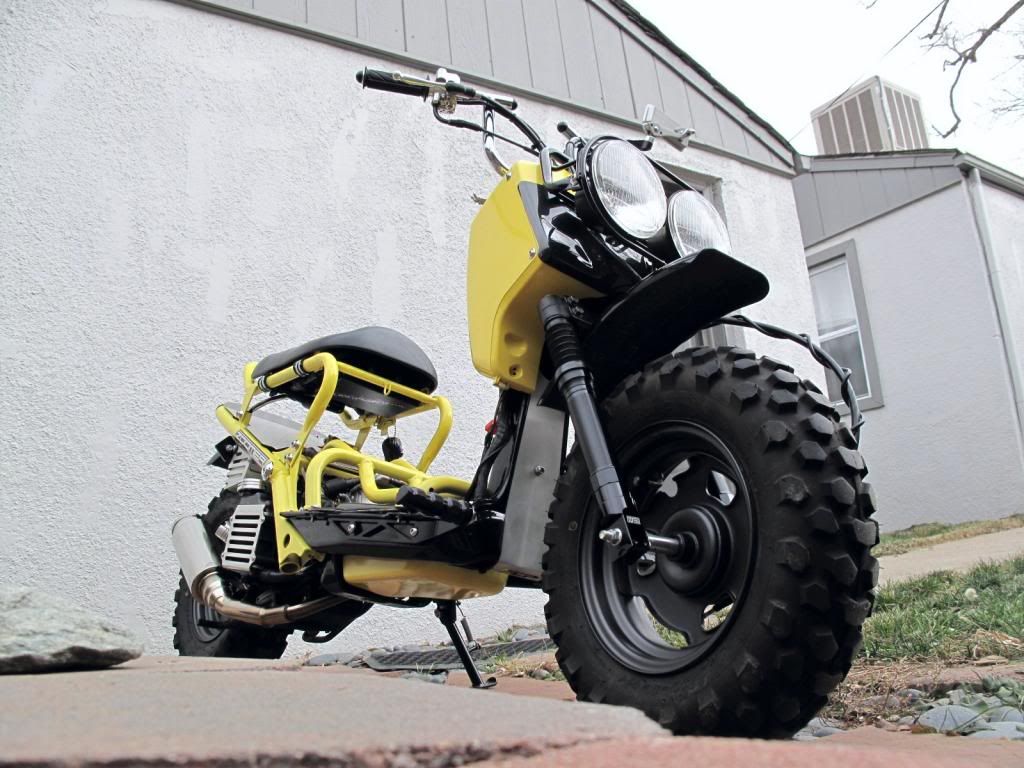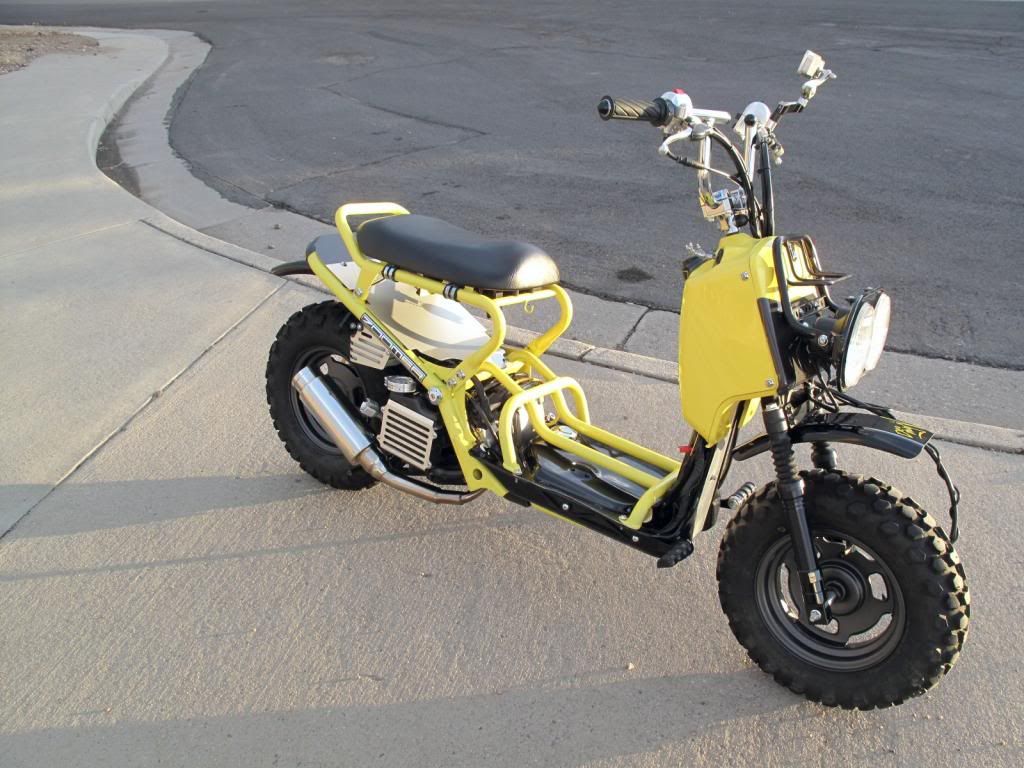 I don't do the stance dance.
Photo From a car meet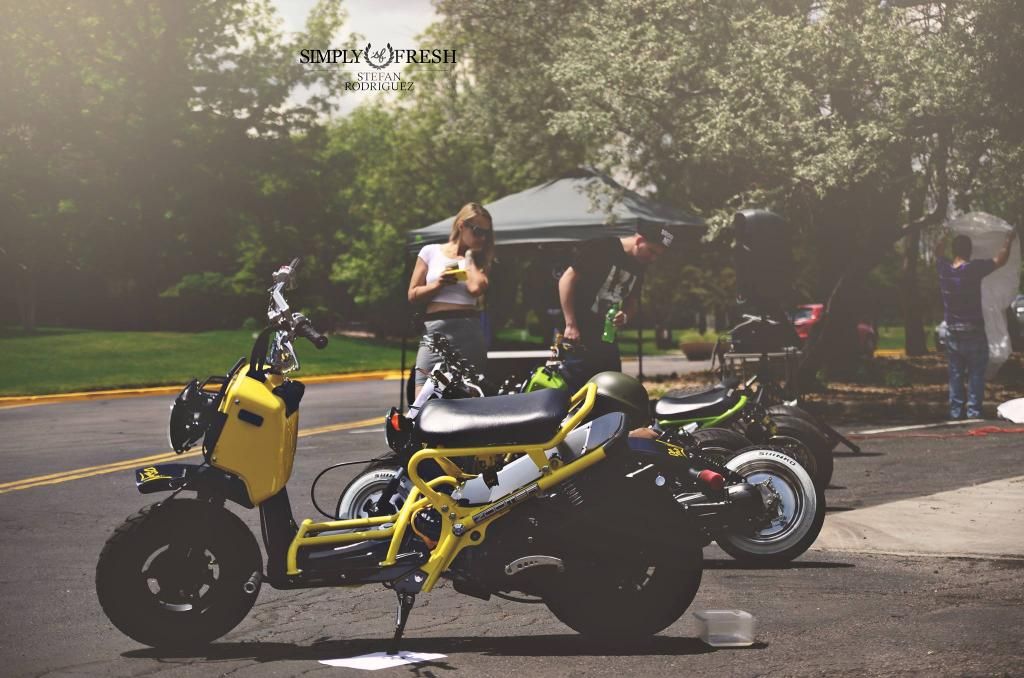 Photo From 6-20-14
So after finishing my wife's scoot I was able to start and finish the re-do of mine. The goal of this build was to have actual daily driver, but modified to a more OEM+ feel when compared to a stock Ruckus. The main changes from the yellow version are the new color, more powder coat and the disk brake on the stock front wheel. It also has a 2014 GET that was installed with 7 original miles. I'm pretty happy with how it has turned out, and now get to turn my attention to a third Ruckus.
Thanks to everyone who helped with this build, including but not limited to:
DenMob
Kiwi2Racing
STVU Photography
Steady Garage
Drow Sports
Tokyo Parts
TR Classifieds
TR FB Classifieds
PBR
Legal Marijuana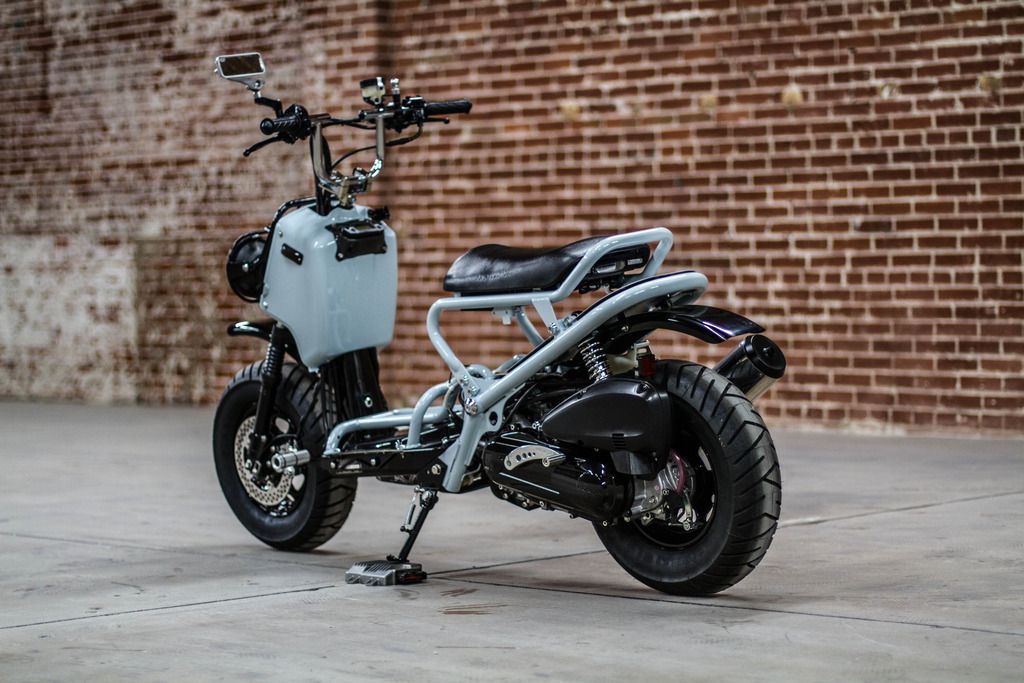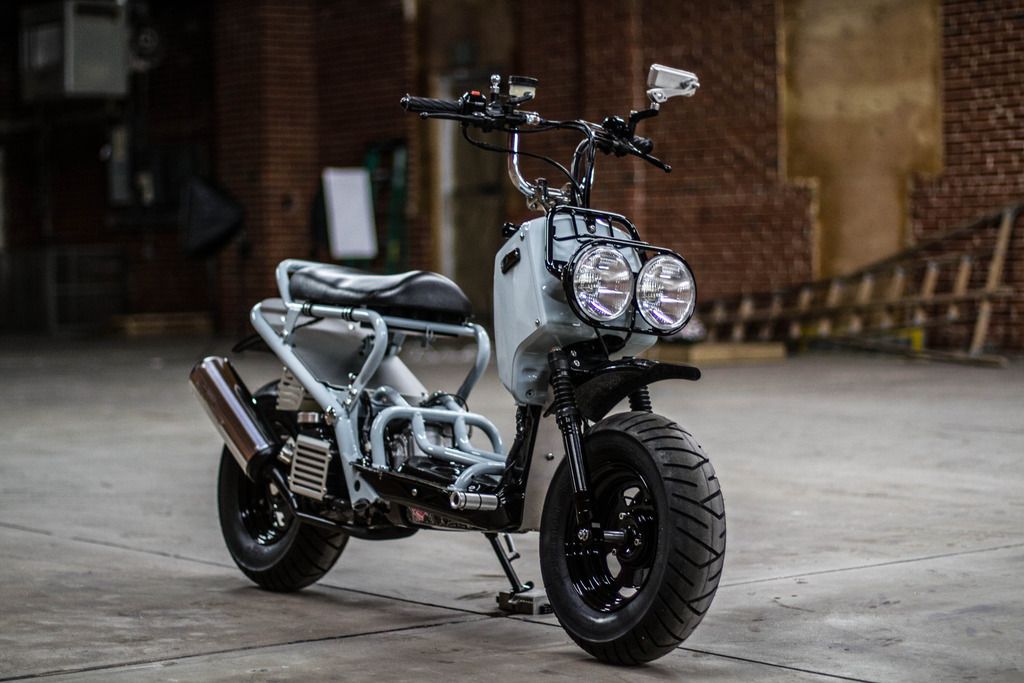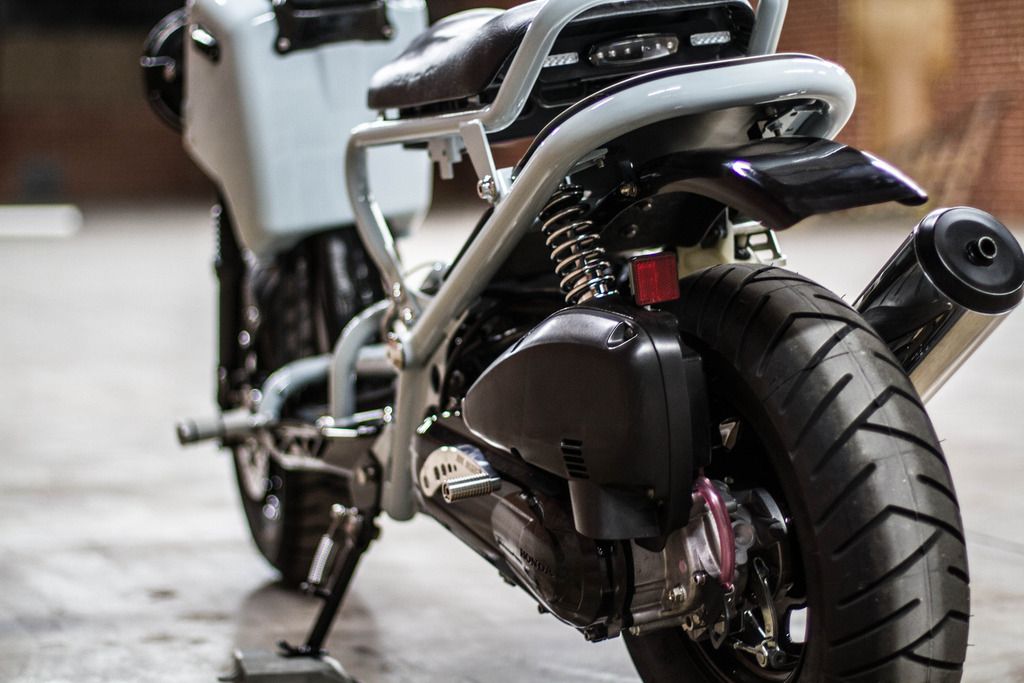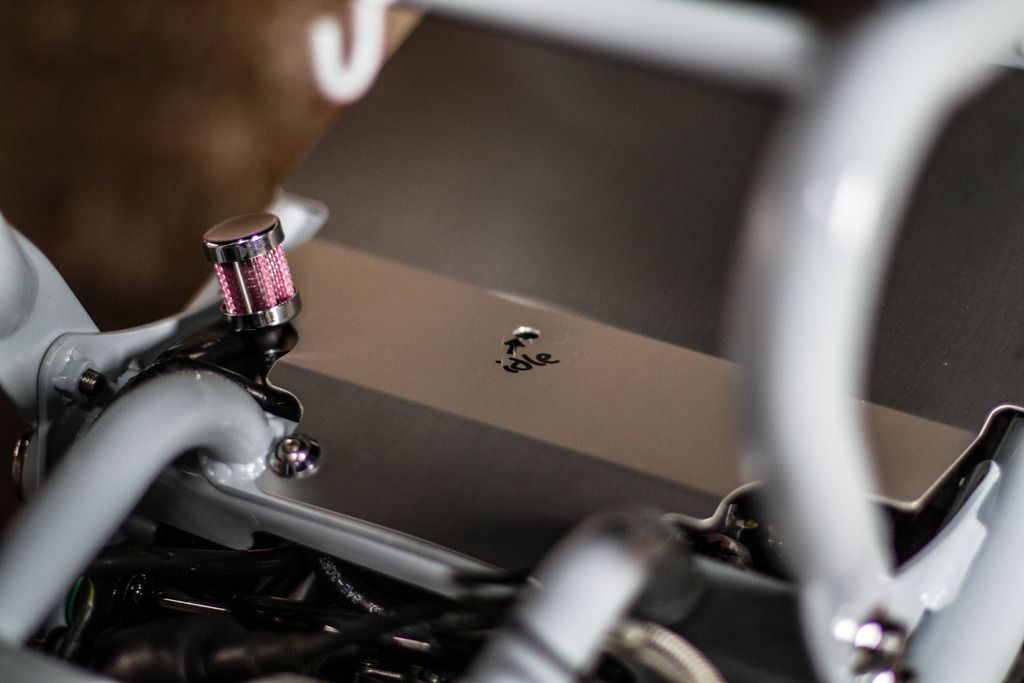 April 21st 2015
Honest Mike wrote:
(65) Den Mob • Honda Ruckus (49cc)
-Honest™
September 18th 2015
Had a bunch of the raw and silver anodized aluminum re-done in black. Swapped out the Daytona pegs from some sneaky pegs from Killerscooter (pegs are black anodized, caps were left raw and then polished).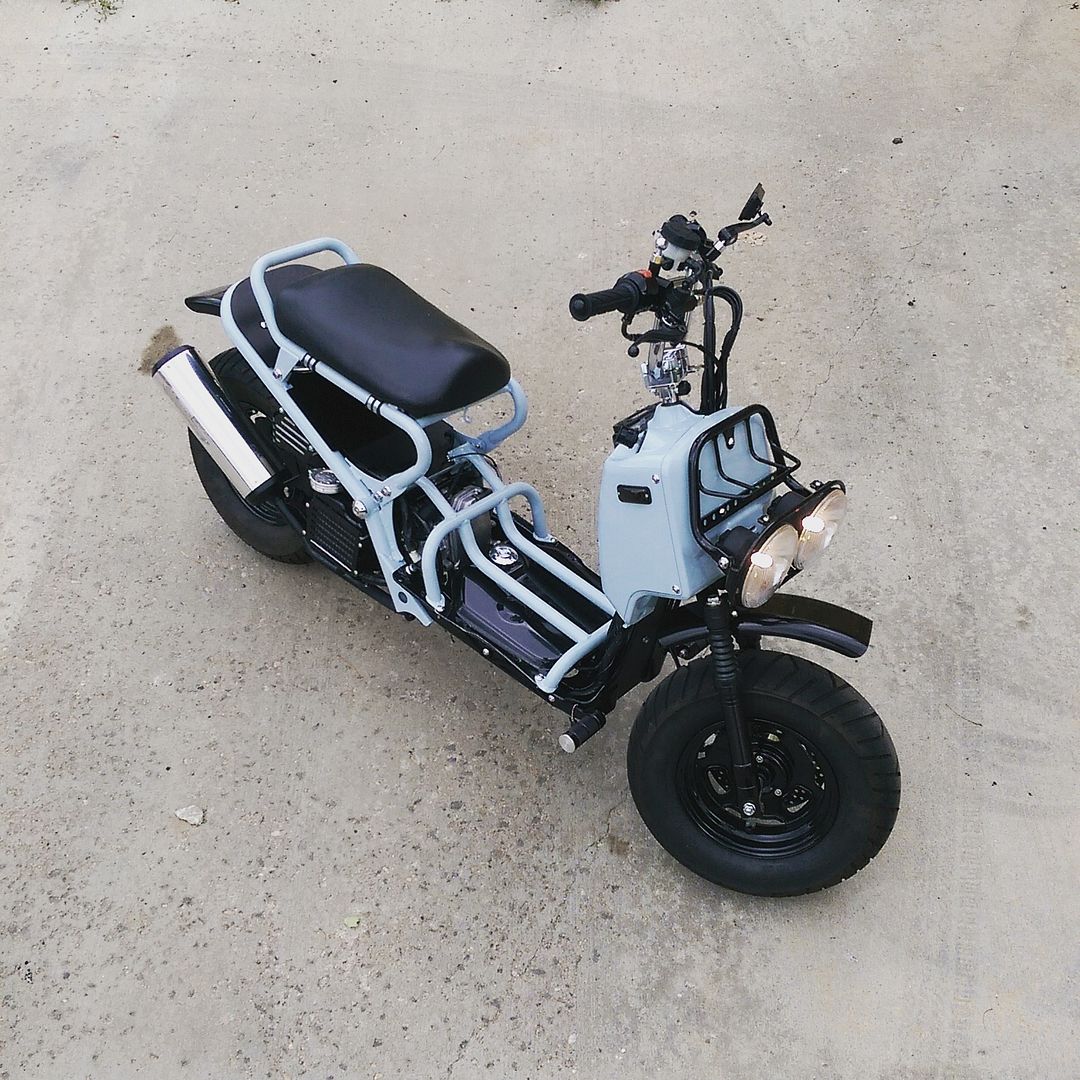 I think I need a rear rack now...
June 2nd 2016
Got that rear rack.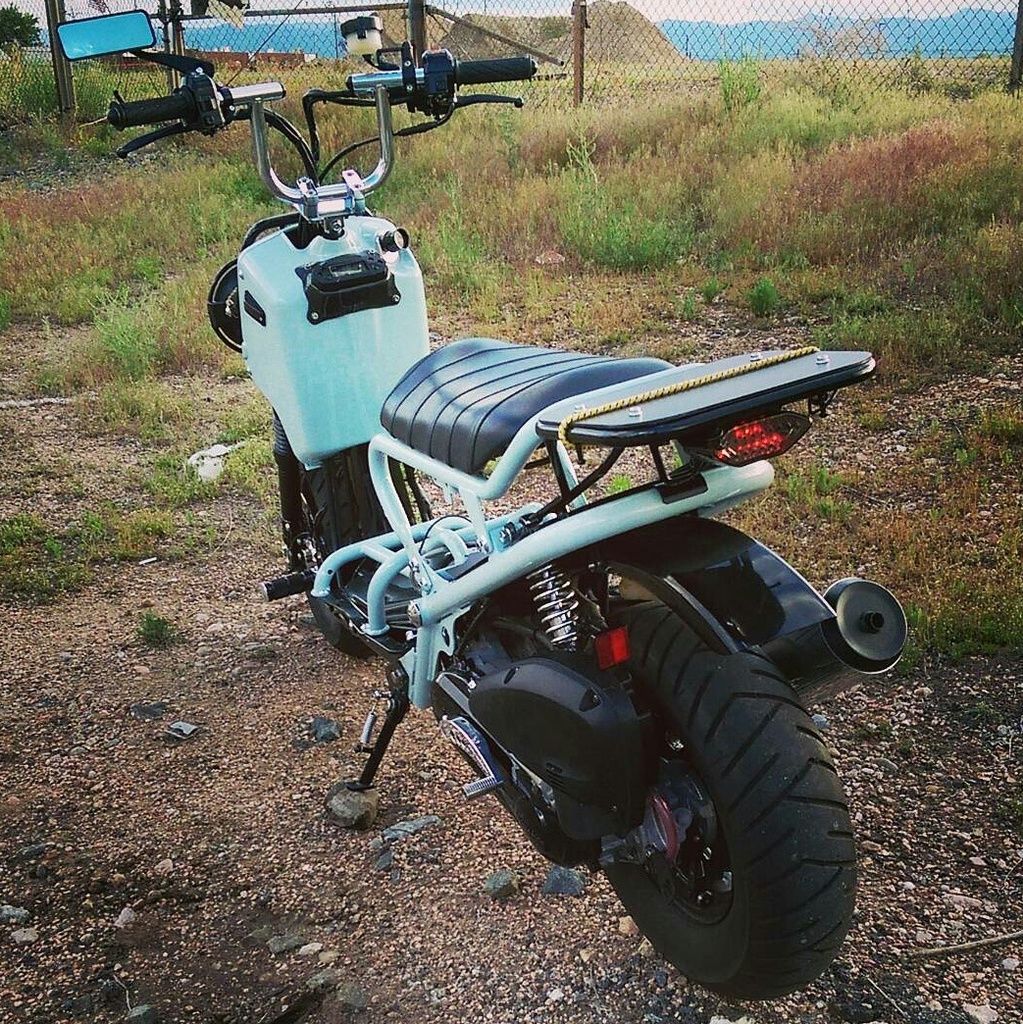 At some point I decided a third Ruckus would be a good idea, and boy was I right! Hard to beat any Ruckus for 900 bucks, espically one that had 500 bucks in parts waiting to be sold. I'm hoping to have this bike done by end of summer, but we'll see if that happens. All Ig pics, but that should be enough to get the jist.
Bike after tear down, before part out.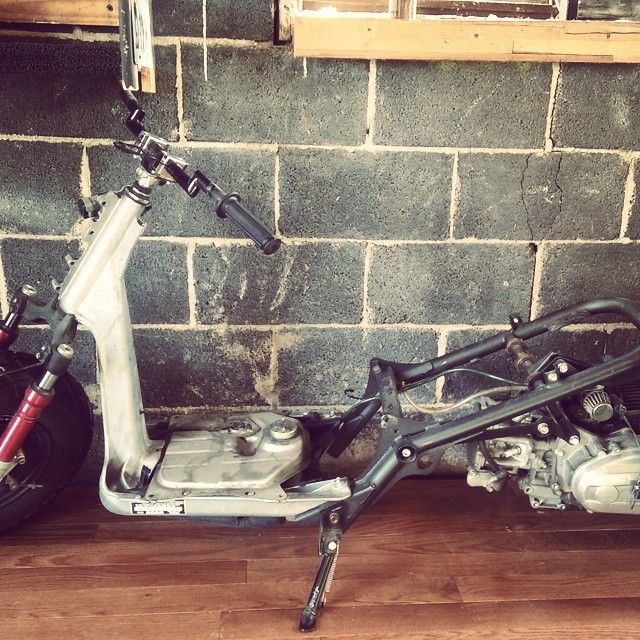 Machined Machines rear 12"x8" & RPM 10" wheels. Steady Garage rear disk conversion, with Feign caliper and rotor.
Nitroheads handle bars, Gojin bar clamp, Tanax mirror.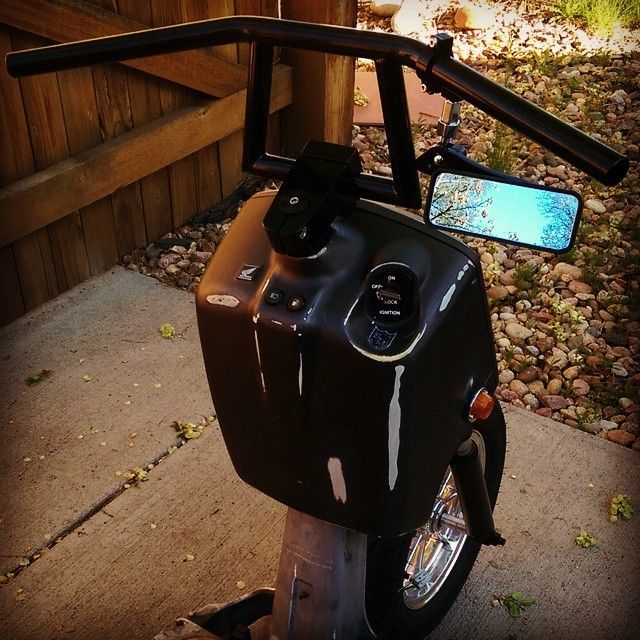 ADVAN
Current stage of mock up as of 6-26-15.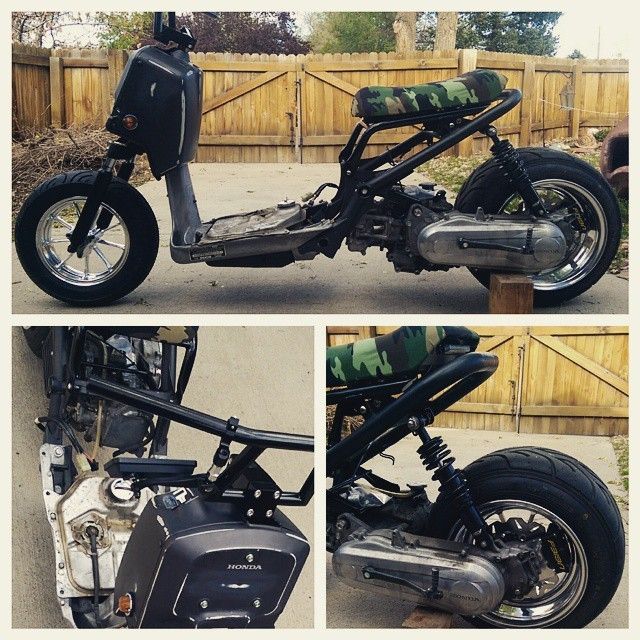 Second round of mock up as of 5-23-15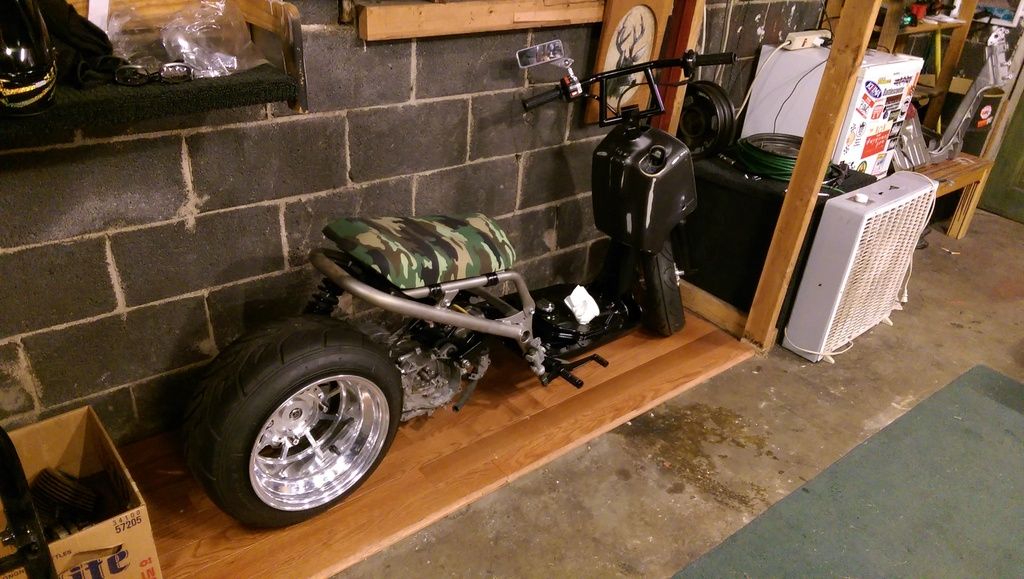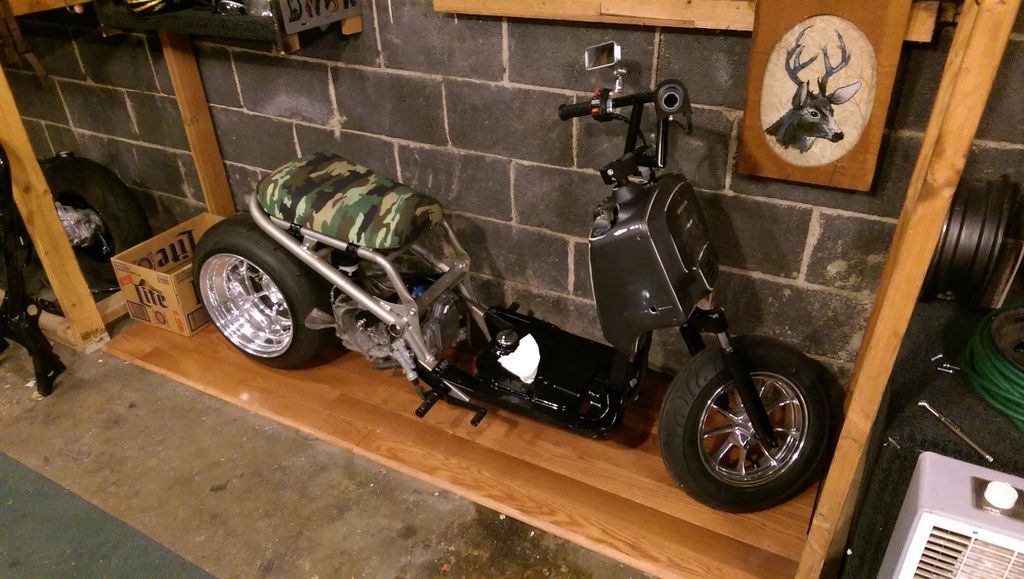 *PICS FROM MAY 2016*
Here's a few more photo's before powder, paint and electrical.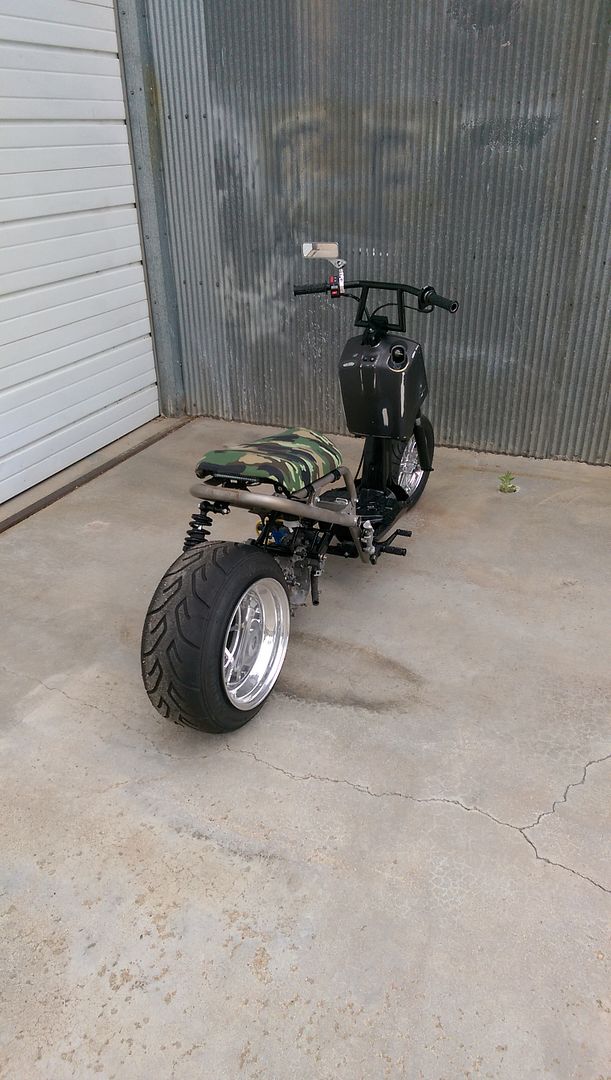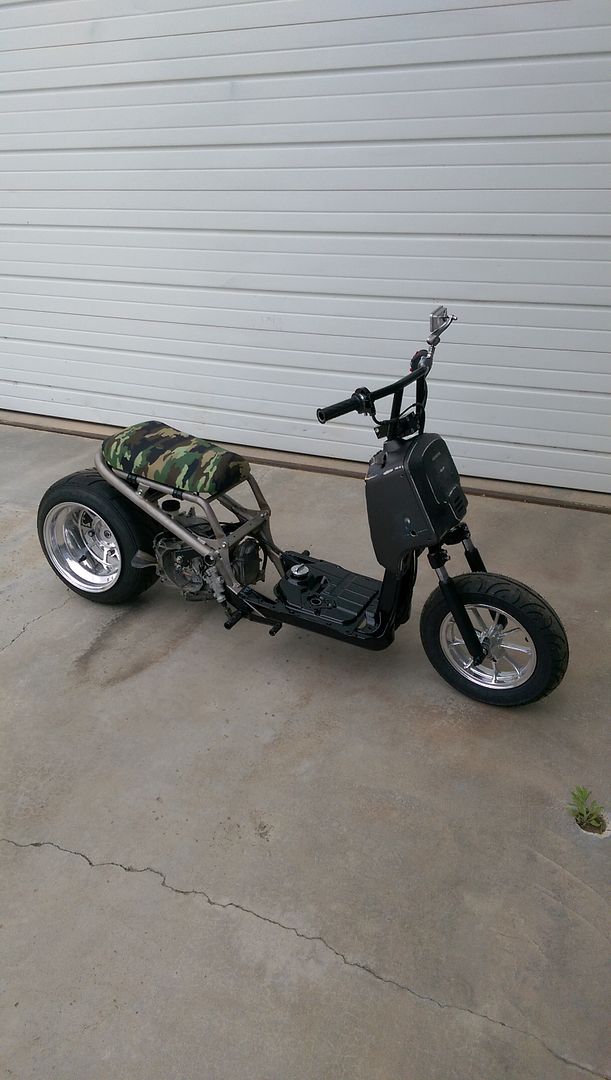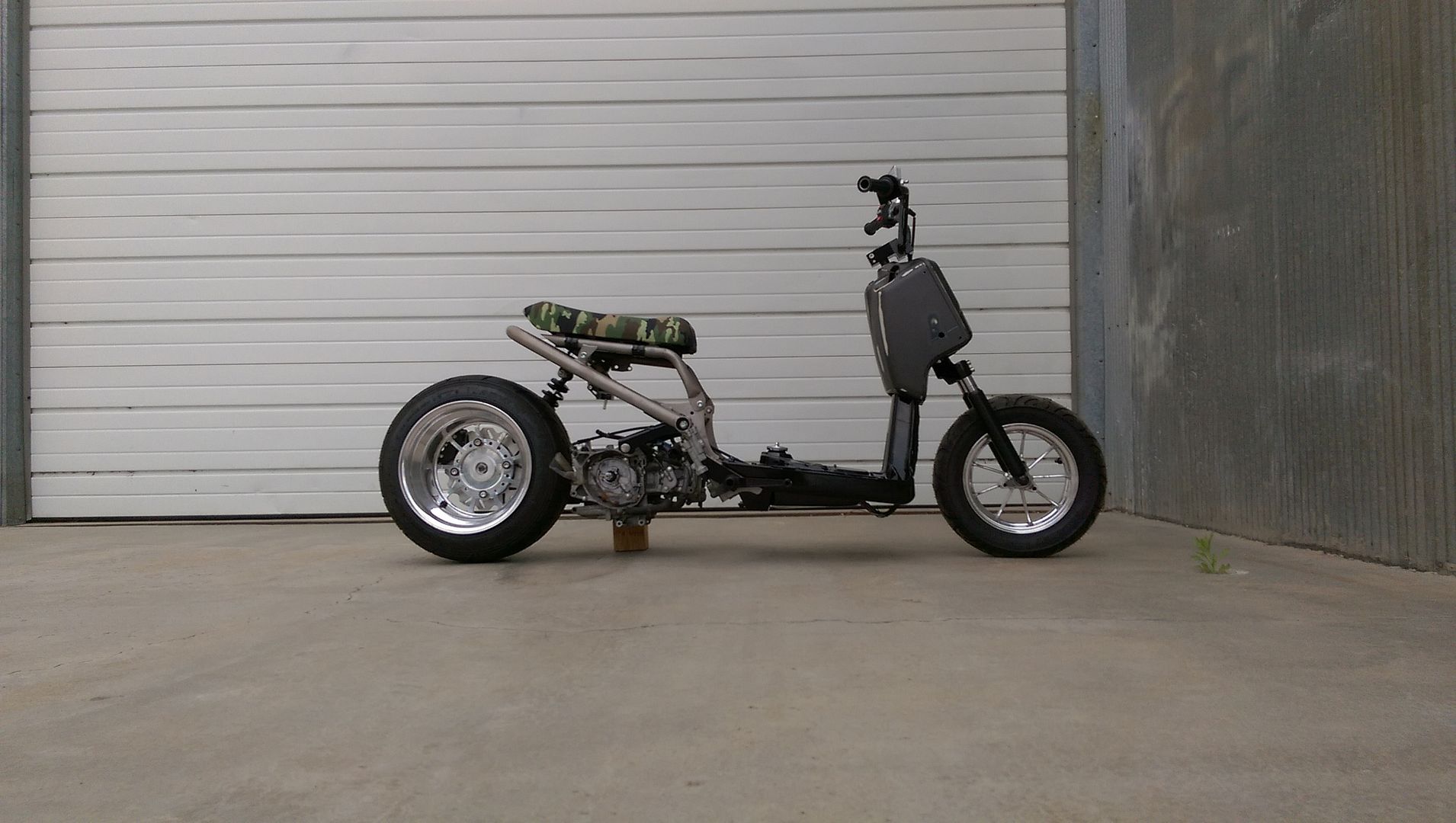 And here's how she currently sits, although I did score a FLP CVT kickstand that now holds it up.
*PICS FROM SEPTEMBER 2106*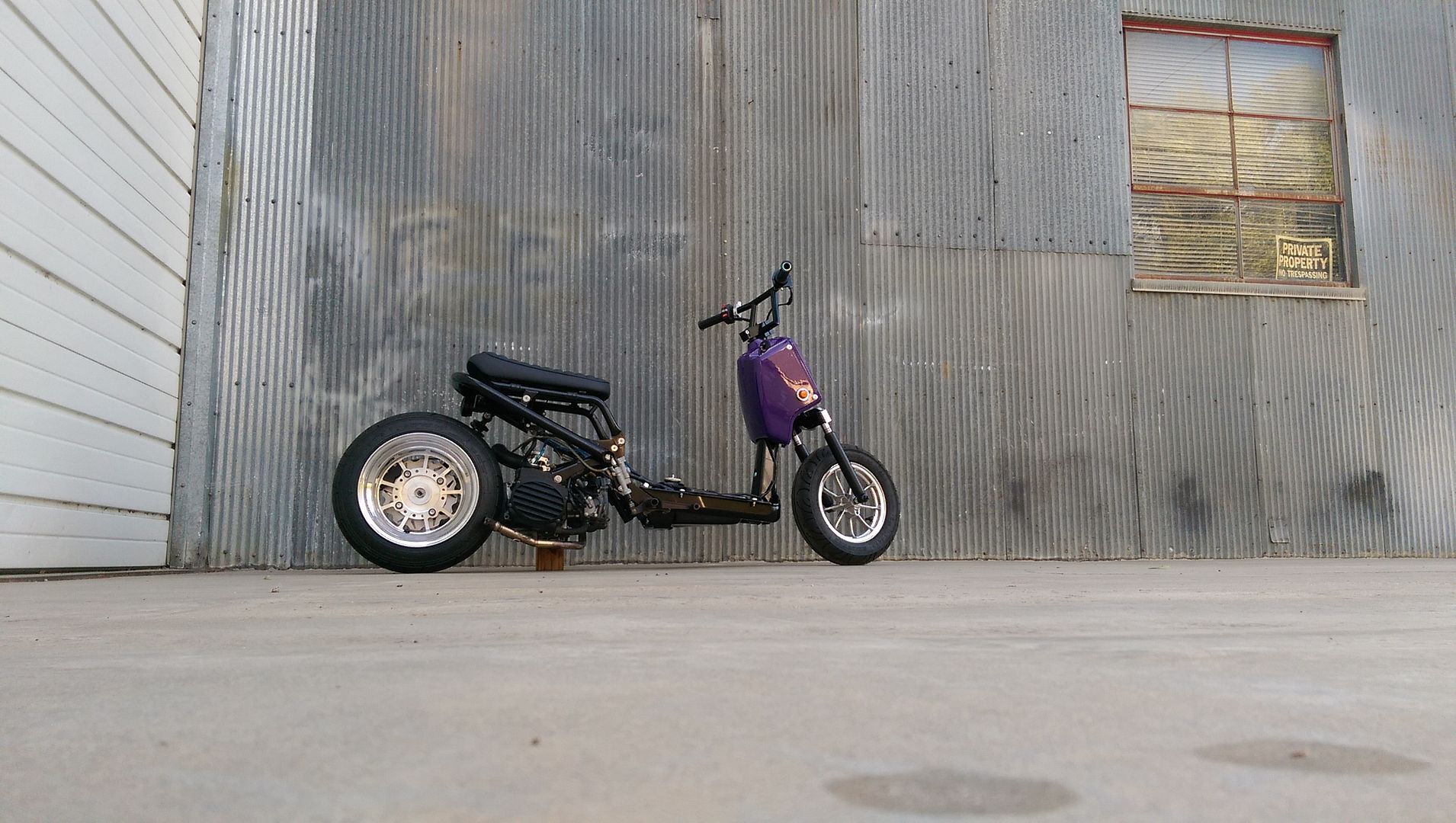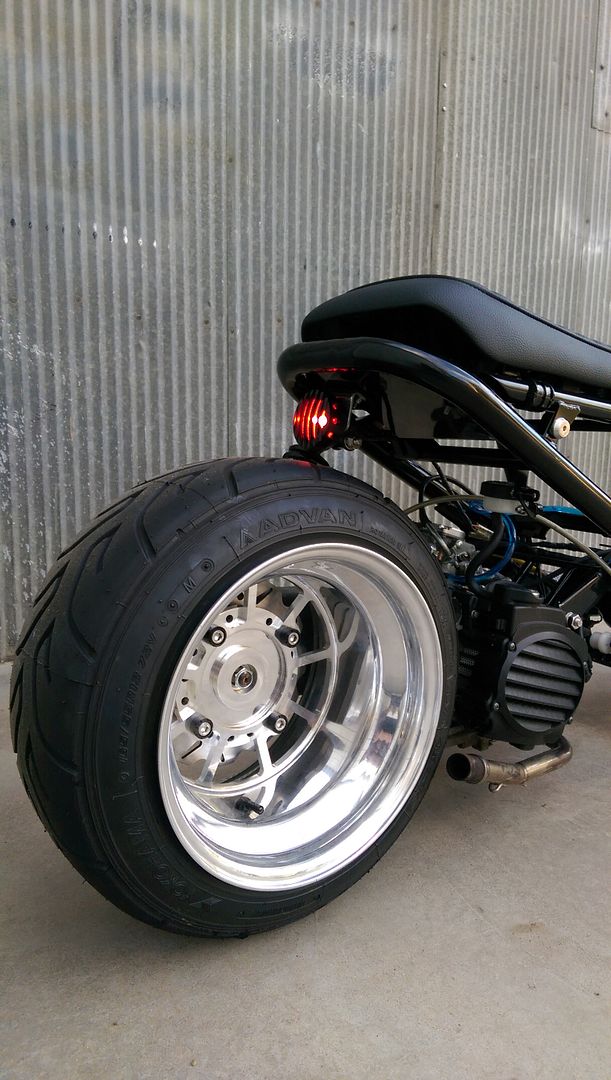 I bought a grom!
OCTOBER 2016 UPDATE
So pretty much the final stage of mock-up. Still need a brake line and a new motor. But it's all basically there now.
Also inherited a BR from a local rider and TR member who passed away last year, so one more into the collection.
One more bike to add...