update, current look,
mod list:
Wheels suspension Steering
FLP 12x6 2pc rear wheel
FLP 12x4 2pc front wheel
RRGS low down forks
Composimo lowering springs
Low Down rear shock
Frando brake caliper and bracket
RPM 220mm rotor
ATR front hub
FLP modified zuma rear hub
Mojo customs zuma skinny mount
Dunlop TT93 rear tire
Maxxis 100/65/12 front tire
Carbon fiber handle bars
Ebay left control
Dirt kitty kill switch
ebay levers
Trail tech speedo unit
el cheapo quick turn throttle
PowerPlant:
Zuma 2t horizontal swap
Stage6 Street Race
Leo Vince ZX exhaust
Stock crankshaft
Polini reed valve
Stock intake manifold
Dellorto 19mm
Polini rain filter
Stage6 Sport Pro variator
Stage6 Sport pro clutch
Polini Evo clutch bell
Stock rear pulley
Stage6 Belt
Stock gears
custom cut carbon starter delete
Stock igntion
Taida Water pump
Taida radiator kit
KCP coolant overflow
DIY cut CVT cover
Custom cut carbon ignition cover
Chassis/bolt ons
FLP set backs
FLP gas cap
FLP tank extension
FLP side steps
Polished gas tank
Frame painted 2012 wrx blue with loads of flake and deep purple mixed in
OEM honda red set
R1 tail light
Rat Koubou Headlight
Zoomania carbon Fiber front frame cover
Zoomania Carbon fiber half mask
World walk Carbon fiber battery box
Thanks for Looking!
bought my 03 Honda ruckus from another member and friend, allstockhatch in November 2012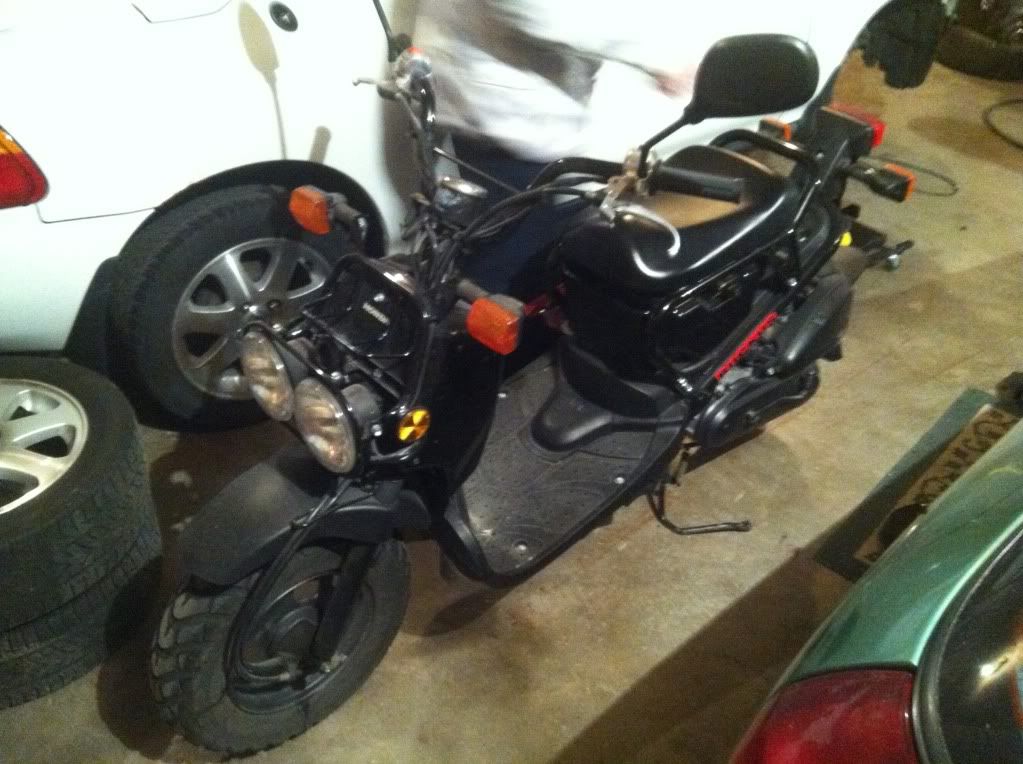 she stayed stock for a few months till I paid it off, added a polini variator and belt for some powa
after it was paid off I started modding, bought some handlebars from allstockhatch for $7 haha added some "stoner" eyes, chopped up my stock seat frame and plasti dipped it white and picked up half of a silver battery box that had a hole in it for a stripper pole, got rid of stock plastics, added bmx pegs, powdercoated my headlight basket yellow and started polishing my gas tank.
\
I didn't know what my next step would be at this point, it was halfway put together and I was thinking gy6 but then a friend offered a bad ass paint job for a video game I had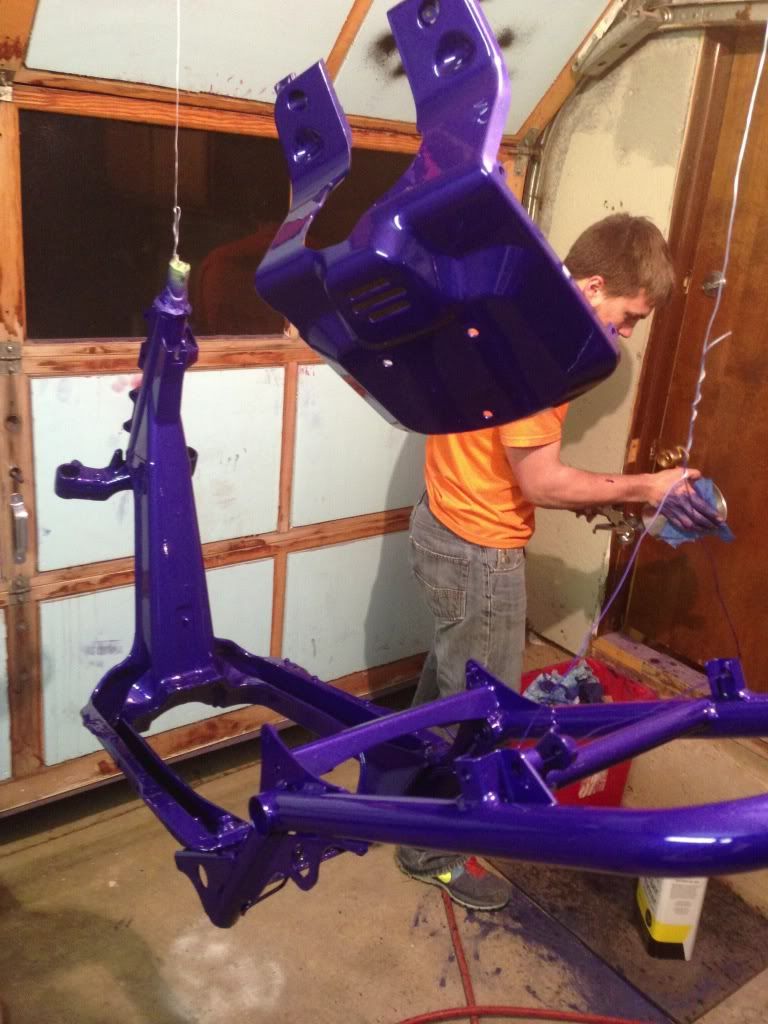 second pic is to show metallic, first pic is more actual color.
reassembly begins, powdercoated my seat frame yellow
this is how she sat for a few months after the paint. still mostly stock but damn it was clean.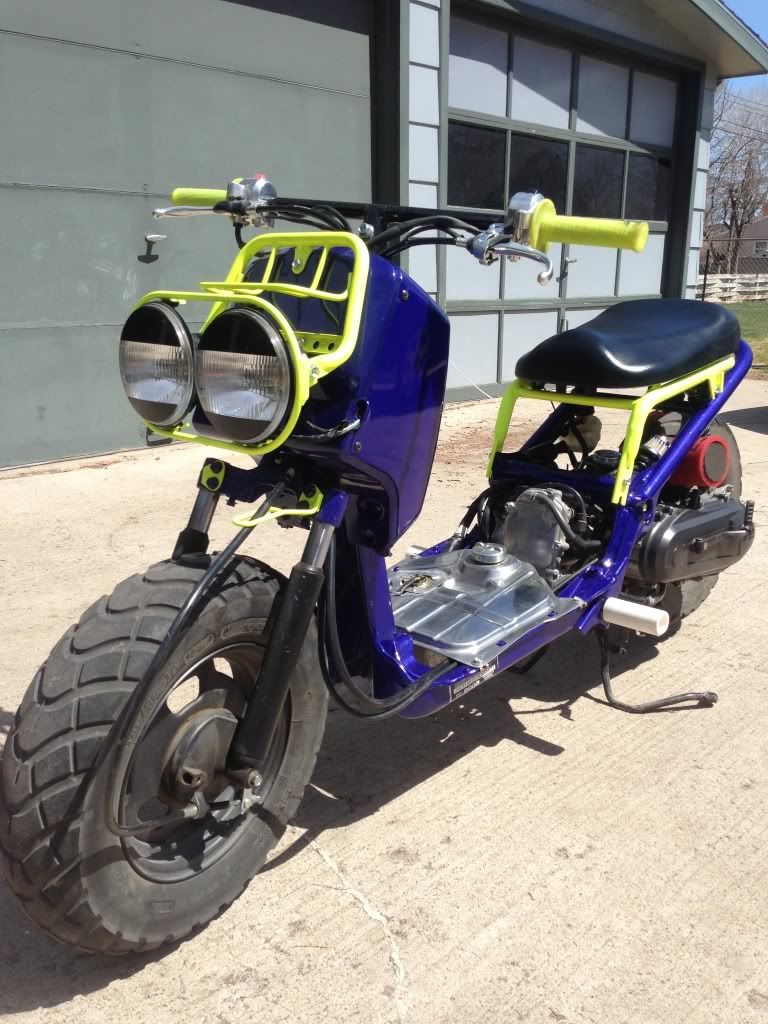 picked up a mnnthbx exhaust, lazy eye, taillight and variator cover. decided to rewrap my seat.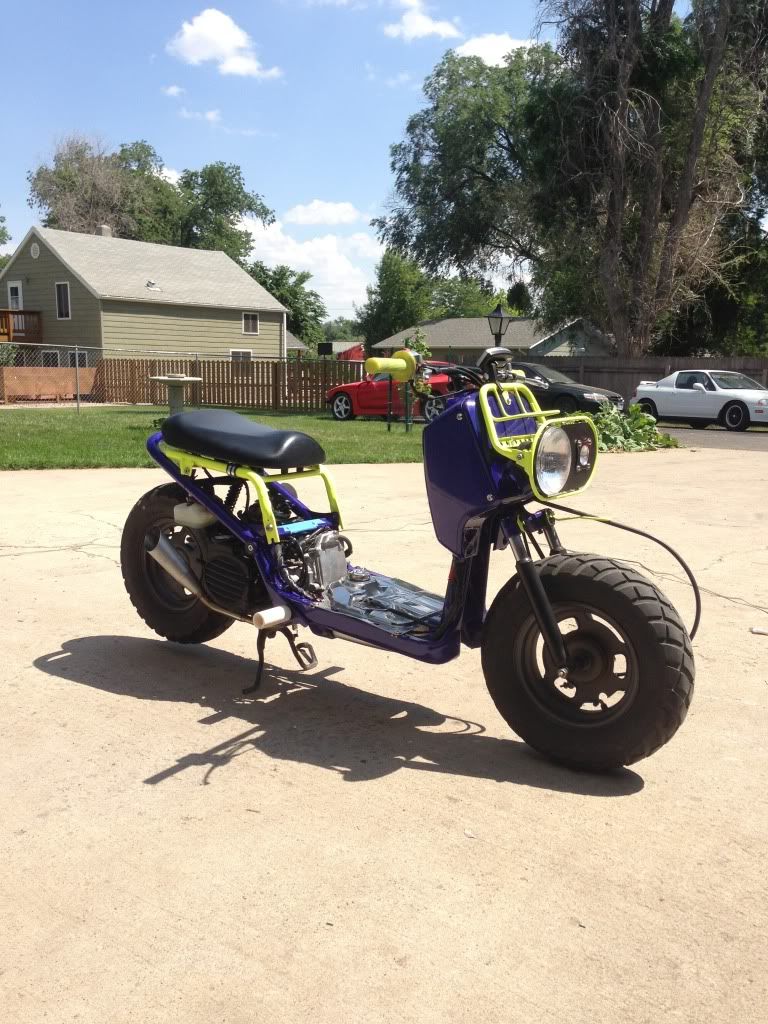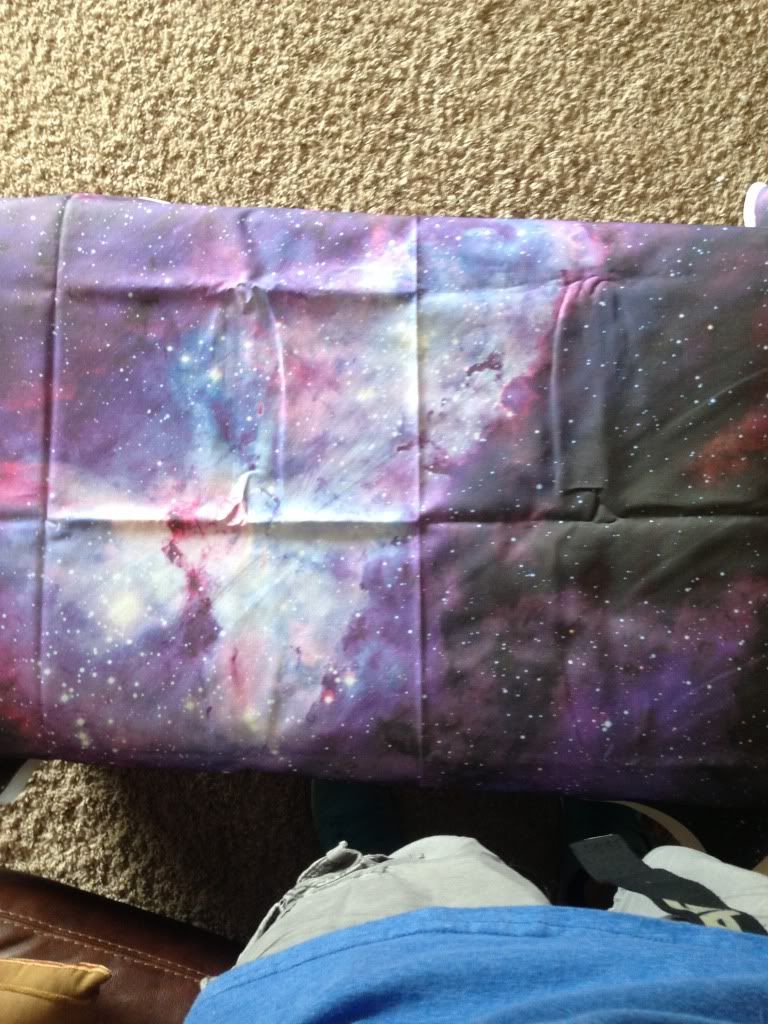 after a few more months decided to bite the bullet and order up a mojo customs stretch and 12x8 wheel and hub, also powdercoated front wheel yellow and swapped on a shinko white wall
getting there...stock rear shock and forks for now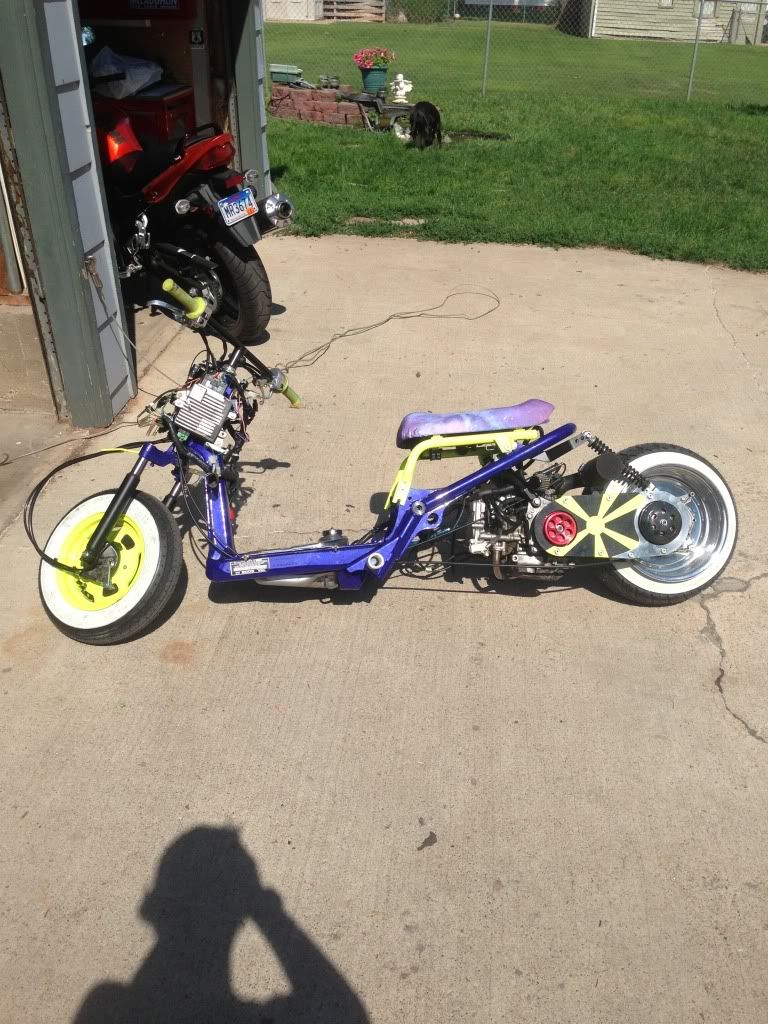 rode it this way for a few weeks, polished out the exhaust...
went to corsport in Denver and decided to pick up a lowdown rear shock. also got rrgs lowdown front forks and a mnnthbx drum adapter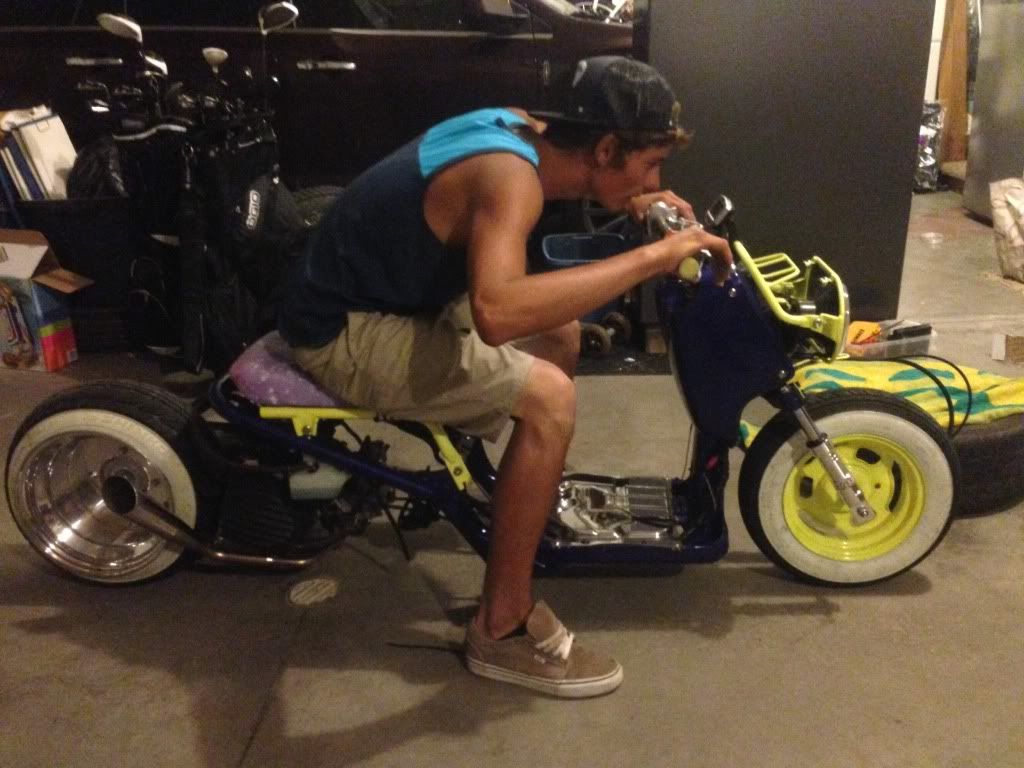 after that pic I powdercoated the rear wheel and recoated the seat frame in black pics to come...