as of 8-17-11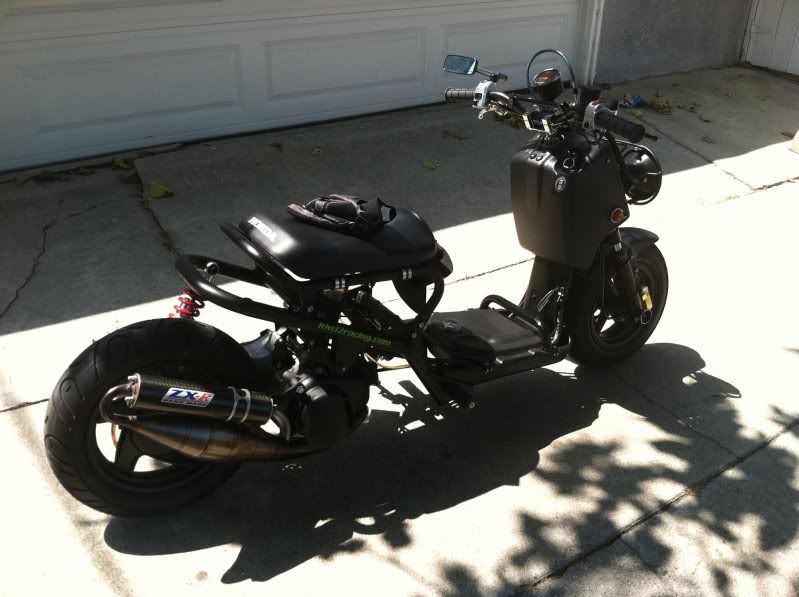 2-7-2011
So far i picked up a ruckus from a member here that had one for sale.
picked up a 05 zuma motor with 400 miles.
and picked up a box full of cables.
I need to get started cleaning the motor, and the misc parts. also ordering a top end, pipe etc..
I am gonna keep this build really simple this time around.
for those who do not remember... this was the first one.
2-14-2011 UPDATE
This is what she looks like. I got her started. Carb was dirty and Battery was dead.
the bars on the bike they dont look good at all. But they are comfortable. i want something lower. maybe some bars for klx110 or those low down bars bowls sells.. dont know but im taking my time on deciding.
this is my moms pit. shes a cutie and a great fetcher. we have 2 pits and a rott.
till next time.
6-8-2011
ill just leave this here.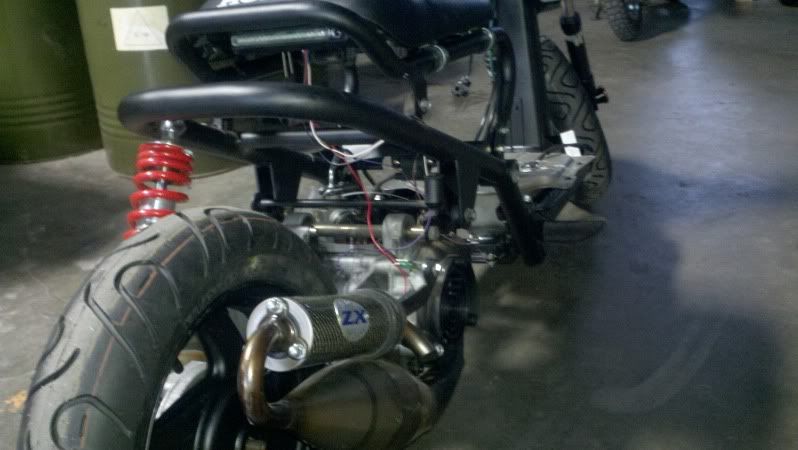 6-22-11
8-15-11
specs:
2009 Ruckus Frame 2005 Zuma Motor
Rear Frame is zoomer with Weld on Mounts
KN Shock 245mm
rear GA Wheel
Continental Zippy tires
ATR Full Front end with special lowering and dampering (fucking shit rocks)
Drowsports handle bars
Oury grips
OEM Speedo
The bike is fully powder coated flat black
MPAB bar
daytona BSC mirror
flat blk SF gas tank cover
Rucksters rPro foot pegs (best in the WEST)
motor was done up from ground up all OEM parts.
OEM lights
SF flt blk front fender (sexy sexy sexy)
athena variator 7G weights
Standard Functions Custom License Plate Bracket
Standard Functions Gojin Gloss Black bolts and washers
Malossi top End
BPR8HIX Plug
Leo vince ZX-R Pipe
Arreche 17mm carb 95 MJ
Uni Filter
oem manifold
Stage 6 reed cage and petals.
Motoforce clutch leo vince clutch springs.
Motoforce clutch bell
motoforce Crank
(all motoforce stuff go it from Enviromoto... Thanks for the help)
Thank you to Prince Creeper for the Harness.
golden spectro is my oil until break-in is completed then its motul 710.
mnnthbx under the seat LED Light.
Hide yo Shit flat black box under seat storage (PM classic city ruckus)
kijima amber blinkers
kijima handle bar clamp
easy 45mph. to cruise at 50 was my goal anything after that is tits.
Bought all my parts used and here on TR or the Local TR Shops. please support our scene.
Special thanks to the shops I used to buy or for some help.
Standard Functions
Classic City Ruckus Shop (AKA Moped Motion)
Rucksters
DrowSports
Enviromoto
BOWLS
Thank you to Minkus, Fathoes, Jimmy The Pimp cuzz he walks with a limp, and Bryant at Standard Functions...
Thank You to Classic City Ruckus for the hookups..
Thank You to KJI for being a DICK and not letting me settle.
Thank You to LongBaller for the good wrenching, good times and good food.
Thank You to Enviromoto for ALWAYS making it right.. and tech help.
Thank You Rucksters for making some of the dopest parts for the Ruckus.
Thank You to Brahda cuzz u my Hanai Brother and I KNOW "U MAD" MAHALOOOOO
Thank You to the guy I got my ruckus frame from... I told you I was gonna build it... Thanks for the hook up.
Thank You to all the "Mrs." that let me keep their men so we can work late on my bike.
Thank You to the SBSC especially Mario for giving me inspiration to keep on with 2 strokes
Thank You to Bruno and TJ for being Bruno and TJ.
Thank You to the Rockstar Energy Drinks.
Thank You Total Ruckus and the 2t Family for the support.
And last but not least...
Thank You Jedi. u know why. BTW your sister says "hi" and "Hows the Weather?"