Before anything, I would like to thank Jimmy and David from ATR by making this project possible. Thanks to all the SGV homies for all their support, help, and inspiration. Thanks to everyone else who was involved! The bike was done 4 months ago, however for those who knows me, knows that I rarely post photos of my own bike.
Paint and body: MPAB
Engine mount: ATR GY6
Fatty
mount
kit
Polishing, Exhaust work, and anodizing: BTX
Dope wheels, stance, and wires/throttle cable/rear brake line tuck
: Standard Functions
Hand painted
Japanese Tsunami swing arm cover: Frans (childhood homie)
Parts and accessories: Bowls and Standard Functions
If you have any questions, feel free to contact me!
Email:
standardfunction@gmail.com
AIM: fatphos
The first Honda I've ever owned: December 21, 2007...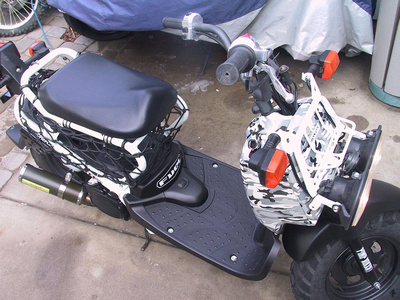 First ride in So-Cal with Minkus' Ruckus- Topanga: 1-2-08
2 months after I picked it:
Chop and weld seat frame, NCY stuff, KN front forks.
ATR 50cc
Fatty
(DISCONTINUED): July 24, 2008
Ready for Hella Flush ride in Nor-Cal:
Gee Y SIK: Built the night before Super Stroker Sunday- 8-24-08
I then tore everything down to completely rebuild the bike... I wasn't planning to finish it before the first Super Sunday ride of 2009, however Minkus, Yimmy, and some friends convinced me to put everything together 3 hours prior to the ride...
We ended up with this ugly thing... I'm even surprised that B took photos of it.
After Super Sunday, Hot Import nights was just a few days away... We tore everything apart again and had an aluminum front plate welded to the front of the frame to box it up for the wire tuck. Having a automotive background, I've always liked having huge brakes that fills up 90% of the wheel and painting them to go with one of the best brake company on the Japanese market- Project Mu. Afterward we sent whatever I needed to paint to Jason and Johnson at MPAB.
Paint was laid the night before and we got it mocked up for HIN in the morning: 3-14-09
Motochamp! Since I was in Vegas during the weekend of the photoshoot, my brother Steezy helped me fill in the spot. Special thanks to Bowls!
My oldest brother wanted some Kush on SS2:
As it sits today,
dumped and tucked.
Thanks for looking!
Specs coming soon!
Happy Rucking and get well soon Bobby (IwannaHEALfast)!
-Kevin