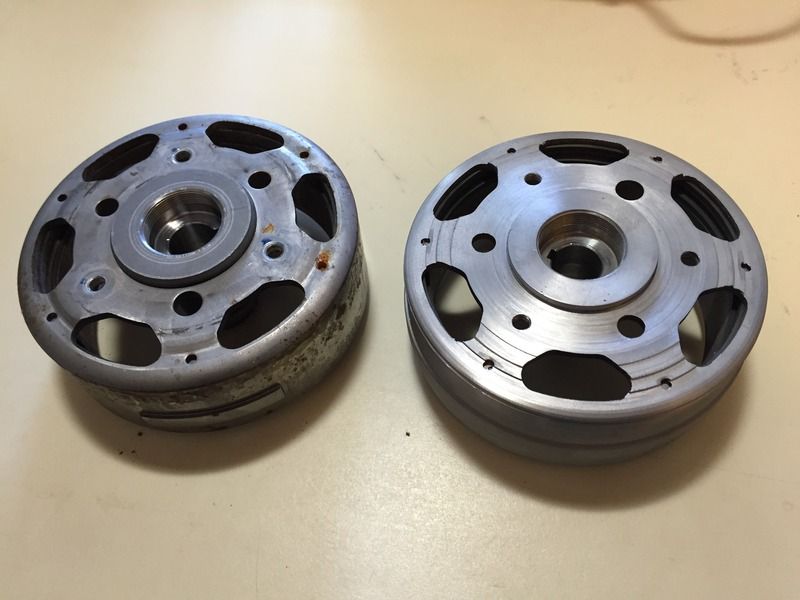 Update: Lightened flywheel
Having friends with access to machinery is always good. Today I got one of my two flywheels lightened down to 840g. I got this value courtesy to JCRacing as that is approximately the same amount of weight he reduces on his racing flywheel. Being in Canada, however, shipping is a killer and I was forced to find other means to lighten my own flywheel. Instead of machining the entire face like JC, however, I focused all the weight reduction furthest from the crank. As the effects of rotation mass increases the further you go from the central rotating axis (ie. the crank), my approach to weight reduction will amplify the effects of a reduced flywheel more so than any weight reduction made adjacent to the crank.
Flywheel shaved, beadblasted, and coated with rust-inhibitor, I threw the flywheel back in and purged the cooling system of bubbles. Immediately after starting the engine I knew instantly something has changed. The motor revs much smoother and with agility never had I seen before even on a good day. My idle speed went up a consistent 400RPM ( at warmup) and 300RPM warm so I had to readjust the screw on top of the carb. I took the bike out for a spin and instantly felt the immediate throttle response similar to the improvement i felt going from 7G rollers to 5G sliders. If anything the lightened FW amplified the effects of lighter roller weight and I was able to accelerate from a stop much faster. My accelerating revs are now at ~7600RPM until vmax where it goes to a safe 9200RPM at 47mph, same as before. I CAN NOT wait till I move the accelerating rev into the sweet powerband of 8500+ RPM and see how much faster it goes! But until then, I am a bit concerned about the even more clutch slipping now and also waiting for the polini variator to arrive
Top speed, however, hasn't changed much and I would dare to say it feels ever so tiny bit weaker than with the heavier flywheel. This is as expected because at Vmax, the engine is now delivering less moving mass and therefore less momentum to keep the engine spinning. However, as the top speed wasn't affected too much, if at all, compared to the significant effects it made on acceleration, I would say this mod is definitely worth it for the heavier guys (180lb+) like me. I am more focused on maximizing acceleration from 0-43mph and maintaining that top speed everywhere I go. I think that is really all I can ask out of a 50cc with stock carb doing 100mpg. Anything extra is really just icing on the cake
All-in-all, I would definitely approve this mod to complement lighter roller weights for better acceleration. If you are looking for more top speed, I would suggest putting your money elsewhere such as met gears.