Back in July 2012 I purchased my White 2006 Honda Ruckus with 327 miles on the odometer, bone stock. I drove from El Paso, Texas to Tucson, Arizona (+350 mile drive). Use to belong to a pretty good looking college girl, that thought it was lame to ride a scooter. I bet she thought I was a weirdo, driving across a couple states just to pick up a scooter.... When I first test drove it, I thought it was running good. Since I couldn't take it all the way up to 40MPH on the small strip of road the guy lived on. I drove it up and down the street up to 25MPH. Once I got home and took it out for a quick spin that's when I realized it wouldn't go any faster. Who knew that's how fast she was able to run. BTW, I fit the Ruckus inside my daily beater a 1995 Saturn 4 door. By removing the handle bars and shoving it in.
After changing the oil, spark plug, air/fuel filter, new fuel pump, transmission oil, etc... She was still not running right and couldn't break the 25MPH barrier. After trial and error, I bought a carb off one of the members on here and quickly got up to 41(happiest day). My theory, after such a long time of no use I guess the carb went to crap. Even after I tore it apart many times to clean it. Sitting with no use for such a long time, since '07. According to the previous owner. Slowly I've been building it, since.
As she sits now (even though I've changed parts here and there, you get the idea):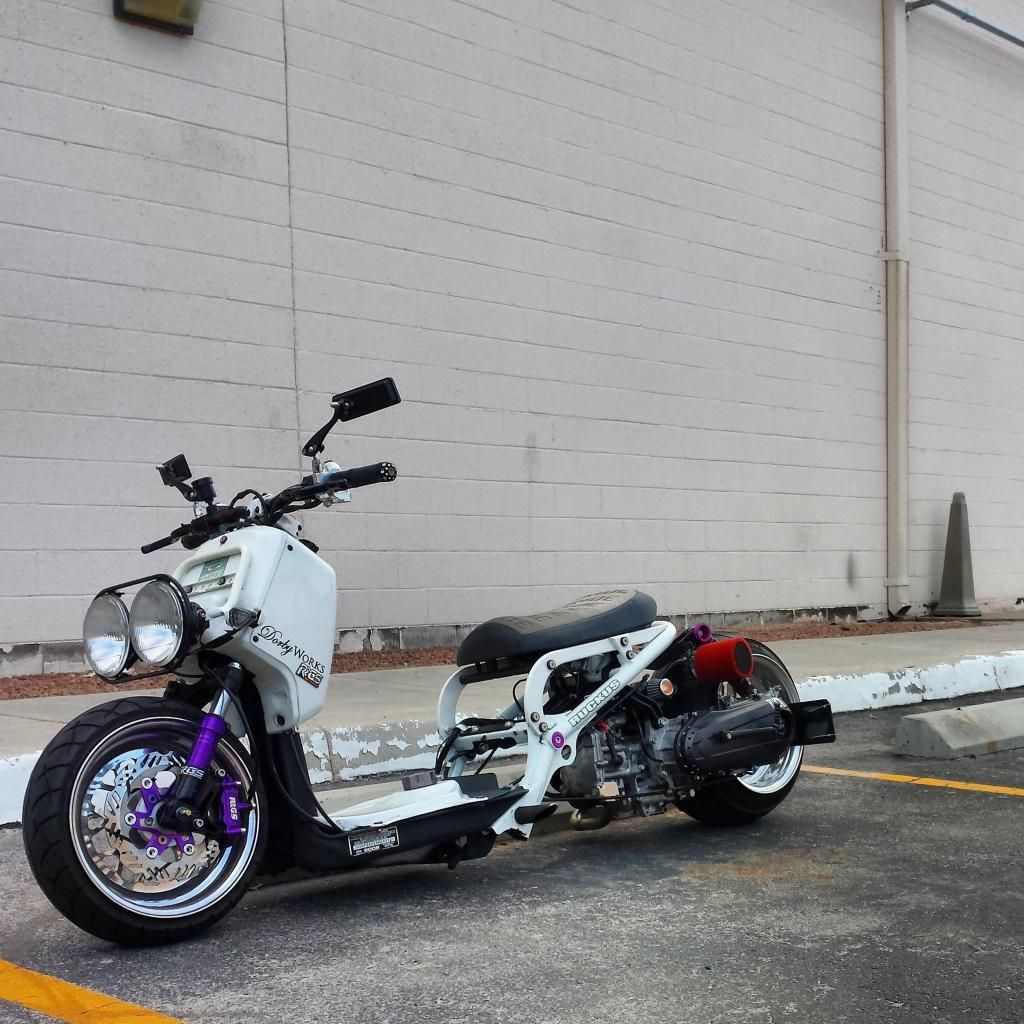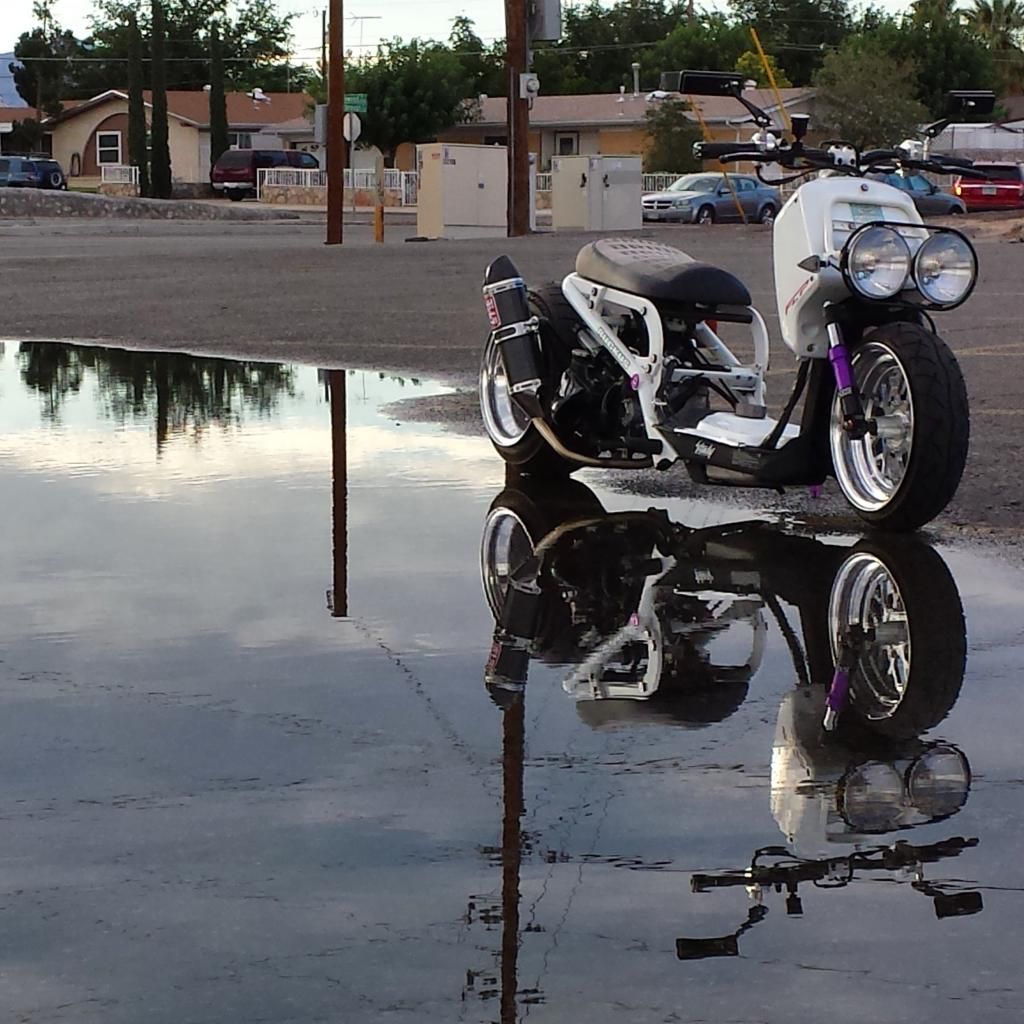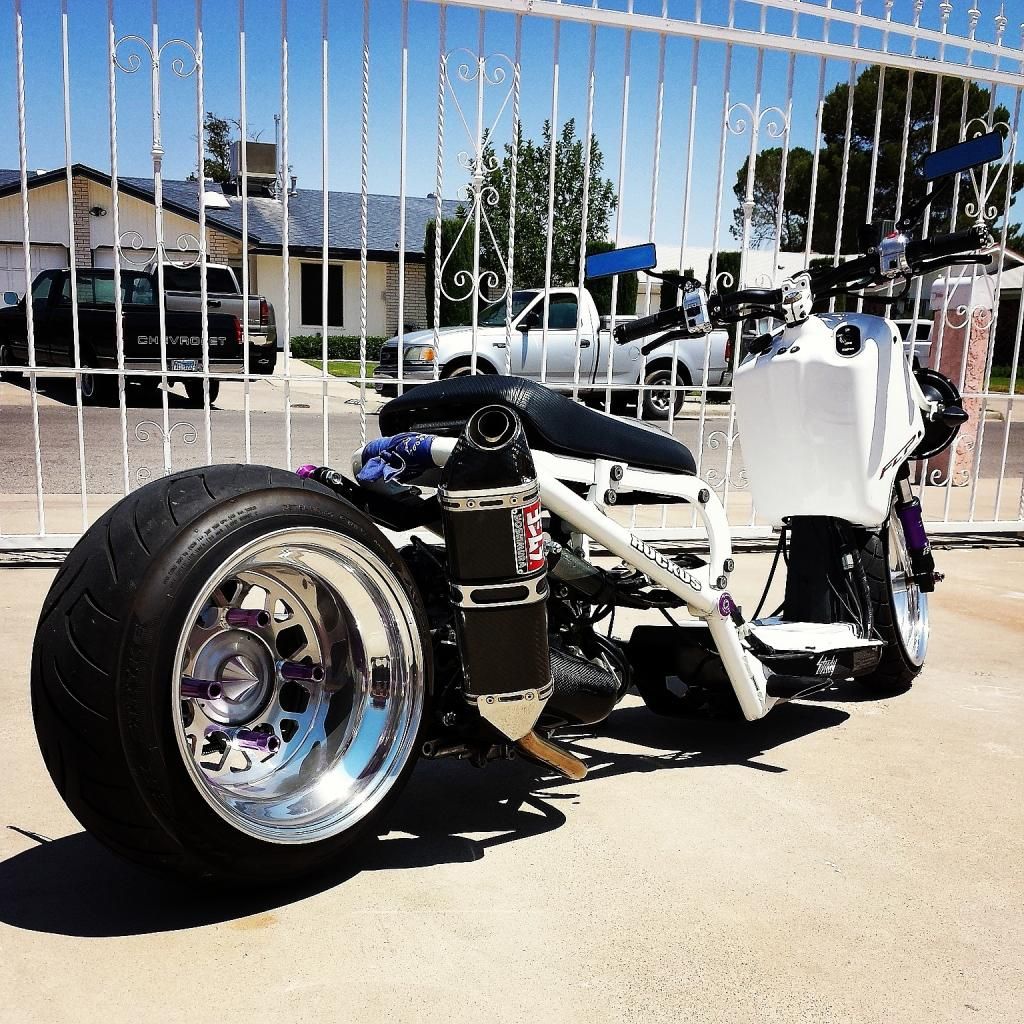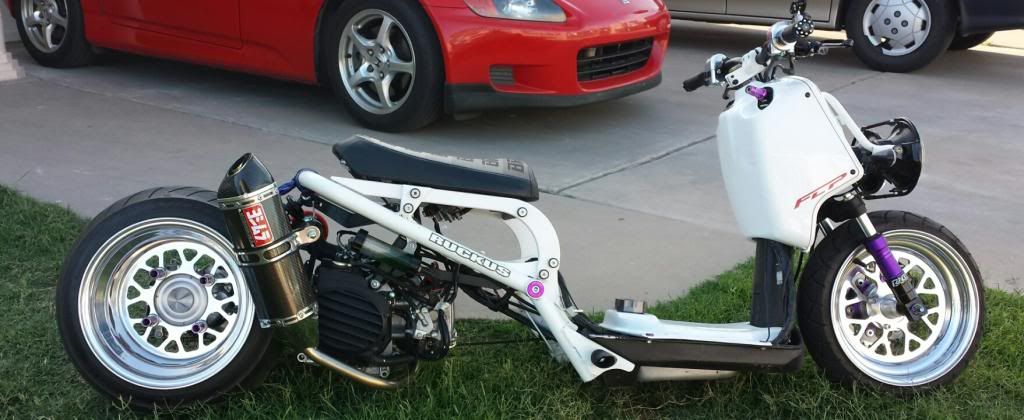 My mild build nothing to crazy like the other guys on here.
•
ATR Black Lower Seat Frame
(First Mod, but now I replaced it with a white MNNTHBX DORF and sold the ATR to El_tabo_tabo)
•NR Magic Variator w/Dr.Pulley Sliders
•
Daytona Belt
Gates Kevlar Belt
•Trail Tech TTO
•09 Carb w/ 08 Met Needle
•Rare Earth Magnetic Oil Drain Bolt
•NCY Gas Tank Cover(White)
•
R6 Tail Light/custom bracket
MNNTHBX Turtlehead Tail light
•Relocated w/LED Blinkers
•Bontrager Wrinkle Black Mountain Bike Handle Bars
•White BMX Stem w/Beer Cap Shim
•Ebay Rectangular Mirrors
•Purple Dress up Hardware Washers
•Purple Lug Nut Key
•High Tension Coil from MopedMotion
•PWJDM Purple Anti-Flex Bushings
•MOJO Stretch
•MOJO 4x137
•UNI Eliminator Intake kit
•35/78 Jetting
•NCY CDI
•PWJDM Purple Axle Spool
•ATR LowDown Rear Shock
•Gorilla Washers w/Purple NRG Lug Nuts
•Black BikeMaster Hand Grips
•MNNTHBX DORF
•
MNNTHBX RRGS Drum Adapter
•
Michelin S1 100/80-10
•MNNTHBX Billet Pair Valve Delete
•PWJDM Black Pegs
•2011 ECU
•Bride Seat gradient with Memory Foam and Carbon Sides
•JC Lighten Flywheel
•DIY OEM Lowering Headlight Assembly
•Rear Axle Spike Nut Cover
•KCP CoolBox
•PWJDM Gunmetal Gas Cap V.2
•DIY Lighten Clutch Bell
•DIY Vented CVT Cover
•Yoshimura Carbon Fiber Exhaust w/ Custom Stainless Steel Header
•CCW Mesh Wheels: R 12x8 3+5 4x137/ F 12x4 2+2 4x90
•Rear Tire: Avon Viper 140/70-12
•Front Tire: Kenda K433 100/60-12
•RRGS Purple Low Down Forks
•220mm Purple RRGS Disc Brake/Caliper
•MOJO Monkey Front Hub
•RRGS Titanium Axle
•RRGS Titanium Rotor Bolts
•Goodrich 28" Brake Line
•Goodrich Banjo Bolt/Fitting(Straight and 90°)
•German Made Black Brake Levers w/ BMC & Reservoir
•FLP Air Splitter
•DIY Bronze Bushings to Center Front Wheel
•Composimo RRGS Lowering Kit
•Password:JDM Carbon Fiber Velocity Cooler Scoop
Somewhat relocated the PCV and tossed the black cover(was bored lol) Also, shaved the Headlight Assembly and unnecessary pieces/tabs on the frame. Remove as much dead weight as I can, when I'm bored lol