Hey !
After a lot of brainpicking about different donor bikes I could use, bearing in mind modifying vehicles in France is illegal, and that I also did not want to use a shitty Chinese underpowered engine, I thought I should look into what Honda had on offer, in order to camouflage it a bit on the bike (less conspicuous to have Honda written on the cases of the engine on your Honda scooter than Yamaha or whatnot)
Anyways.
Also wishing to retain EFI, simply because it is awesomely cool and pain free to set up, my choice when to the Honda PCX, only available in 125cc in France, because anything above 125 cc, even by the slightest amount, requires you to have a full motorcycle licence, so there's basically not much in between 125 and 350, since 125cc riders use their car licence. Stupid, but go figure what isn' nowadays.
Now, finding the bike was something else. Quite a few wrecks around for sale, low mileage, front crash damage, for around 1200 € this scooter new costs in the region of 2400 €. Problem with these bikes is that the title is frozen until full repair of the bike done by a professional garage. Seeing as I just want to use the engine etc to build my swap, but I need a clear title to register it, these crashed ones are a no no for my needs.
But I eventually found a classified for a PCX with 1000 miles on the clock, basically lots of the plastic fairings had been damaged and cracked because of 2 light falls. No technical damage, the bike rides fine.
1000 € with a clear title... I will be using that title to get 125 plates on the zoomer, not legal, but nothing will be with this build.
The main ingredients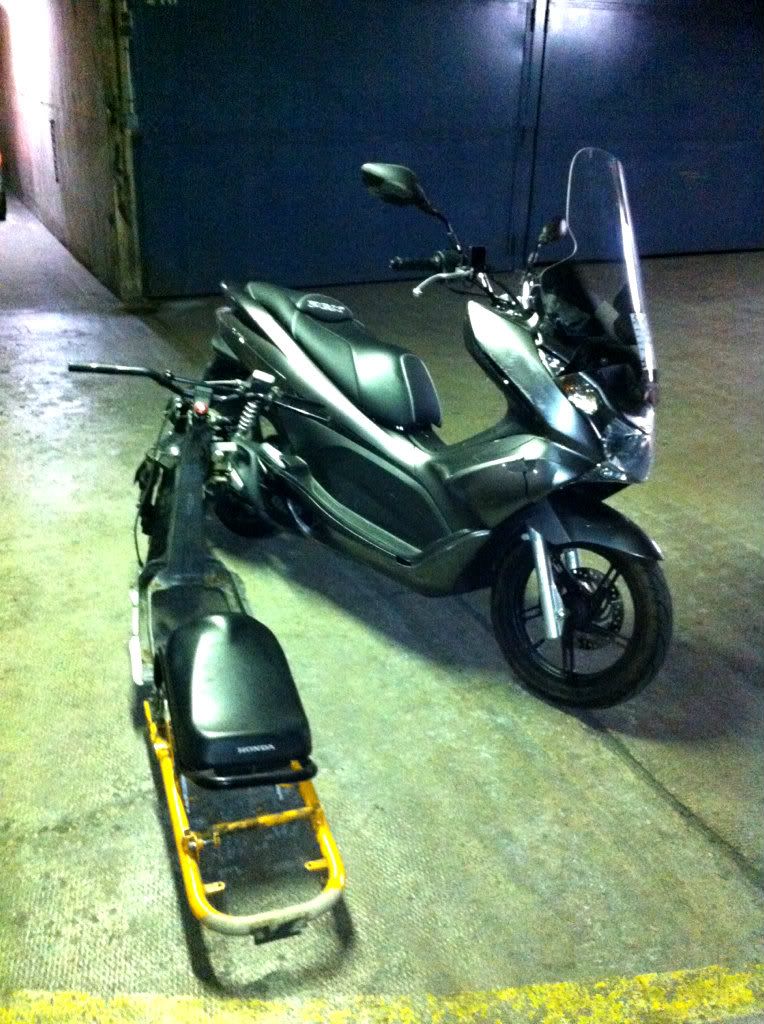 and the stripped down bike :
These in stock form are hell to work on it's unbelievable.
Good news is there are lots of perfo parts for these scoots, as well as dress up stuff if required, but the plan is to keep it looking stylish but as stock as possible, I do plan on using this bike despite it being totally illegal from the ground up.
First set back of the project however is that I lost my garage keys today...

_________________
"Under the Radar" : the PCX swap



xtra medium wrote:

I think your next ruckus should be called number 1 because your last ruckus looked like a number 2.