Swung by The Ruck Shop today and picked up some goods
TRS Drum adapter for NCY/RRGS Forks
TRS Shorty 39" Front Brake Cable
TRS Front Stem/Vapor Mount (Not shown, they have a batch getting annodized and will ship it to me)
NCY Needle Bearing Quick Throttle Kit
NCY Ruckus Axle Bolt
NCY Front & Rear Brake Shoes
Password JDM Ruckus Gas Cap (TRS is discontinuing PWDJDM and hooked me up with this version 1 cap. It Fits the spree cap & has clearance with the seat down
)
FREE SWAG: TRS Hater Shirt, TRS Shades (YOU DA MAN RYAN!)
Just waiting on my NCY slammed forks and Drag Bars from SSS and this front will be almost done. Just need to get a light and a few more cosmetic things like wheel spools, KN brake cam, and fancy takagawa brake adjuster nuts.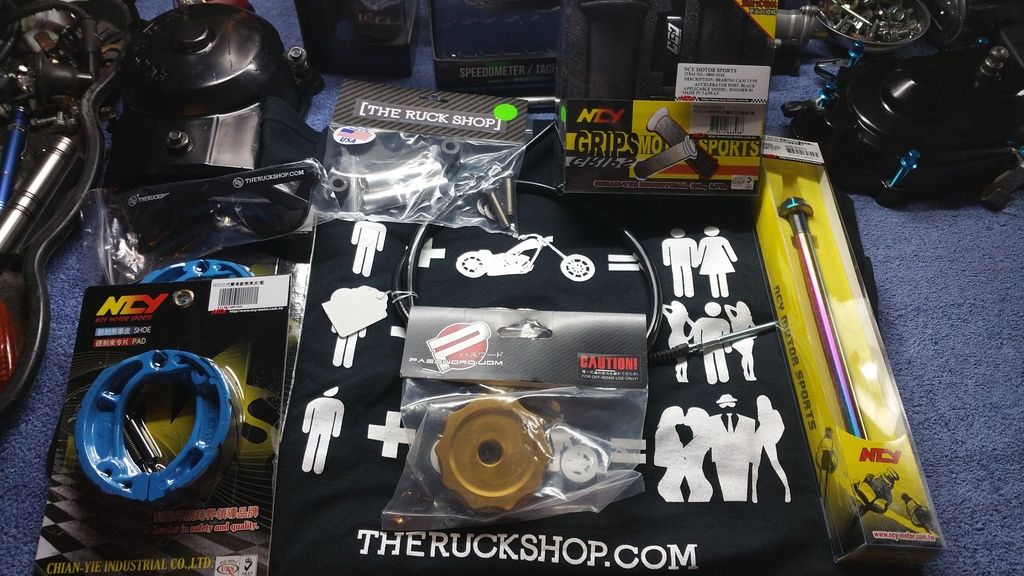 Side note, the new 2017 Grom fender & mount kit for the Ruck they have is off the chain! (I WAS SOOO TEMPTED TO GET IT)

_________________


T?@\7 wrote:

...so I'd like to know how high the rest of you are.
87' Spree:
Victoria's Spreecret