Taken from the Big Bore building thread over at ruckuscentral:
http://battlescooter.proboards.com/inde ... 586&page=7
On this picture are the two thick rings (courtesy of android):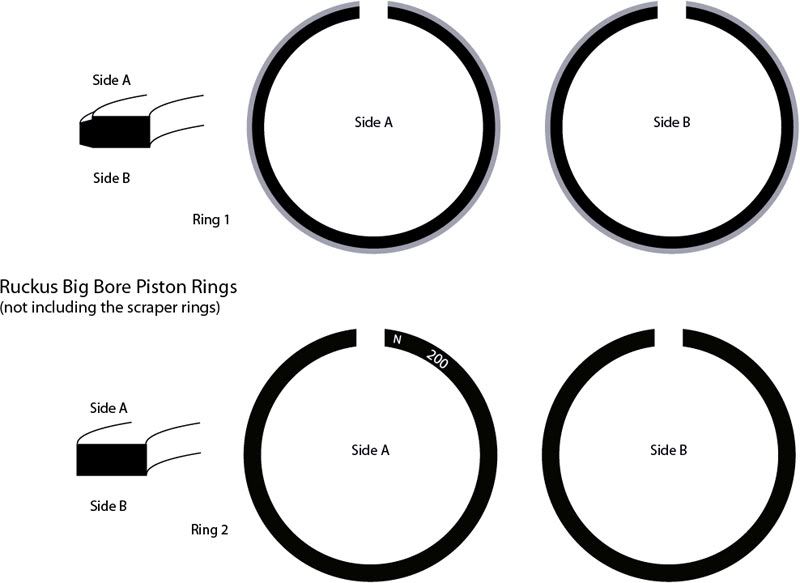 So
the order is
:
Ring
1 goes first
- on top of the piston - closest to the cylinder head - with
side B up
Ring
2 goes second with side A up
The ruckus manual and instructions that came with the wiseco piston differ in the way you should stagger the ring gaps for the two top rings (both manuals are the same for the bottom three rings).
So i just went with the wiseco piston instructions, and you place the top ring gap (as looking at the piston with the intake side up) to the 3 o'clock position, second ring gap - 9 o'cl0ck position, top oil thin ring - around 2 o'clock, oil wavy ring - 6 o'clock, and bottom oil thin ring - around 10 o'clock.
Thanks to Varroa for compiling the info .

_________________
My Facebook https://www.facebook.com/groups/160369477381976/ Suck,Squeeze,Burn,Blow


"Cigarettes are like hamsters , they're not bad for you until you stick one in your mouth and light it ." ~ JP