Well here's the little beast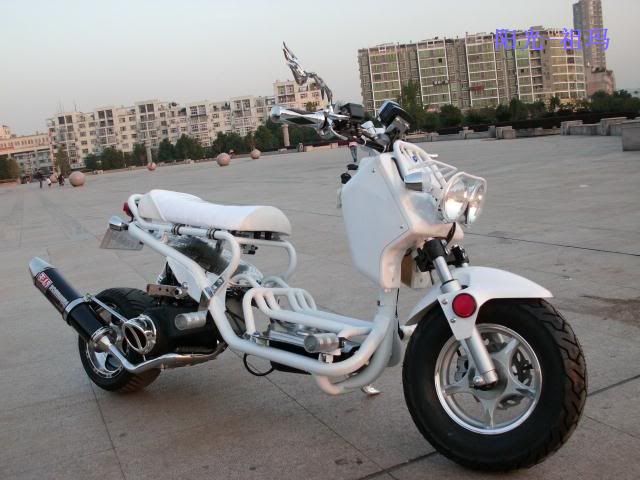 They call them zoomers here in China.
Was custom built for me
Cost about $730 delivered (that was with a stock 125c)
mods....guess i'll start at the top and work my way to the clutch....it's a 169cc stroker now
59mm MTRT Head
MTRT A14 cam
59mm SEE cylinder kit
FRC 30mm PE clone
MTRT 400 stroker
KOSO 115mm variator
3 x KOSO 10g sliders
3x KOSO 8g rollers
unknown brand variator pulley face
Bando belt
Ban Jing red clutch.....2000k springs and the best of 3 levels offered (bullet proof)
FRC Clutch pulley (but it sucks...stock is better) but I threw it away
2000k torque spring
15*38* final gear
CDI, coil, other crap too
Here's a pic of my other beast.....1967 YR1 350cc Grand Prix two stroke twin
47 Yrs old now
Believe it or not, I got bored of dogging a softcock on an R1 one day when burning around my favorite mountain road/race track. I took him on a corner so easily it was shameful.........then we hit a straight.
This thing's got some balls and the low/mid speed handling (50 and under) is rock solid.
0-60 in 6 sec
14.8 sec 1/4
stock
I've even seen a video online of a YR1 absolutely destroying a 1200cc V MAX on the 1/4 mile. left him for dead in a cloud of blue smoke. quite likely there significant factors to that outcome though such as a shit rider but hey...pretty cool to see if u can find it
It's had a little bump....1st oversize, and pod air filters.....not much