A 7 inch stretch that will fit the older Mets along with parts made to use the stock rear shock
$155 shipped USA
I also sell a fatty mount too, if available I sell those for $200 shipped
You will need some tools to install
sockets, grinder, drill, hammer
On my stretch I have these 2 side straps that secure the stretch from moving up and down, this is very important not to have the stretch move at all. I have holes just for these braces built into the stretch
These can adjust the angle of the engine and the height. So you can make the engine super low to the ground, or high which also tucks the engine up in the bodywork or let it hang down some.
I purposely did not cut or drill one side of these braces. This will allow you to get the engine how you want. Plus it allows you extra room to decide where to bolt them to the frame.
Its all up to how you want it to look and depending on what rear shock your using its just better if I leave these parts long so you can get it just right
(you will have to cut, and drill 2 holes on these side straps to complete the install) just like on your frame you will need to do a little grinding to install also
I personally want the engine up as high as possible, so then when you sit you have good ground clearance
you can still make it very low by how you cut the rear shock mounts, I also send those a little long too
I include a top shock mount ( for the stock met shock) this brings it out about 3 inches or so. You can easily grind out the top adapter to use a ruckus type shock. Ive done this on a few bikes so I know its possible. Cant say every ruckus type shock will fit. But ive done 3 types of aftermarket ruckus type shocks using my shock mounts (after some grinding and bending to fit that type of shock)
I also include a lower shock mount. This also can push out the shock. This keeps the shock at a nice angle. You dont want too steep of an angle on the stock shock, you can bend the shaft which is why I take the time to make the shock mounts, if you dont want to use them thats up to you.
You can cut this lower mount shorter, it will allow the bike to lower in the rear if you choose to do so. Again I did not drill out one half of the lower mount. So you can decide how you want the rear to sit.
Im giving you alot of options to choose from, to set it how you want. I say keep the engine up as high as you can when off the bike, then when you sit on it the engine should be almost level, you still want the front of the engine to angle up a touch
if you dont know what im saying just look at the stock engine how it sits on and off the bike and try to copy that angle
Im also including stainless allen bolts, washers and lock nuts. So you wont have to buy any hardware to complete this install
Here are some pics of when I installed on my bike, you can see what I had to cut. And any questions pm me I will try to help.
http://s117.photobucket.com/user/mikegigabyte/library/Honda%20Metropolitan/Stretch%20Install
The newest pictures above will show what needs to be ground away for my 7 inch stretch on the frame
Since its built a little differently
But once you get it in hand its easy to see where you need to grind the frame
Also with my stretch if you use the slide carbs no seat storage needs to be cut the throttle cable just clears the storage
Unlike using a 6 inch stretch then the cable will hit the seat storage and you will have to cut a hole
These are all hand made, they will all be slightly different depending on when they were cut out using a cnc plasma cutter means its not a super precise laser edge cut but it still looks nice since its black hard to see
I use a spare rear met frame to make my brackets, they all bolt up so they should not need any filing or drilling but you never know if these frames are all the same. Always be prepared to do a little fine tuning just incase.
And the lower shock bracket I use a swingarm and again double check to make sure they drop on and bolt in.
If there is any fine tuning it would be very minimal. Most likely you wont have to do any.
They will all come powdercoated matte black.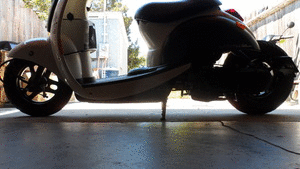 I also do my own powdercoating, I can do any small part, like controls, kickstands, washers, bolts, gas tank covers, anything metal
Limited colors on hand, but if you want a special color I can order whatever you want
Link to some of the parts ive done
http://s117.photobucket.com/user/mikegigabyte/library/PowderCoating