Well that's my summer vacation.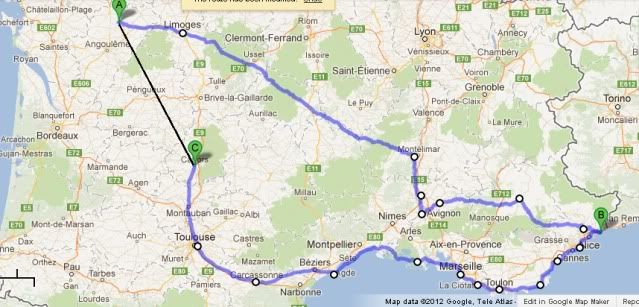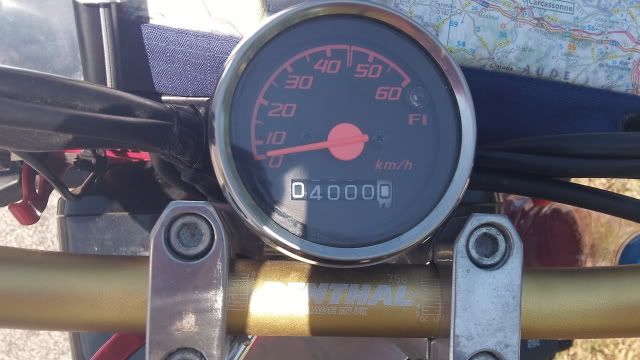 So how was it riding a 49cc across country? ...
No problem what so ever, yes it was slow climbing in the mountains.
But the rest of the time I hardly noticed, keeping up with most holiday traffic.
Only down side was when I got on a main road (Freeway type) did feel a bit vulnerable there.
That was my error, I didn't make that mistake again.
As some of you may already know, I'm registered disabled (Spinal injury)
I thought this was going to be the major factor on the ride.
It turned out to not be as bad as I thought, yes I had to strap myself up.(Nothing new there)
Even on the day I did 300km I still didn't have any real probs
Found the bike amazingly comfortable, even for a guy my size. (Apart from the numb ass)
If it were not for needing to return home, I could/would quite easly have continued
I can now see how Wan and Tom can do these distances.
Total respect for their achevement though. It's what inspired me to GET out there in the first place.
Was there any problems with the bike?....
None, apart from the shock giving out (Hardly surprising considering it was carrying over 300lbs)
Everything else performed perfectly, seemed happy whizzing along at around 35mph all day long,
Even the heat didn't bother it.
Defo in need of an oil change by the time I got home.
Alough using a good qualiy synthetic oil helped.
Would I have done anything different?....
I think I would like to have spent more time in some of the locations.
But had a very limited budget, and wanted to go as far as I could on what I had
If I had done the trip earlier (June perhaps) it would have been a lot cheaper
July is the start of high season when prices go silly.
As far as the gear I was carrying, I took a 3 season sleeping bag and a thin mat.
Next time I would use a 2 season bag and thicker mat. (Same pack size and weight)
And could defo use a gel seat cover, severe butt ache.
I feel a slightly better tool kit may be wise, just had minimum kit with me.
Luckly when I changed the shock the shop allowed me to use some of their tools
Oh and big defo...A better camera.
And just for my TR bros. more booby pics
Would I do it again? ....
You bet I would.
Can't beleive how much I enjoyed it.
In fact already looking at my next. Maybe Spain and Portugal....Hmmm
Defo won't worry about the mountains, as long as they are less than 10% I can keep moving
So in conclusion I would say to anyone considering a trip.
GET out there and do it. Ya won't be disappointed.
I must admit to being a bit nervous when I first started, not knowing what to expect.
But met some interesting people en route, and see some fantastic sites
Some of these places I've passed through in a car in the past and never realized they were there.
On the Ruck ya got time to look around and enjoy the scenery.
Also there are places ya can go with a scooter you would never be allowed with a car
Ride safe Pappy