Ok, the weather has finally changed for the better.
Tomorrow morning (Monday) I'm out of here.
Leaving my home near Angouleme, and heading to Monaco.
Then along the Cote D'Azur to Cannes, St Tropez, Marseille.
When I reach Cap D'Agde (Where I normally take my holiday)
my wife is driving down to meet me. Her Ruck intow
We intend to spend a week or so there riding around there.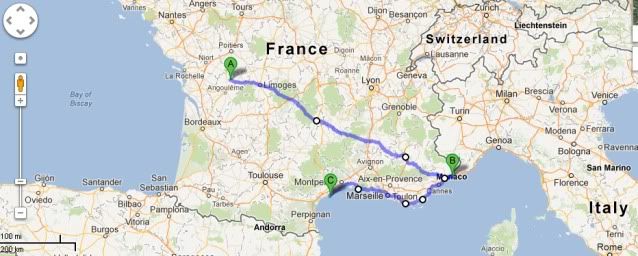 After that no real plans, depends on how my dodgy back is holding up.
All being well I'll continue on to Andorra in the Pyrenean mountains, then home.
If not then I'll go back with wifey.
I'm not sure what sort of internet connections I'll find en route,
so apologies if I don't do daily updates.
Either way, hopefully loads of pics to come.
Loaded and ready for the off
Start mileage,
Pappy