No times for runs over the last few days but I wanted to post a few very odd graphs.
I opened a couple of the best runs from the HiT/Costa combination.....
then flipping back through previous runs of different combinations, I opened the fastest of each.
It's easy to do, just sort them by size...since the Veypor writes a fixed amount of data per second, the smallest file is the fastest run...usually.
What surprised me was an odd pattern emerged in about 80% of the runs....
The speeds were all fairly good runs, between 65 - 70 mph in the 1/4 mile.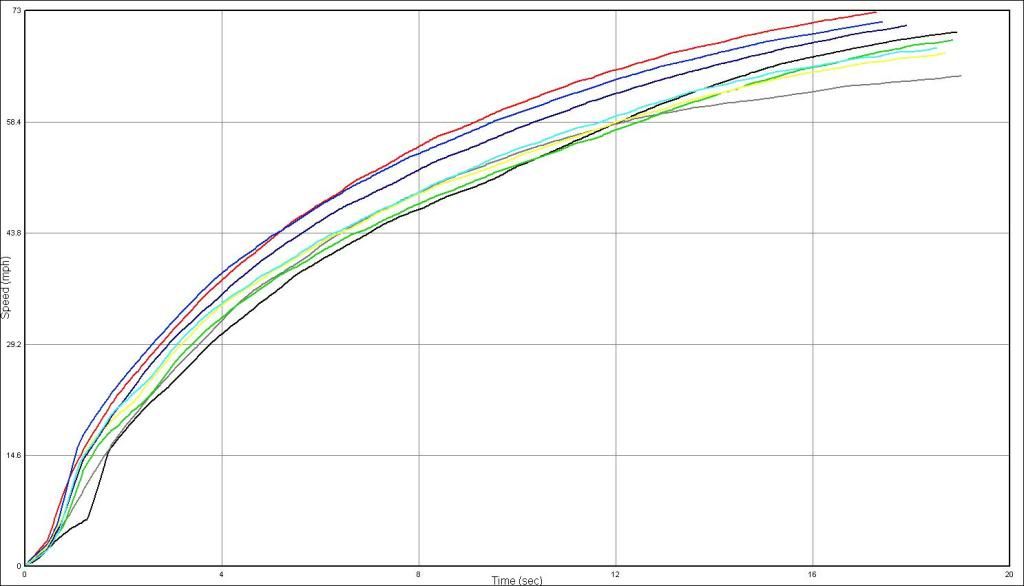 But what struck me as odd was the two points of convergence in the rpm graphs....
at about 1-2 seconds into the run, all the different configurations are with 200rpm of each other.....
what's really strange is that at about 18 seconds, all the runs are within 200rpm of each other!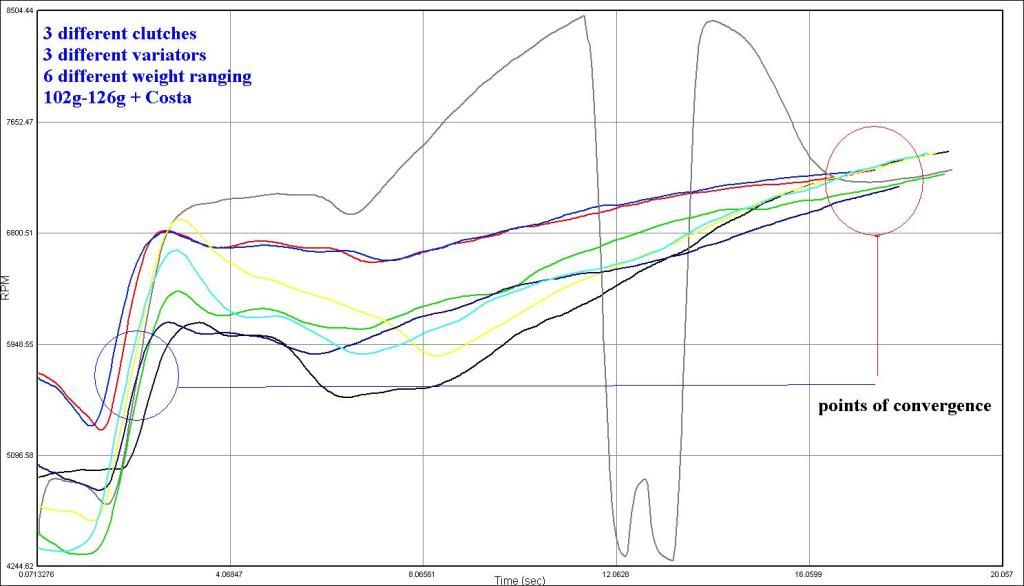 not all runs show this "convergence", but those above the line will be over 70mph and those below the line will be under 60mph.
This is some innate limitation of the design....
the variator gearing, the clutch gearing, your belt width, the final drive gearing ....
all in their upper operating range come together optimally @7250rpm at about 17 seconds.
thats in a GOOD run..you might say in the best of runs.
The great thing about stumbling onto this is it gives us a tangible goal.....
a fixed numerical rpm value to shoot for with our weight combinations.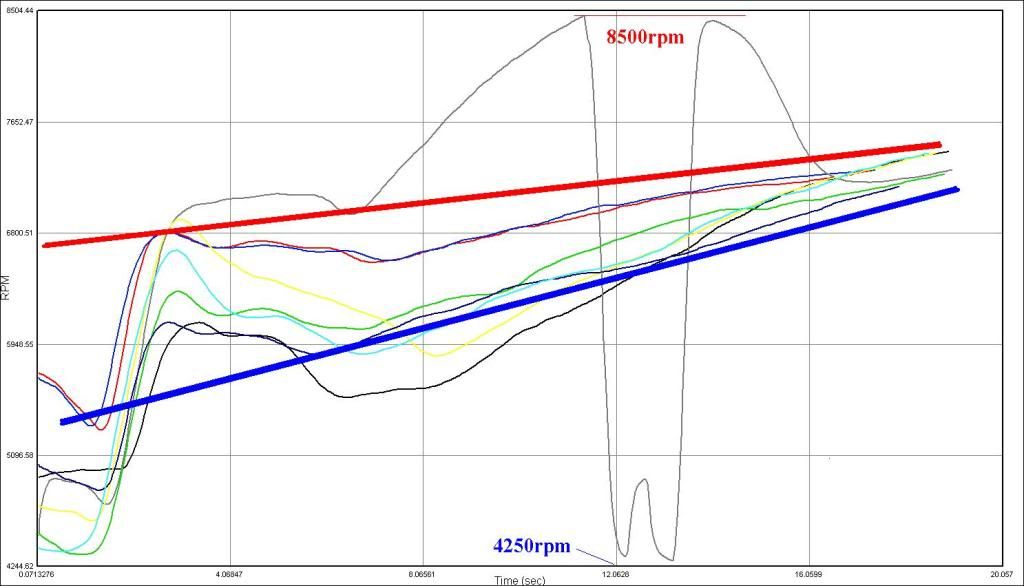 so we know the upshift rpm range is ~5800 rpm for weights heavier than 126 grams
we know that it's ~ 6800 for the Costa and the 102g slider/roller combo
That give us a beginning range of 6000-6800 rpm @ about 3 seconds and a downrange target of 7250rpm at 17-18 seconds.
now we only need to find the perfect weight range and combnation that will draw the straightest line between those two points on the graph!
on the graph above notice the really ugly line??
that was my first DRP slider test from several years ago.....
I installed them the WRONG way and I hit the rev limiter on every run!
The results were still fast but if you look closely you can see that as the spark passed 8500, it suddently drops to 4250.....
that's how the rev limiter works....when reached it cuts off every other spark cycle.
if you approach it slowly, at cruise speed, you'll never even notice it.....you just feel the bike is out of power and that's all there is.
It doesn't really slow down....it just won't go any faster.
It's different if you hit it under hard acceleration......
then you will hear it sputter and fell it miss and sometimes even back fire from a missed spark cycle.
one last set of pics from the Droid!
while getting my scoots ready to ride to the OBX for CCoN 6, I was checking the belt on #2...
right after swapping out the costa for the modified OEM variator, I noticed belt chatter when pulling out.
This usually means the belt is slipping a bit.
I've been running #2 without the noise shield...plastic and foam...that covers the CVT.
It lets the CVT dump heat better and makes a cooler place for the belt....
this belt now has over 16000 miles and it's finally worn past the spec limits...it was 22.2mm.
It has run on a Costa variator that entire length of time and it has a wierd lopsided V shape....not symmetrical.
but what I want to point out is how to check your belt state of health, not just it's width....
turn a short length of it inside out.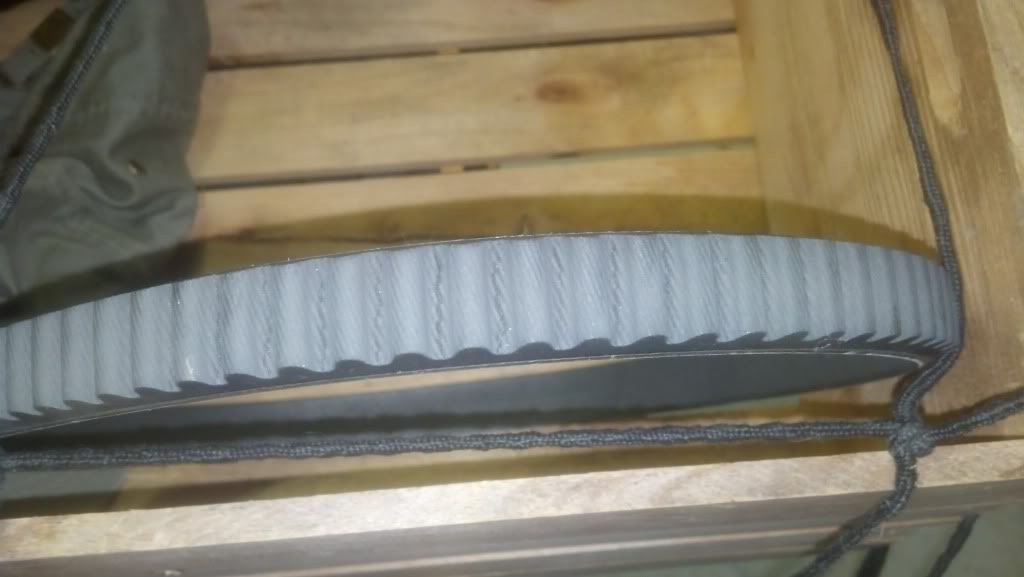 if the rubber is drying out and aging, it will show up HERE first....
some would say..... but flexing the belt backwards might make the rubber crack?
nope!
if it can crack from being reverse flexed, you want a new one!