After finishing the Veypor installation (about 2 hours) it was twilight, but I wanted to get a few baseline runs to shake out the bugs and make sure it was working right.
I took the bike to my favorite stretch of road, about 3/4 of a mile flat and usually abandoned at this time of the evening and made 6 or 8 runs,
doing several each way to account for wind.
Drag is huge factor to a low powered bike like the BR and should always be taken into account.
You can actually see a strong head wind on one of the runs, just after it up shifted.
Here are the first results:
RPM....very uniform from run to run, just as I had hoped...anything else would indicate a problem: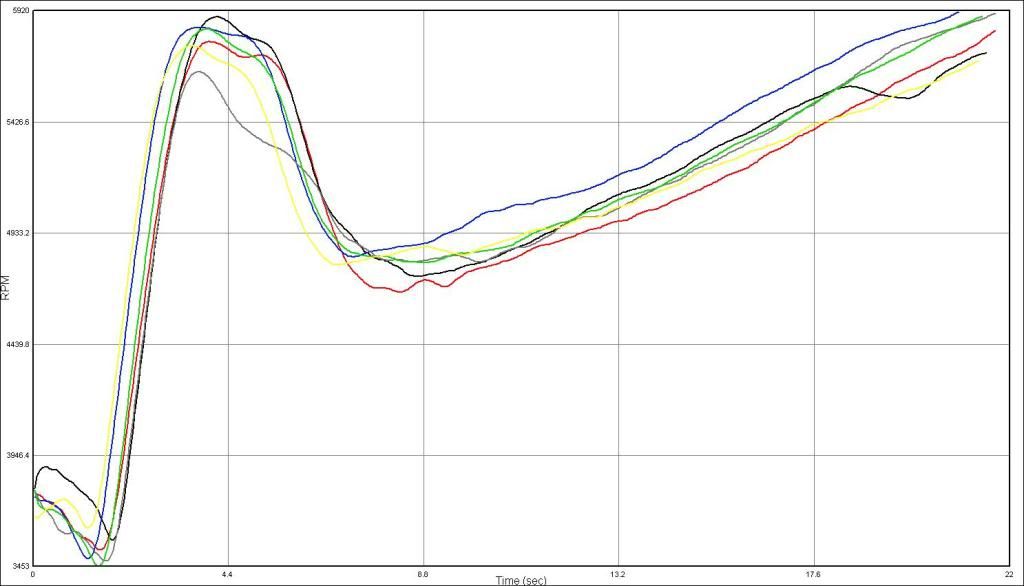 note that like all stock BRs, the revs reach about 5800rpm and it up shifts...hard!
the revs drop back about 1000rpm and never go over 6000rpm until you're running 60+ mph, which is about 30 seconds after you pull out.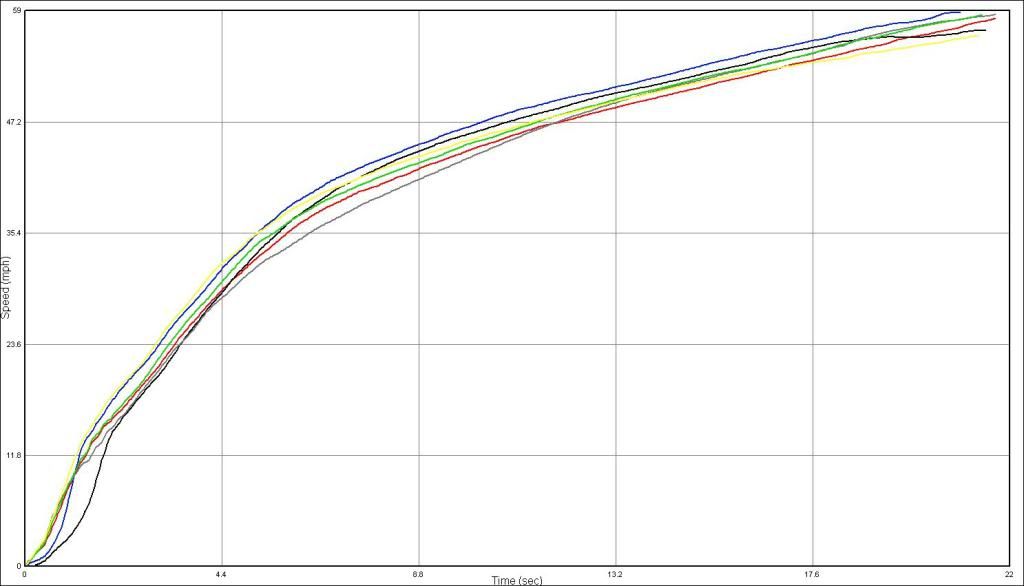 Although the MF04E engine is capable of making about 22HP, the BR can only make about 17HP with it's stock muffler, carb and airbox.
Unfortunately with 6 - 26Gram rollers (156g total) and a dirty oil filter, it's lucky if it can make 13HP.
this is commonly seen and is true of EVERY stock BR I've tested.
And for a quick comparison of what the future may hold for this new BR, here's an overlay of one of BioHazard's better runs along side today's runs on the stock bike.
BioHazard is the light blue track, in case you haven't already figured that out.
That light blue line is a stock jetted carb (40 slow, 98 main) properly tuned with a tach, using a stock variator with 3-21g and 3-18g rollers and a stock clutch with yellow Malossi springs....
check the launch rpm...about 1000rpm over stock. This launch rpm is very important to eliminating initial bog.
REVs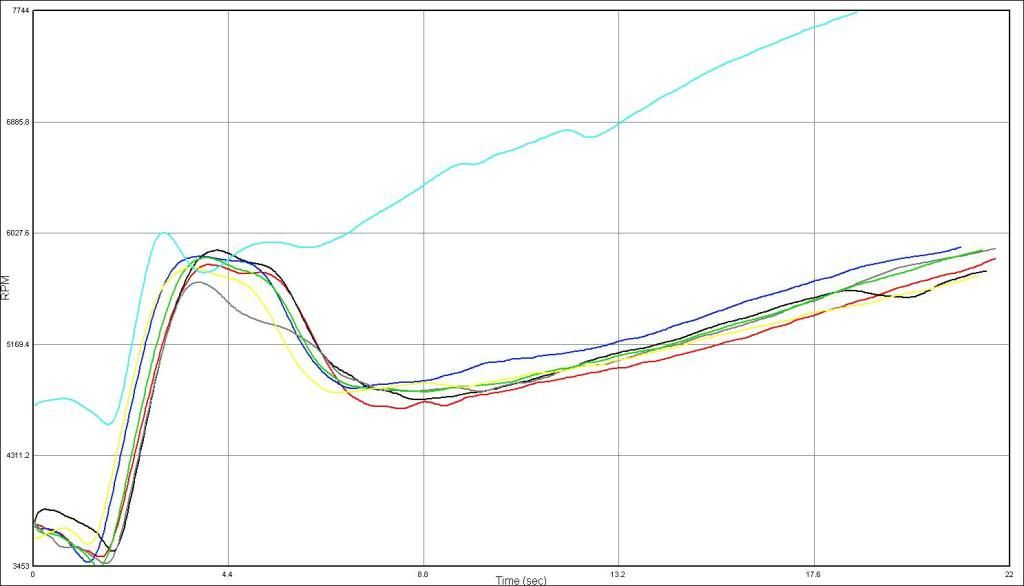 Speed: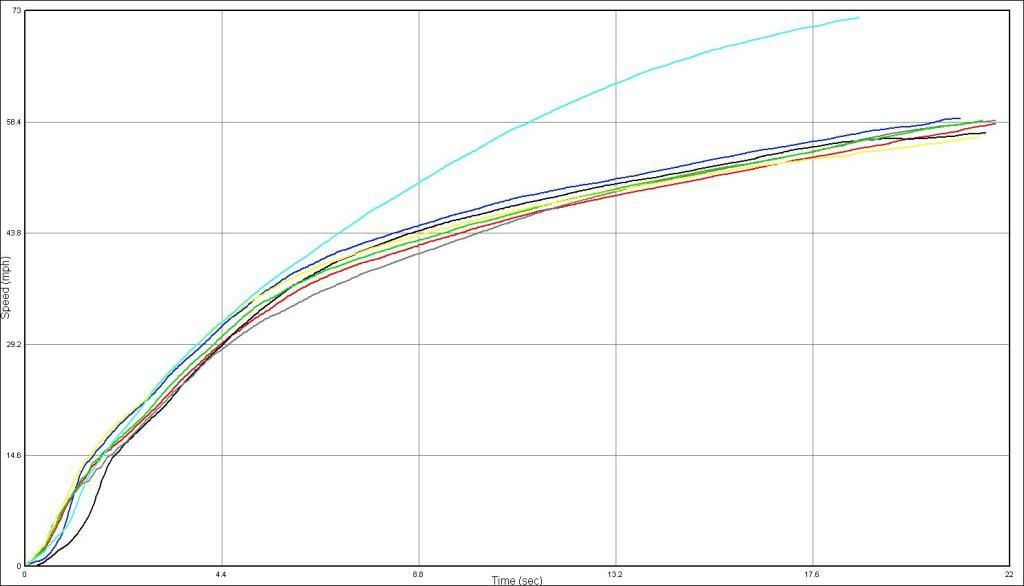 and some stats for the best runs of Bob's stock bike:
0-50mph 13.4 -14.2 seconds
30-50mph 8.5 - 9.6 seconds
(note that #2 will do 0-60 in 9.2 seconds!)
also notice that the stock bike never reached 60mph within the 1/4 mile run
best 1/4 mile time 22.14 seconds
best 1/4 mile speed 58.60 mph
top speed on a sustained 1 mile run on flat roads (71mph speedometer indicated, 64mph Veypor indicated)
That's all I could get out of it even after 40 minutes of riding, but that also is completely normal for a stock BR with a slightly dirty air filter and an untuned carb.
Before installing all the cool aftermarket stuff, I will retune the carb, replace the filter, adjust the valves, add some heavier clutch springs and install lighter rollers.
I told Bob he would still want the stock variator tuned as a backup, just in case.....J. Costa variators are hot, but they wear out extremely fast.
You have to keep a constant eye on them as a daily runner.
I will do a few Veypor runs after each individual step so the Big Ruckus community here can see what has the most effect on performance.
After tuning about 20 BRs, I have a pretty good idea of what affects overall performance the most and you'll be surprised to find it isn't always what you would think.
Stay tuned!