bubblepuppy wrote:
Good info on this thread.

Don't know bout the BR, but on the Reflex, I can state definitively that the ignition module DOES NOT have a rev limiter feature. By my personal experience, I've seen 9k RPMs after Dr. Pulleys and car tire mods. The scoot had FANTASTIC git-up-n-go, but at 9k, the bike WILL sputter terribly, as if fuel or spark cannot keep up with actual RPM's.
I somehow have missed this post for some time but just noticed it.......
The Reflex DOES indeed have a rev limiter. What you described is an almost perfect example of a rev limiter in action!
when the bike starts to "
sputter terribly, as if fuel or spark cannot keep up with actual RPMs
", that IS the REV Limiter kicking in!
The rev limiter on Hondas doesn't just cut off the spark at the limit.... it cuts off
every other spark
!
Fire one, skip one, fire one, skip one, etc.
The result is the bike starts to "sputter terribly" and misfire when you reach the rev limit, but it does not die completely....
(which would get you killed on the Interstate!)
On the BR, as you pass 8500rpm, your tach will show that it suddenly starts firing at 4250rpm (exactly half of the REV limit).
Here is a Veypor graph of BioHazard hitting the rev limiter on several runs from 19g sliders that were installed backwards!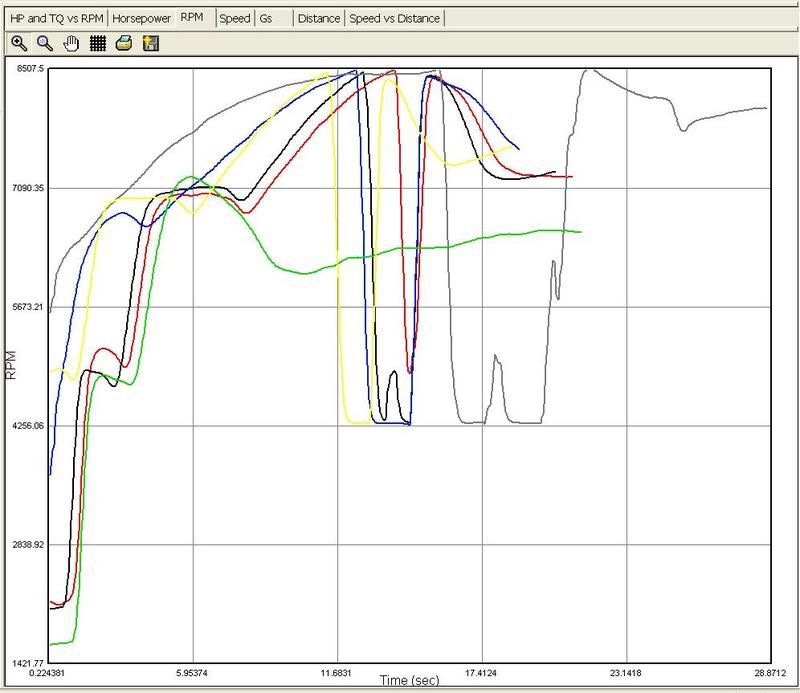 You can hit the limiter with a J.Costa variator, too.....if you remove 4 of the pins.
On the graph above, the green line is a stock Costa variator with all pins and the grey line is a Costa with 4 pins removed.
The Reflex ECU is REV limited to 9000rpm, so it drops back to 4500rpm on the tach when it hits the REV limit.
As soon as you drop under 9000rpm, it will start firing on every spark cycle again.
Remember your electronic tach is only counting actual spark cycles, not the actual RPM of the engine.
Only a mechanical tach could do that.

_________________
BioHazard









"You live and learn......at any rate, you live."


~Douglas Adams