This may sound weird, but I make a point of weaving WITHIN my lane as conditions allow.
What I do is I pretend that there are little traffic cones in the middle of my lane and try to weave back and forth. Where I live there are often manholes on the streets in an off set staggered position, and I try to "thread the needle" between the two manholes. The only way to do this is with an emergency style turn. I also practice this weaving movement when I come to a stop since it also helps me to learn how to brake while turning, and brake while turning while turning the other direction while coming to a stop. It's a great riding technique and drill to learn!
It produces the same momentum and visual medium of skiing gates, and both are pretty fun.
The benefit of this is that it helps me as a rider practice the dynamics and physics of turning, counter steering and braking, AND provides a visual medium for other drivers to fixate onto.
The problem with car drivers (and the human brain) is that once they see you, and you are not perceived as an immediate threat, their brain discards you and they go back to whatever they were doing (driving, paying attention to their cell phone, listening to music, talking to their friend). Essentially you do not exist anymore in their consciousness, and therefore they are a threat to you and neither of you know it.
If you drive straight and boring, their subconscious (and visual cortex) says "regular rider, going predictable, standard part of traffic" and doesn't pass that information on, hence the statement "I had no idea blah, blah, blah".
This is partly true because if your visual cortex doesn't pass on information to your frontal lobes, then to your consciousness, it doesn't exist.
However if you start weaving or riding slightly erratically, what happens is that the driver's eyes pick up on that information, the visual cortex processes that information, freaks out because it doesn't fall within normal accepted protocols and passes it on to the frontal cortex for immediate processing. At this point, you are effectively in their brain, and therefore you exist as an entity on the road. I've had people tailgate me and when I do this they back off fast.
This phenomenon has been documented in studies where babies are presented with visual situations that make sense, and don't make sense. In the situations that make sense babies are happy and adjusted, but when presented with a situation that mostly make sense, but with one thing out of place, the become angry, frustrated or upset. This experiment was done with babies less than a year old, so cognitively they had no idea why they were upset.
This experiment therefore is an example of the reptilian brain at work, and shows how you can turn car drivers into your own Manchurian Candidate of personal safety on the road. The reptilian brain deals with self preservation, so if you can stimulate their reptilian brain, threaten it somehow, you can become more visible to cars on the road.
I don't weave all the time, but I'm also doing other things to throw out visual cues to other drivers. I'm always changing positions within my lane from center to left to right. If I want to look at what's going on behind me, I don't just shoulder check and look in the side mirror. It's not visual enough. I do a huge weave turn within my lane and almost turn not just my head, but my whole body looking backwards. It looks like this:
To look over my left shoulder, I start in the left side of my lane. I countersteer to get my scooter leaned and pointed to the right side of my lane. As I approach the right side of my lane, I counter steer again to get my scooter leaning left and pointing left. At that point I rotate my torso a bit and I look over my left shoulder and I have a nice wide unobstructed view of what's happening from my 10 oclock to my 5 oclock positions.
The advantages to this are twofold. I get a great awareness of my surroundings, and with the 'erratic' weave I give out a nice visual cue for reptilian brains to pick up on. Another thing I just realized is that by doing this, you are subconsciously staring down the drivers, which again is registered in their reptilian brain as a challenge, and again forwarded to their frontal cortex. Threats also cause the frontal brain to fixate on the challenge/danger causing tunnel vision and brain cycles to be focused on you (which is what you want in non panic situations of course. In panic situations if they fixate on you you are hooped).
Anything you can do visually, no matter how small or insignificant, is always seen by the eyes and visual cortex, and is always routed (in part) to the reptilian brain (remember, optic nerves don't directly attach to your soft mushy brain, it connects mostly to your brain stem (reptilian brain) first. This information DOES NOT ALWAYS get forwarded to the frontal cortex.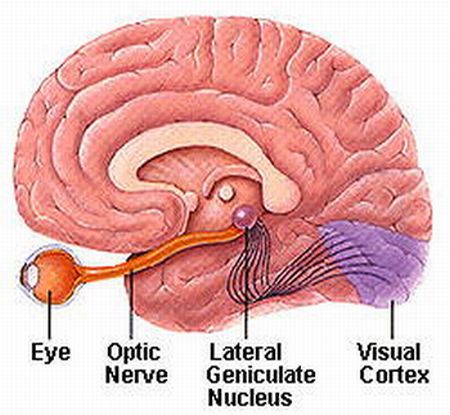 We as two wheeled riders train ourselves to force the reptilian brain to forward all information to the frontal cortex. We do this by scanning all the time and CONSCIOUSLY deciding if whatever we see will be a problem in the next 2 seconds. The problem with this is that you as a rider have to process that much more information which is ok because we as a whole are trained to be smarter on the road.
Car drivers only react to instantaneous danger, and by that point it's already too late for you.
If it's seen as a danger, or even doesn't make sense, no matter how insignificant, it gets forwarded very quickly to your consciousness where you are forced to deal with it. This is why it's extremely maddening to drive behind old people who leave their blinkers on. The predicted actions do not co-relate with visual information coming in.
At intersections when you're stopped, keep flashing your brake lights, turn off/on your turn signals, flash your highbeams, turn around to look at the car coming up from behind you. Make sure they see you. I do this so I don't get rear ended.
Basically what I am saying is that if you drive as a safe predictable rider, you are not riding safely. I see riders sit on their rides putting along sitting perfectly still. I wonder if they have an idea of what's going on. I look into their rearviews to see if I catch their eye as I pass them. If they're sitting still doing nothing, then what is going on in their brains? Your eyes give you only about a 160 degree view. If you turn your head, and use your eyes, you get about 270 degrees. Mirrors are great and all, but you get more information if you look at something directly with your eyes.
Ride safely, but ride [slightly] unpredictably, and you'll probably end up as with better riding skills too.
My biggest word of advice if you want to ride a scooter. Ride a bicycle for a couple of years. If you can't hack that, then you should probably not be on a scooter. Better to hurt yourself at 12mph than 30mph.