Had a couple more tools/parts arrive yesterday and today. The crank case gasket came today and yesterday I got my new sockets and torque wrench. The socket for removing the variator is a 22mm, and I only had a 21mm on hand, so I bought a set of 1/2" drive 22-28mm sockets from Sears. I have an old beam-style torque wrench, but figured that the transmission of my scooter warrented the excuse to buy a newer, nicer tool that would be much more precise - so I splurged on a new torque wrench. Problem was, my local sears was out of stock, so I went online and found out they had some online tool deal if you spent $100, so I got ~$20 off, which basically meant I got the socket set for free (woo hoo!).
Anyway, all of this is pointless drivel. I was going to just take the gasket, sockets and wrench downstairs to my work area (its basically a storage closet - so I won't call it a garage) but when I got there I decided it'd be a decent Idea to remove the variator to see what I was up against when it came time to do the roller weight swap. The rollers and sliders are the final pieces I'm waiting for, and I cannot wait til they get here.
Anyway, basically, I took some pics of the variator etc as I took it apart. Here they are without further ado:
Variator nut, washer, kick-start gear and outer pulley plate (I'm sure that's not the technical term):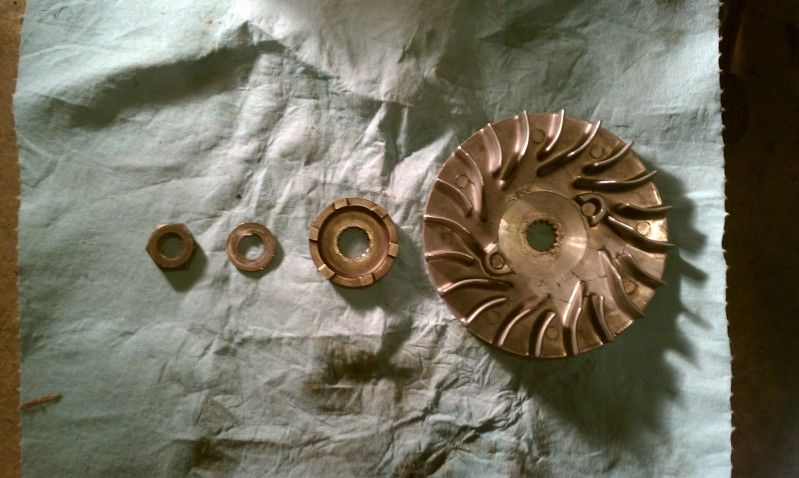 The inner variator pulley plate. This is what you see after removing the outer plate.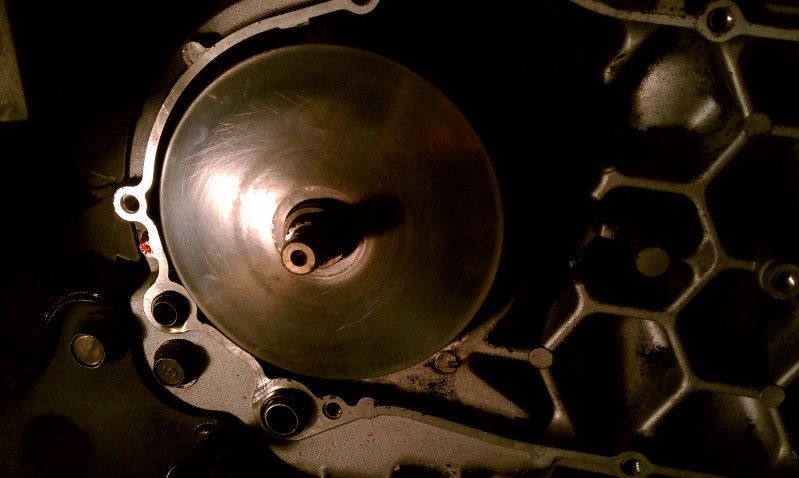 The backside of the inner pulley plate, with the stock weights still installed: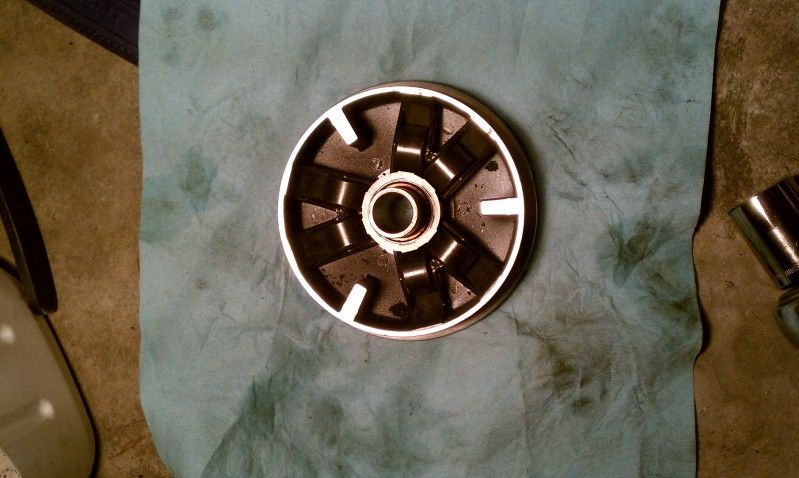 Weights removed: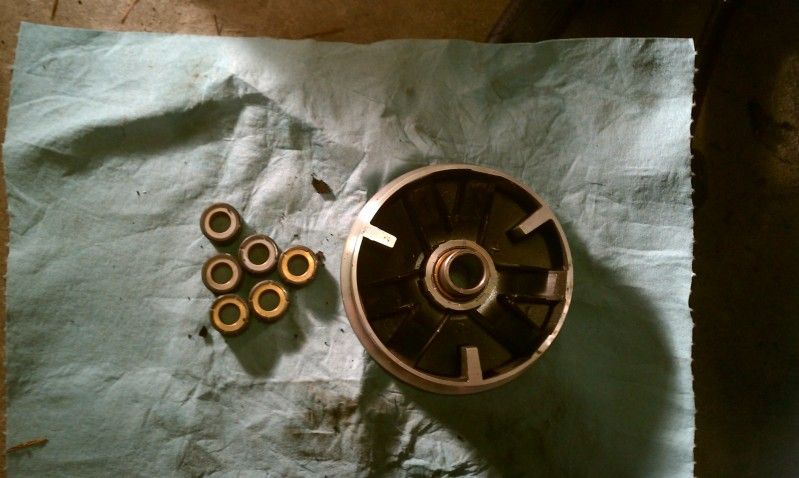 This thing is behind the inner plate and has 3 slider weights on it.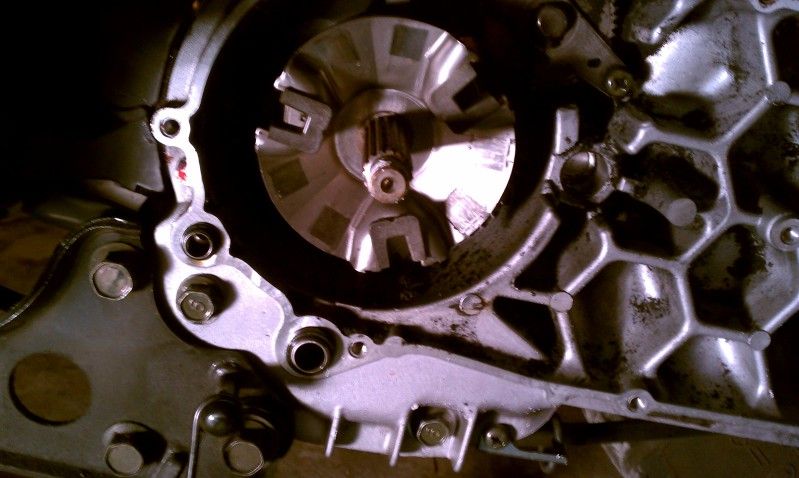 The tools I used to do the job: 22mm socket, 1/2" drive breaker bar, strap wrench (for holding the variator still) and a 1/2" ratchet after I broke the nut loose
Transmission with variator fully removed: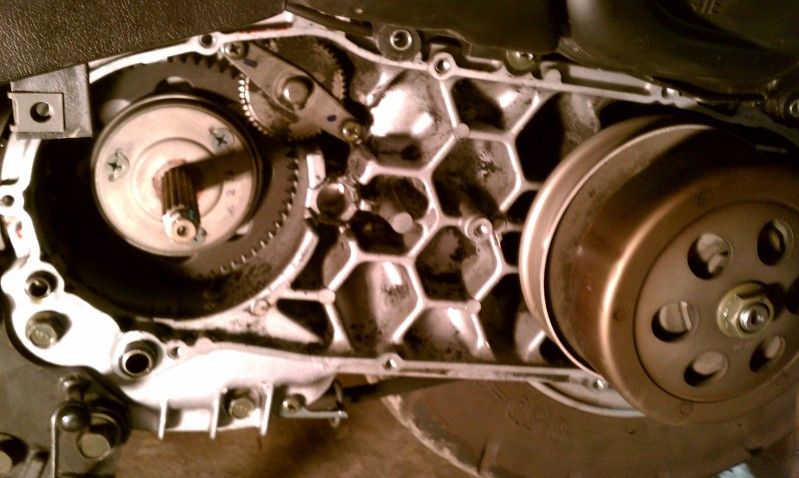 My super crowded work space: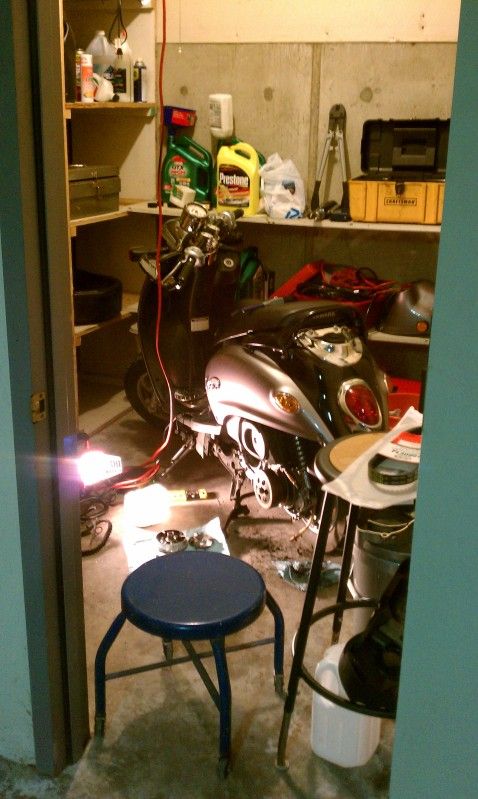 I noticed a few cracks in the outer pulley plate. Not sure if this is something to really worry about, anybody got any itdeas?
All in all, I plan to get the bike put back together this week. I ordered a spare transmission case gasket in case I want to get in there again to adjust weights etc. Which I might hang onto for swapping out that cracked variator plate. None of the cracks were all the way through the aluminum, which is thicker than I would have thought, but it bugs me knowing they're in there. I didnt find anything that could have cut up or rubbed on the belt. The only thing I can think of is that the belt simply jumped the pulleys and got dragged along the backside of the clutch, which would have ground through it in short order. Its possible the shop put in a belt that was too long or something silly like that, and that enabled it to jump the pulleys, but I'd be awfully surprised if that were the case.
I'm out.
-Spool