And so today begins with the reconstruction, remake, rebirth, re-whatever of the 2006 Vino 140, also known as the 2 Wheels of Destruction (2WD).
Here's a brief summary and history of the infamous 06 Vino.
Bought it used for $1600 in April of 08, got stolen in front of my work in Oct. 08, recovered in Feb. 2009 and morphed into a 140cc speed machine and good times ever since.
This is the pride, joy and daily driver of the C-Dawg. It went on rides as far as San Francisco, Las Vegas and L.A. and local rides around SD with the bros of O-Side, Southside, and the Total Ruckus Crew from LA on Super Sunday 2010.
Hell, it even lead SuperFadedCon 2010 from D-Town, cruised around Mission Bay Park, Mt. Soledad and eventually over the bridge to Coronado. So many countless rides and meeemories... until one faithful, Memorial Day weekend just this past May.
It was going to be an easy solo ride from Paradise Hills to Ft. Rosecrans in Pt. Loma. About 10 miles into the ride, just passed the airport, it finally met its end due to low oil and started to chug for half a mile and crawled into a near by Ramada Inn parking lot in Pt. Loma. Pretty much cut my trip short by 5 miles from the finally stop.
The diagnostic from a local scoot shop turned up more than just low oil and a spuddering engine. They recommend a whole engine rebuild and replacement of a lot of worn out parts which includes the belt, oil pump, crankshaft, roller weights, clutch and the list goes on. "Daaaaaamn dude!!!!"
I was left with two options from the scoot shop for the Vino. Option one, go ahead with the rebuild and replacement of parts but it will cost me over $1800. That's the pretty much more than the value of the Vino when I bought it used three years ago. Option two... part it out and sell it for parts. "F*** that yo!!!"
Then there's the third option, which is to go ahead and rebuild it, with the help and expertise of other TR peeps (Filipinobrand & Evil-Step-Ruckus), and save it from the true death.
So begins the rebuild of the 2WD (2 Wheels of Destruction) Version 2.0...
It starts with a search... a Craigslist search for used Vino 125s in and around SoCal. For the most part there are a hand full of Vinos intact and for sale at or above $1000. That's all fine and dandy but what I need is the engine intact to save on cost. Ebay has one for $299 plus another $200 for shipping. It's complete but a little higher than I can afford. Then a search in Menifee turned up a used 07 Vino going for $250 on Craigslist. Why so low? About 80 percent of the parts has been stripped off and sold. Only thing left are some panels, the frame, the wheels, seat and the ENGINE. "Hot Damn son!!!"
8/17/2011 - The Pickup
I dragged Filipinobrand along for this quick field trip to Menifee at 530am in the morning.
We arrived, inspected what's left of it, bought it and threw it on the truck. Nothing much to look at.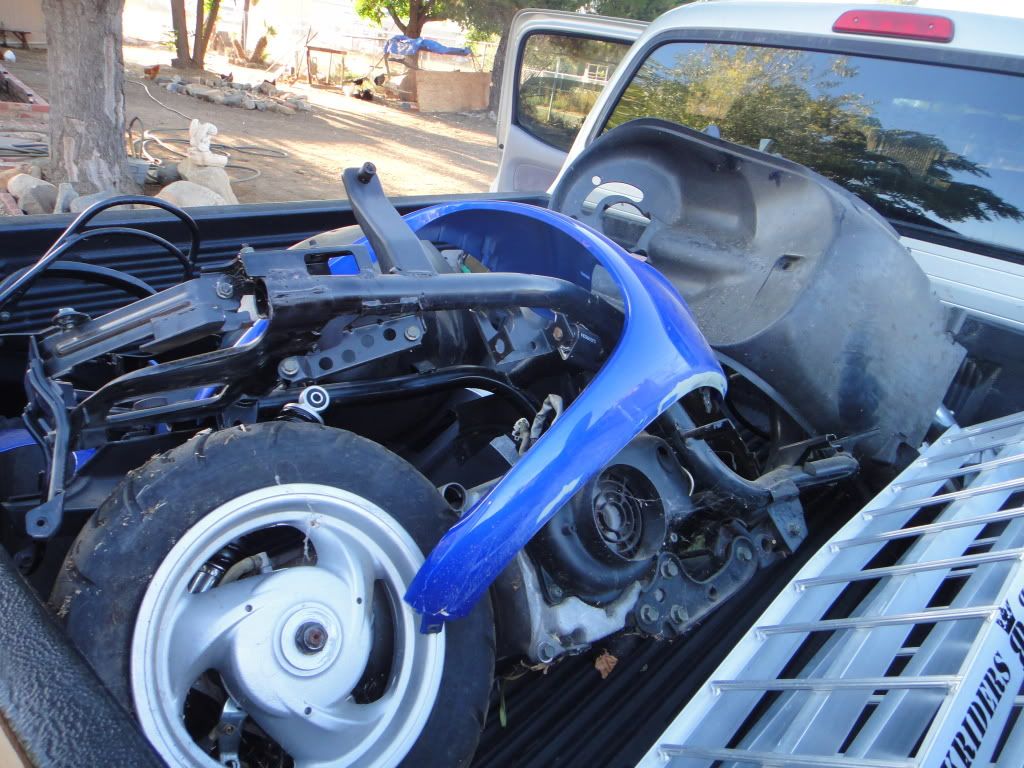 Finally got back to PH and unloaded it.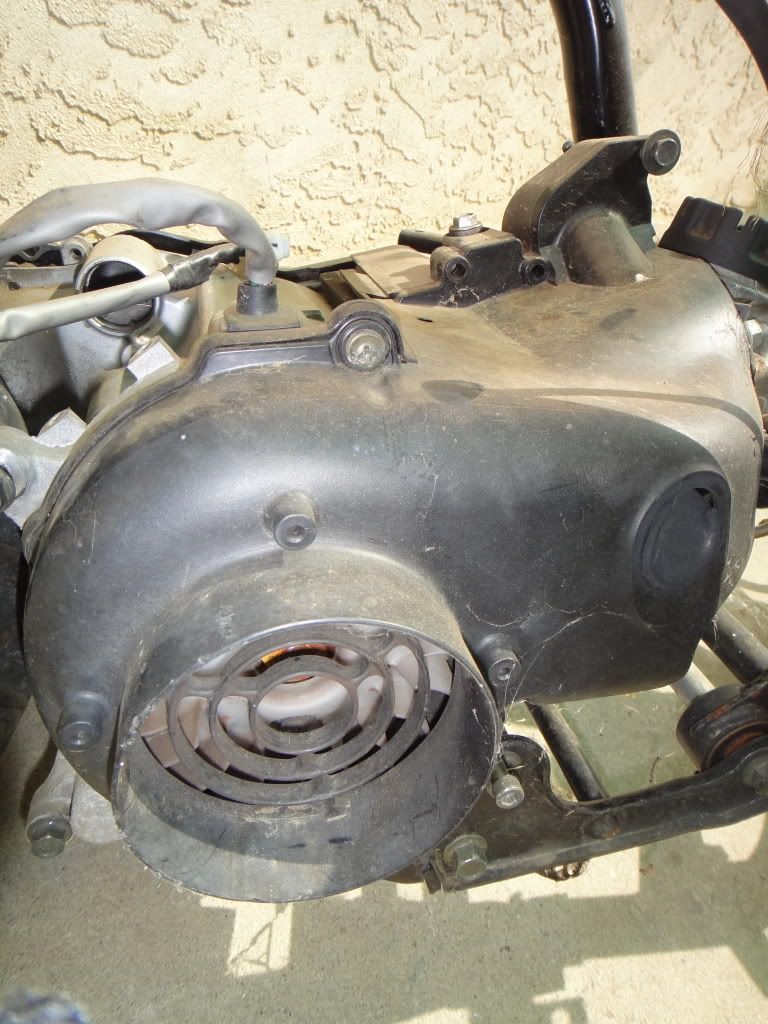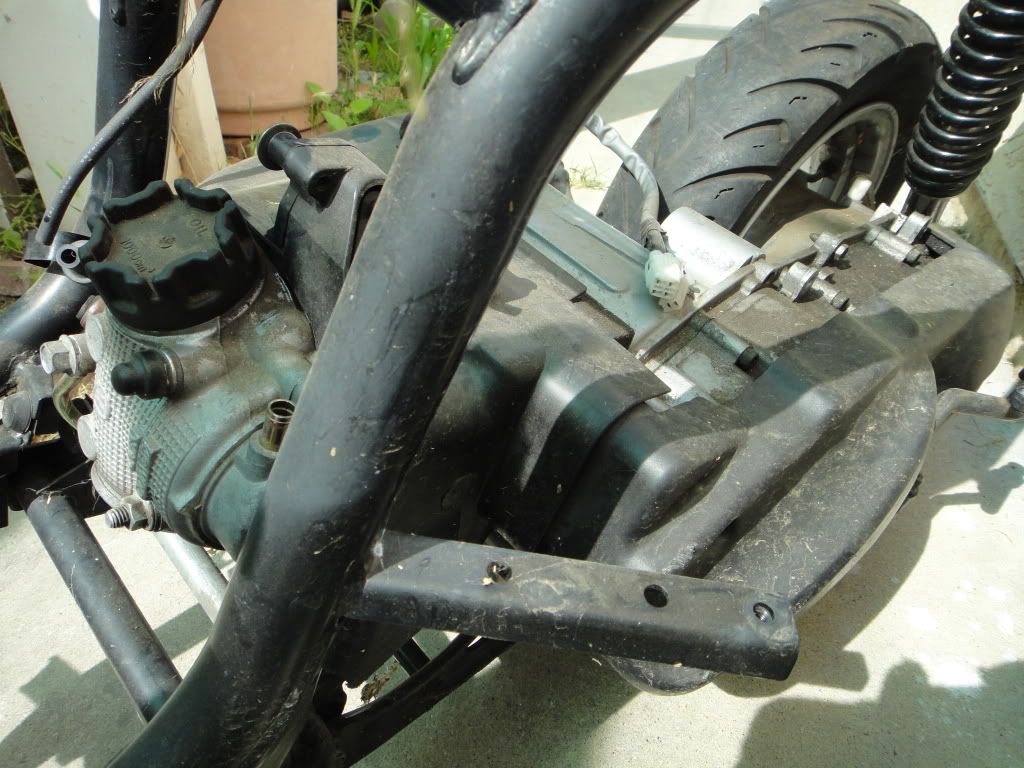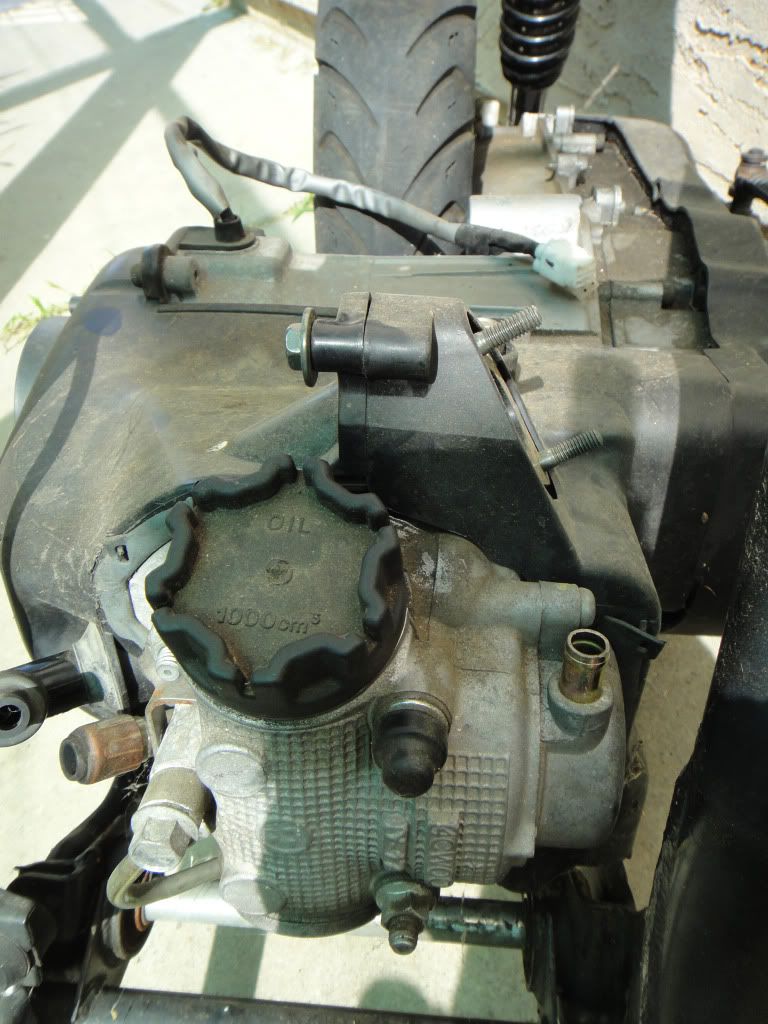 Here's the 2WD as her former self.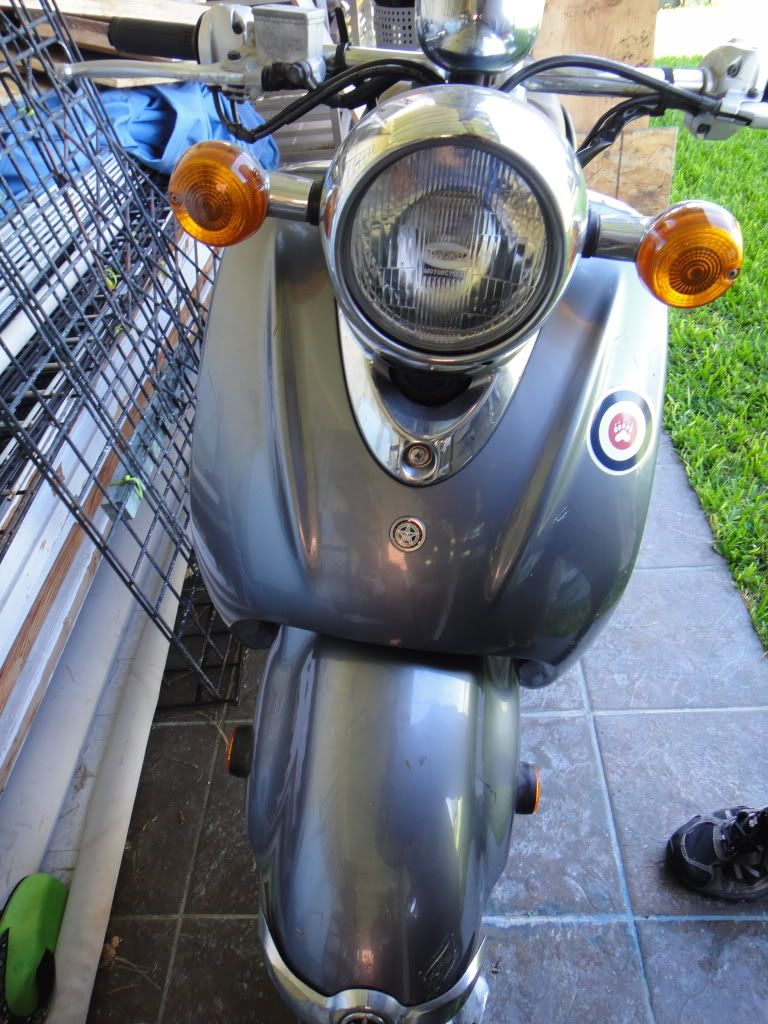 Getting her ready for the big redo.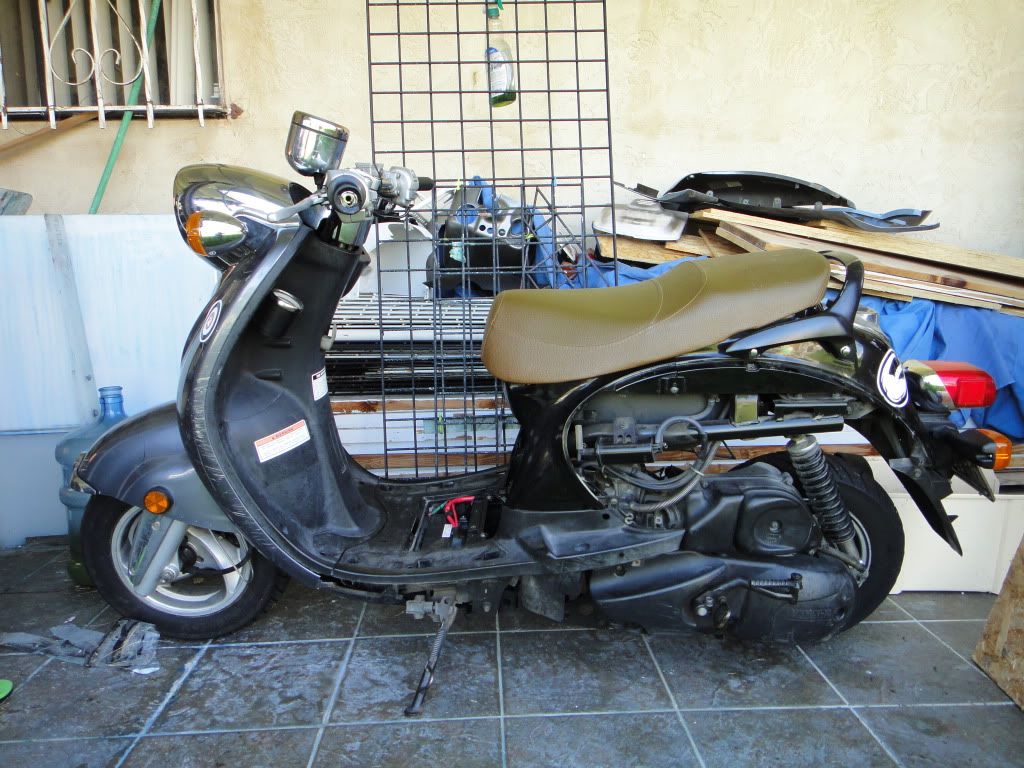 The panels will be repainted. No more "Obey" stickers on the redo
To my surprise I got this in the mail...