C-Dawg wrote:
Duuude... that's a sick setup with the short drag bar and black mirror. If I've known that there was a way to shave off an inch or two like that I would have done it too.
Yeah, I did the bars last November and just got the new mirrors like a month ago. I have two, but just put the left one on. I think it looks pretty good. Check the build post in my sig for shots of the drag bars during installation. Here's a shot from the cockpit: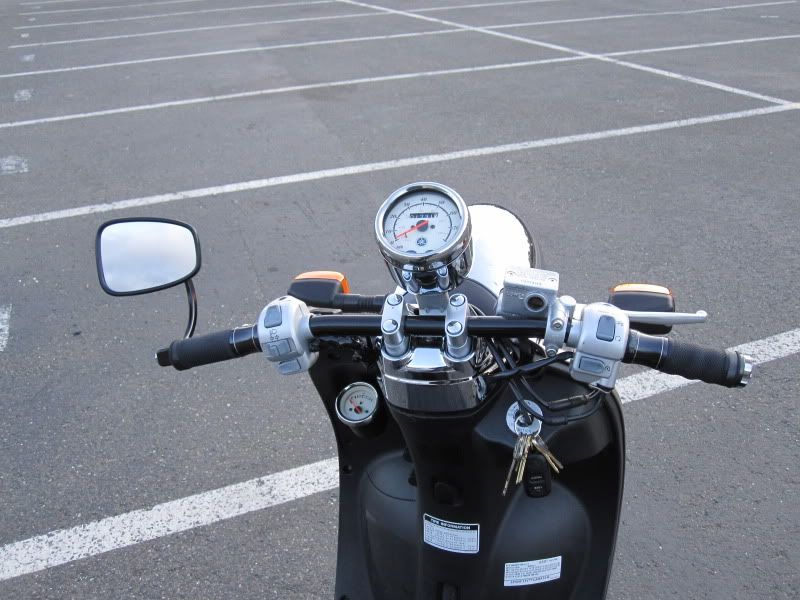 I went back and forth on what color to get the mirrors in, but I'm really glad I went with black to match the bars I put on. I keep thinking about ordering a new headlight housing / bezel and painting it satin black to match - basically de-chroming the whole bike.
I tried those 'sport bike' grips, but to be honest, I think the stock ones were better, so I may order a set of them to put back on there. Plus the soft rubber is all wavey on the throttle side after putting over the throttle sleeve. One disadvantage of the drag bars is that you can't see the fuel guage when your riding. I check it at stoplights or before I head out but once you're moving you can't look without leaning way back. I'm considering re-locating it at some point in the future.
- Adam