So I have been debating whether or not to make this thread but here we go. Hope this helps. Im going to take you thru the BASICS on how to GET more speed from your GET direct from me. This is simply a basic run thru as to what needs to be done in order to GET your bike going faster than stock and teach you how one thing effects another. Sticky Quality? I hope.
There are 2 Speed limiting factors.
They are:
1. CVT limited speed
2. Power limited speed
1. CVT limited speed
CVT limited speed is what limits your bike from going any faster regardless of power being produced.
These are determined by:
A. Variator/Belt set up
B. Gearing
C. Tire/Wheel size
SIDE NOTE:
If you dont know how a CVT trans works, Take off your cover, place bike on center stand and rev it up and observe how it functions. How the Pulleys move to help you better understand the entire operation of a continuously variable transmission works.
(Credit OF
)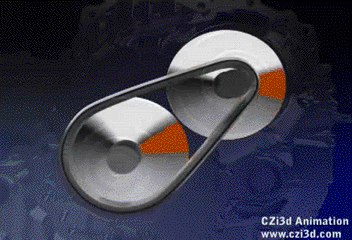 All these factors will determine how fast your engine will be able to turn the wheel at a given RPM. Assuming you are NOT running a CDI and have a stock limiter, your top speed will depend on what Variator/belt/Wheel/Tire size you have. The Idea of "CVT" tuning is to OPTIMIZE the power that the engine is producing. The objective of CVT Tuning is to keep the GET in the "Power BAND" as long as possible while accelerating and as the CVT begins to shift. Ideal RPMs for a GET is anything above 8200rpms (I personally shoot for 8200-8900). Going lighter or heavier on weights depends on your CVT components NOT rider weight. Old myth that I debunked. If you dont Agree that's alright.
Recap: Optimized power output with your choice of Variator/Belt/Gears (Gears should only be considered after Step 2 and you run out of RPMs ie.10,500+). And If you dont have a Tach, GET ONE. Dont tune blind. I consider myself a seasoned tuner and can do it without a tach but its faster and easier to know exactly what the engine is doing. And for the LOVE OF ALL THAT IS MIGHTY do NOT change a fucken thing unless you know WHY your changing it. I get 10+ messages a Day asking what they changed but never WHy. Try and understand how these components work, what changes when you make changes. Why lighter weights cause higher rpms and how heavy weights lower rpms. Know why your changing them. Show a little enthusiasm for this hobby. Show interest in learning the tricks. Once you master it you will laugh at how simple it is.
2. Power limited speed
Once you have your CVT tuned right, you are no longer bouncing the limiter and have a couple hundred RPM's left but just dont have the "power" to push the new found gearing that occurs when you swap variators, Its time to Open up the engine and let that baby breath. I preach time and time again that if your going to get exhaust its a must to do intake or vis versa. Its just plain dumb to not do both. Rejetting is not that hard. Its easy as hell and can be done in minutes. Hard part is determining what JET's to use.
First things first. Find a test road. Any road that's semi controlled and you can do back to back runs with little traffic interruption and you can smash for a good 2-3 miles. Once you find that road, you have buy jetS<not one but a couple. Must have will be a 38-78-80-82(if you can find it) and 85.
ALL GETS ARE THE SAME, ALL GETS ARE THE SAME. This myth that every GET is different is another old myth that people need to get out of their heads. Whats different is the endless possibilities for styles of intake, length, shape, exhaust shape and length and so on. 1" longer/shorter intake runner will cause different jet requirements. Why its called rejetting not set it and forget it.
Step 1: Install exhaust and desired intake (Im not going into what intake you should run)
Step 2: Remove carb and install the 38Slow jet
Step 3: Leave stock main jet which is a 75MJ.
Installed 38/75 - Go down on your test road and record top speed
Installed 38/78 - Go down on your test road and record top speed
Installed 38/80 - Go down on your test road and record top speed
Installed 38/82 - Go down on your test road and record top speed
Installed 38/85 - Go down on your test road and record top speed
Keep a mental note as to which one felt stronger, which one hesitated, which one bogged and which one just simply didn't work at all. Write it down. Some people work better with writing things down. Whatever you have to do to help you remember. Pay attention to how the RPMs climb. If they climb faster, or slower, or if you hit the limiter faster. There is a chance that if you were hoovering right by the limiter thru the acceleration phase that you will hit it since the engine is making more power so this might cause you to have to retune your CVT (If its just minimal limiter bumps I shave 1-2mm off the driveface nipple to compensate- your on your own to figure that one out).
Once this is all said and done and you are bouncing the limiter on flats as a relatively high speed 45+ GPS confirmed, not Stock speedo, Then and only then you can add a CDI and unleash the beast.