We have 10 Rucks here, all w/ ATR extensions (which I like) and thought we'd try something different. I've never seen any mention of the KILLER 50cc mount here, so I thought I'd post what I now know....
Tried their newish piece out on what's been dubbed "Agent Orange". Very pleased with the end result.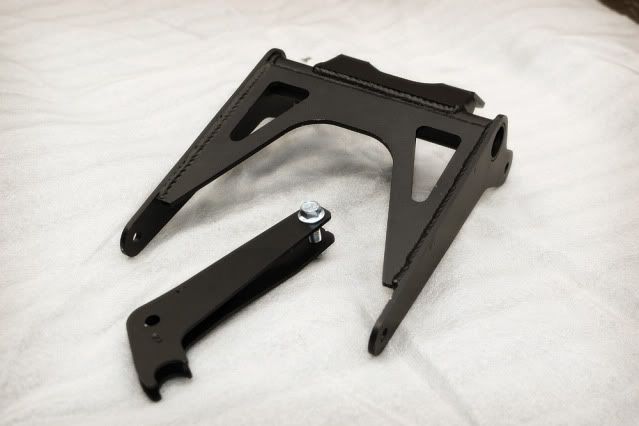 It's a different animal than the ATR. The ATR is 6", a tight squeeze, but a slip in fit. The KILLER piece is much longer (9.5"?), fits in really easy, though does require you drill out two of the welded in floorboard nuts as it bolts on. Not really any harder, just different.
Note that here at "Team Floorboard", we'll need to dremel out the bottom of those two floorboard pockets to clear the new bolt heads. Again, not a big issue, and won't look bad if care is taken. The only other issue to speak of is that if the OEM coolant tank is used, the hole will need to be elongated to allow the tank to sit above the mount.
The mount fits very well and is solid as a rock. It's pricey, though the overall effect makes the ATR look very short... (bad for me, I have the ATR)
There's a lot a free play side to side between the frame. I'm told this allows for adjustability for fatties & such. I didn't need it off center, so we simply turned two 1/8th" washers and dropped in there to center it up for mounting.
Here's a whole pile of pics, along with shameless shots of our DORF seat frame. (Hey, I is the best seat frame out...)